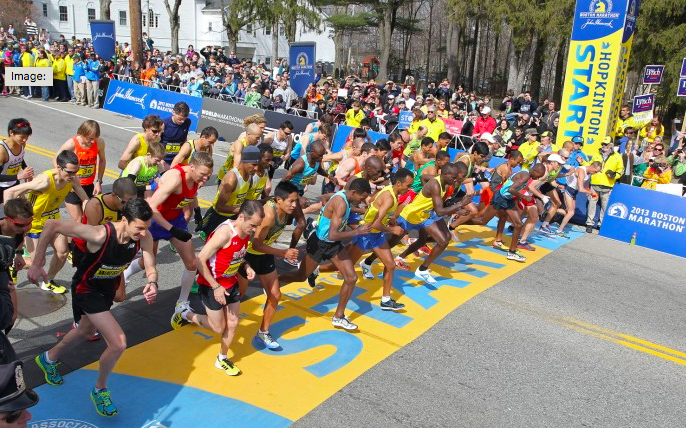 Boston Marathon participants who ran on behalf of more than 260 non-profit organizations raised $36.6 million for charity in the 122nd year of the historic race. The fundraising total represents a 7 percent increase, or $2.4 million, over 2017's results.
Total funds include $19.2 million raised through the Boston Athletic Association's Official Charity Program, $13.1 million raised through John Hancock's Non-Profit Program, and $4.3 million from other qualified and invitational runners.
Most of the fundraising runners gained entry through the B.A.A. and John Hancock programs, which provide non-profits with guaranteed entries ("bibs") that enable runners to fundraise for their organizations.
"Every year it's gratifying to see the positive impact that the Boston Marathon shares with its surrounding communities," said B.A.A. CEO Tom Grilk. "Many benevolent organizations are helped by these fundraising efforts, and we're proud to be associated with their good work. And we're very thankful to our friends at John Hancock, with whom we proudly reflect on another great year of fundraising."
"For the tenth consecutive year, we set a new fundraising record in the John Hancock program, and we celebrate our non-profit runners for their commitment and generosity," said Marianne Harrison, President and Chief Executive Officer of John Hancock. "We are proud to continue to leverage our 33- year principal sponsorship of the Boston Marathon to build healthier communities alongside our community partners."
John Hancock again partnered with CrowdRise to offer a centralized online platform to capture Boston Marathon fundraising. The site (www.crowdrise.com/2018bostonmarathon) showcases all the 2018 partner non-profit organizations and features the personal stories of the runners who supported them.
Over the past 33 years, the official B.A.A. Charity Program and John Hancock's Non-Profit Program have combined to raise more than $333 million for community-based organizations. More information on the programs can be found on http://www.baa.org/utilities/charities and https://www.johnhancock.com/citizenship/boston-marathon.html.