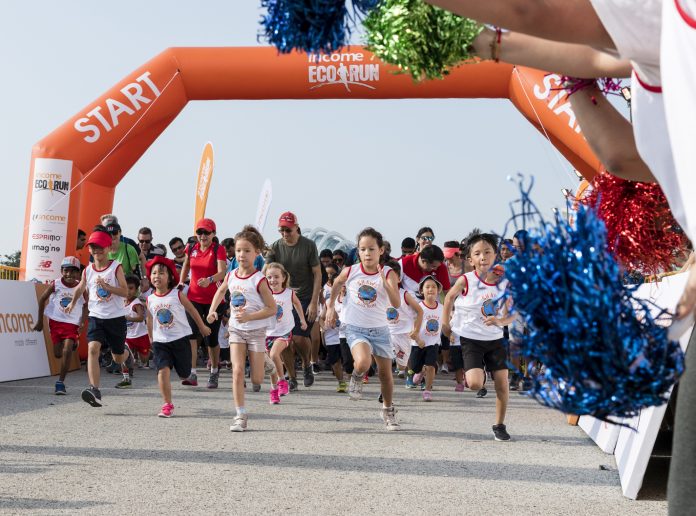 The F1 Pit Building was buzzing with excitement earlier this morning as some 9,000 participants laced up their running shoes for the Income Eco Run 2018. The runners, who were competing in various distances – 21.1km Half Marathon, 10km, 5km Fun Run and Kids Dash (1.2km and 800m) – were all running towards one collective goal: A more sustainable future, with many bearing their own refillable water bottles.
Among the participants were close to 2,000 Zero Waste runners, who gave up their finisher tees and/or race medals. Their endeavours were supported by the likes of PUB, Singapore's national water agency, and Tzu Chi Foundation, with both setting up booths to share tips on water conservation and recycling.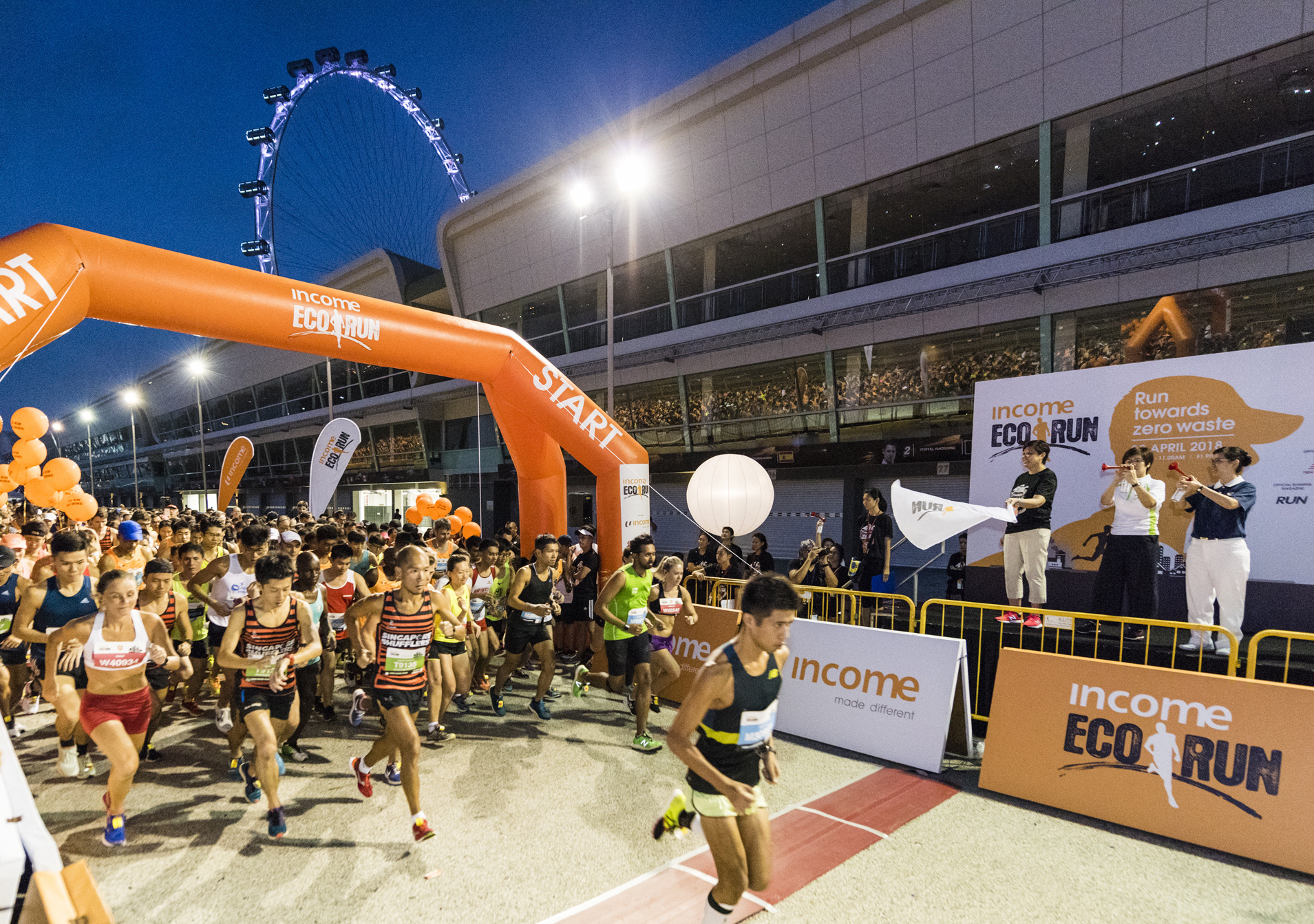 Elite runners, Geoffrey Birgen and Margaret Njuguna from Kenya won the 21.km Half Marathon (Open) for the male and female categories with a time of 1:07:22 and 1:26:20 respectively. Local runners Melvin Wong and Rachel See emerged tops for the 21.1km Half Marathon (Local Champion) and are also strong advocates of Income Eco Run's Zero Waste initiative. Wong who finished with a time of 1:17:15 said,
"I wasn't expecting to win today so it's definitely a surprise to finish in a good time. The Income Eco Run has always been close to my heart, because of the Zero Waste initiative. I'm a big advocate of that. In the lead up to this race, I've shared a lot of my run commute home among the community and tried to get more people to do the same."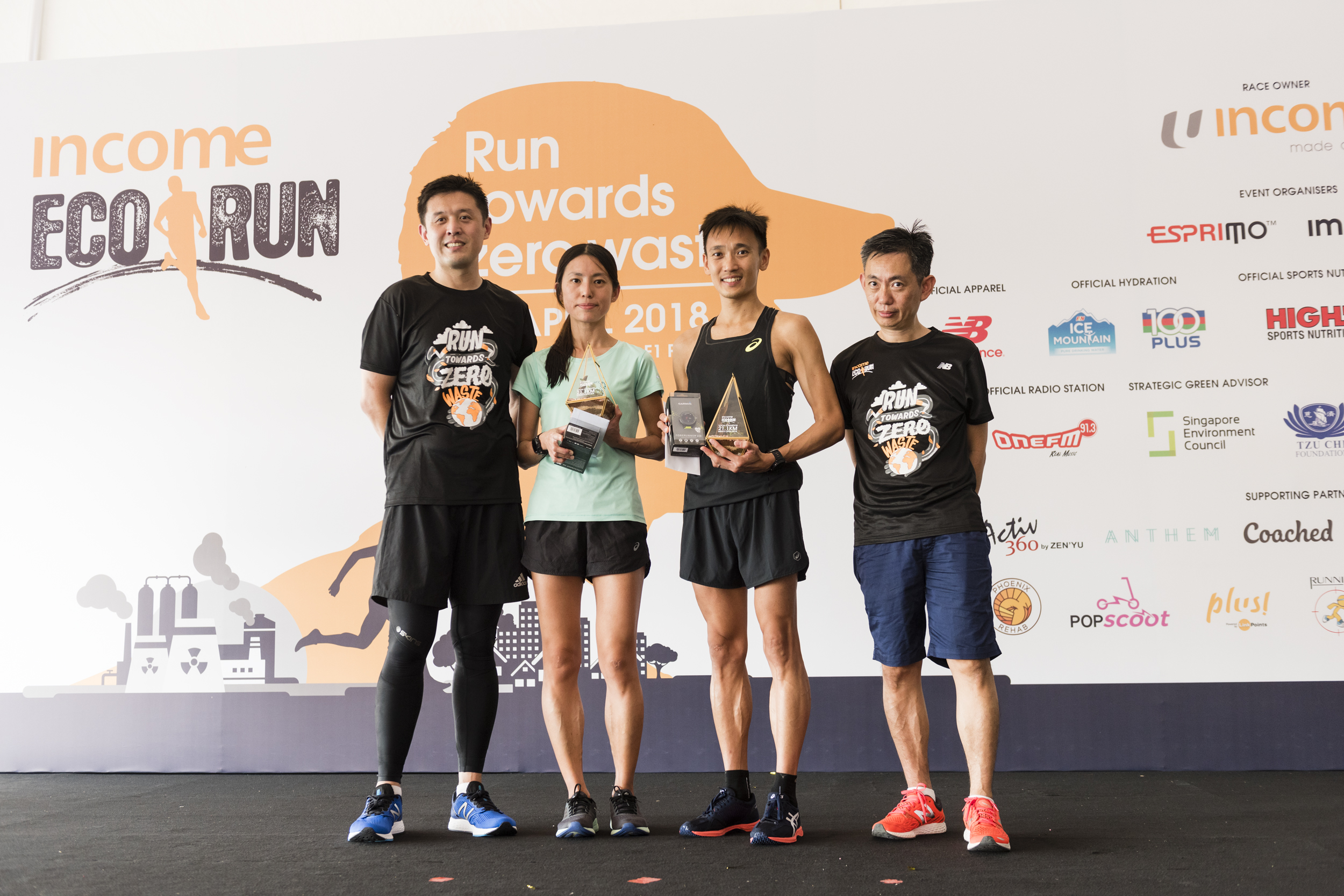 See, completed the run in 1:28:04 and also came in second for the 21.km Half Marathon (Open) echoed the same sentiments,
"I find Income Eco Run very different because of its cause to run towards Zero Waste. I really appreciate the opportunity to opt for zero waste, and I'm very glad to be part of this movement."
This year, Income Eco Run continues its journey towards zero waste by introducing new goals to further reduce waste. These green initiatives include recycling all paper cups and composting all banana peels – an estimated 700kg – used at the run and working with more partners such as ofo to provide more eco-friendly transport options on race day. Organisers have also taken the step to make Income Eco Run a carbon neutral event this year.
Through the implementation of these measures, Income expects to achieve an even bigger reduction in waste generation this year. These efforts will contribute to the Green Event Assessment Report 2018 that the Run's Strategic Green Advisor, Singapore Environment Council (SEC), will be conducting. The report will see SEC calculate the waste generated per capita at the Income Eco Run for the first time.  The waste generated per capita is calculated by the amount of waste generated by each participant at the run.
Results of the Green Event Assessment Report will be released next month, and Income will use these insights to set new green targets for the next edition of the Income Eco Run.
Marcus Chew, Chief Marketing Officer, Income, said,
"It's been extremely encouraging to see everyone come out this morning to run with us, and commit to a journey towards zero waste. In addition to our competitive categories, this year we introduced a popular new 5km route to enable even more people to join our zero waste community. We've also seen overwhelming support from young families, as parents help to provide a platform for their children to become passionate about green values through their participation in the 1.2km and 800m Kids Dash. Building a more sustainable future requires the collective effort of everyone, and we want to thank all our runners for coming down today.  We hope that participants will leave today's run feeling inspired to take a step, big or small, to create a greener world and help Singapore become more future ready."
Photo credit & reference: Eco Income Run 2018 Media Release