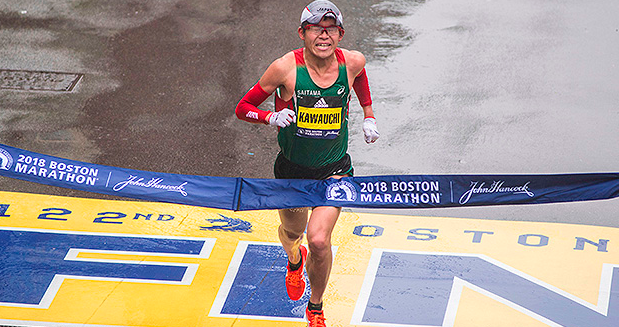 What an unexpected Boston Marathon 2018! Icy cold headwinds and rain hit the Boston Marathon 2018. Conditions were brutal and tough. And conditions proved too tough for 23 of the elite athletes – all dropping out of the race. The race was turned upside down, with completely no Kenyans nor Ethiopians on the women's podium, and a Japanese Champion in the men's race. Here are the top 4 moments of the Boston Marathon 2018:-
#1 Desiree Linden Wins The Boston Marathon 2018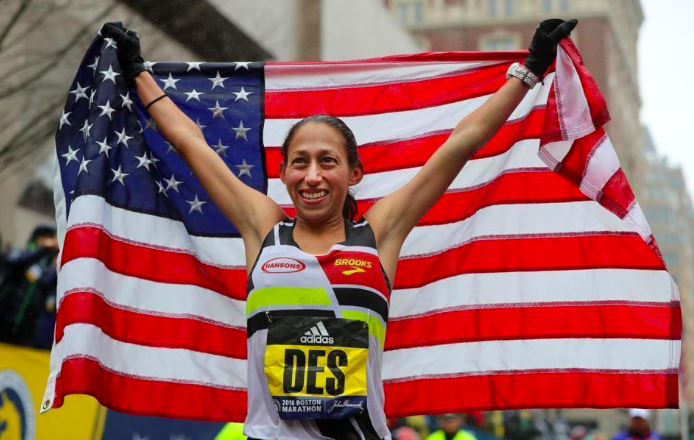 Photo Credits: Boston Globe
Desiree Linden took gold to become the first American Woman in 31 years to win the Boston Marathon. She crossed the finishing line in 2:39:54. She displayed amazing camaraderie on the course when she slowed down to help Shalene Flannagan when Flannagan had to take a toilet break. It seemed as though the win was in the hands of Ethiopia's Mamitu Daska. She had such a huge lead and looked strong. However, Linden managed to catch her, pass her, put in a surge, and WIN!
#2 Yuki Kawauchi Wins The Boston Marathon 2018 In Style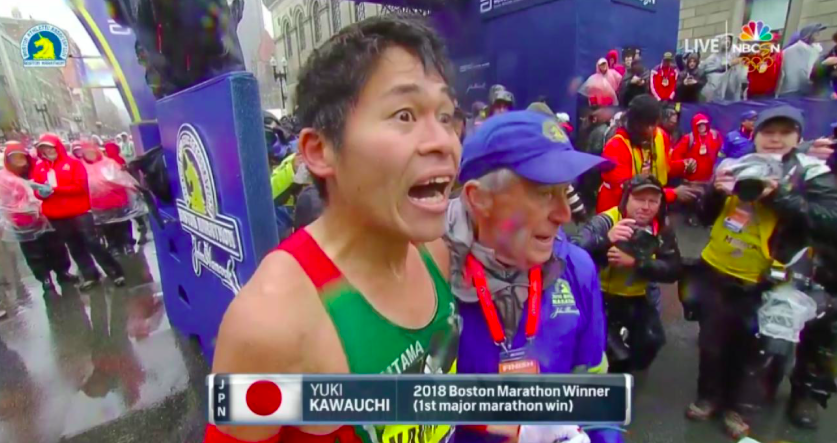 Photo Credits: Boston CBS
Yuki Kawauchi sprinted to the front upon flag off. He was flying solo and commentators questioned how long he could last before he faded – given the weather and the tough headwind. Sure enough, the lead pack caught him at mile 1.5. At mile 3, he got dropped by the lead pack. He caught up again, and put in a surge, and got overtaken, and another surge and got overtaken. Defending Champion Geoffrey Kirui took charge and seemed to have a 1 minute 30 seconds lead over the chasing pack. However, he seemed to have run into some issues. Yuki managed to catch him, pass him, and extend his lead to over 2 minutes and came in gold! His expression of happiness was priceless. He became the first Japanese Man since 1987 to win the Boston Marathon.
In his post-race interview, he said that these were the best conditions for him to race in.
#3 The DNF-ers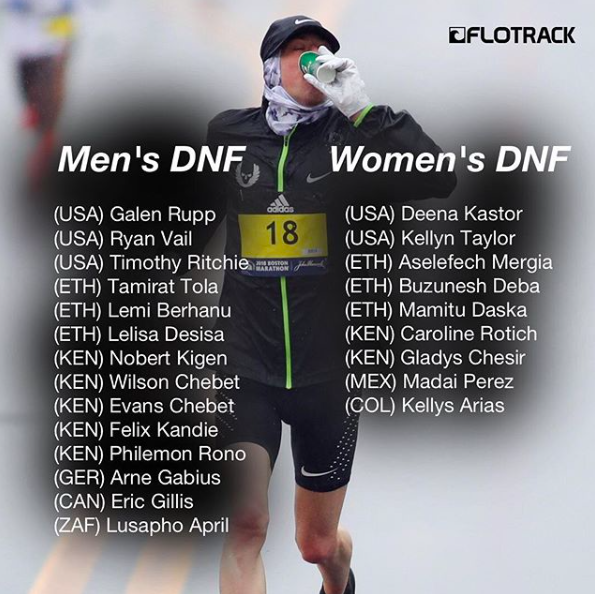 Photo Credits: Flotrack
There was a total of 23 elite athletes that did not complete the race. Galen Rupp who got silver last year dropped out. Lelisa Desisa who was part of the breaking 2 project dropped out. Tamirat Tola who won the Standard Chartered Dubai and took bronze last year dropped out. American Marathon Record Holder Deena Kastor dropped out. Leading for the most part of the race Mamitu Daska dropped out.
#4 The Podium Finishers
The weather proved too tough for many of them to handle. It was certainly a shock that no Kenyan or Ethiopian ended up on the women's top 5. In the women's race, Sarah Sellers and Krista DuChene came in 2nd and 3rd place respectively. The first question asked at the press conference was can you introduce yourself! It was certainly a surprise, a pleasant surprise for them!
Boston Winners
Men Division
Yuki Kawauchi (JPN)  2:15:58
Geoffrey Kirui (KEN) 2:18:23
Shadrack Biwott (USA) 2:18:35
Women Division
Desiree Linden (USA) 2:39:54
Sarah Sellers (USA) 2:44:04
Krista Duchene (CAN) 2:44:20
The Top 10 Boston Finishers In South East Asia
Men Division
Balagtas, Juan Francisco (PHI) 02:54:23
Li, Joshua (SIN) 03:02:27
Seah, Chuan Heng (SIN) 03:06:25
Feng, Wei (SIN) 03:10:31
Toh, Philip (MAS) 03:11:31
Liu, Zhiyong (SIN) 03:13:50
Puaa, Wen Piao (MAS) 03:18:01
Goh, Chun Kiat (SIN) 03:21:53
Siddhiphongse, Boonsom (THA) 3:22:13
Neoh, Wenhong (MAS) 03:24:57
Women Division
Carpo, Amanda (PHI) 03:41:36
Lim, Yvonne Germaine (SIN) 03:47:38
Teoh, Dong Xiang Serena (SIN) 03:50:56
Quek, Jennifer (SIN) 03:55:34
Tay, Bee Lang (SIN) 04:14:12
Woon, Shireena (SIN) 04:15:31
Jong, Reine (MAS) 04:34:23
Nguyen, Ha (VIE) 04:53:11
Decena, Kimberly (PHI) 04:57:38
Tsang, Wing Han Connie (SIN) 05:00:54
Congratulations to all finishers!
Read More: