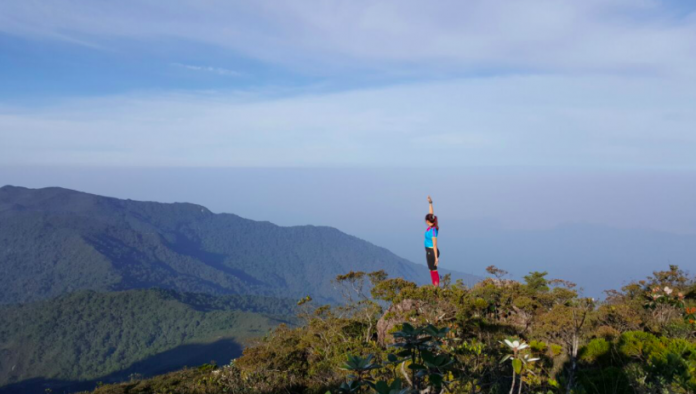 Here are 5 hiking trails that will challenge you but give you an overwhelming sense of satisfaction upon arriving at the summit. Challenge yourself to a new adventure by conquering all these mountain trails.
#1 Gunung Ledang, Johor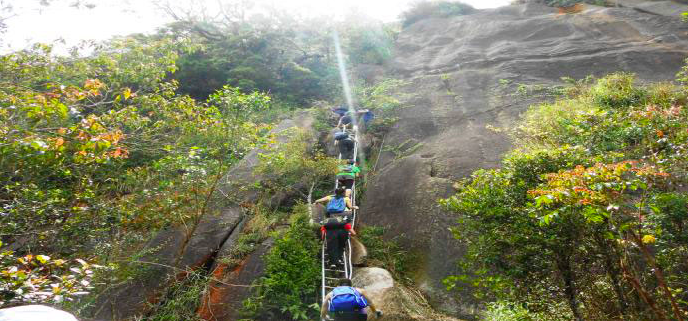 Photo Credits: Hikingrifting
Gunung Ledang stands 1267m high and is the highest mountain in Johor. It takes a reasonably fit person 5 -6 hours to arrive at the summit and 4 -5 hours back down. You will come across steep rocky faces that you would need to climb with the aid of ropes. This is why it is mandatory to engage with a guide in order to be permitted to hike this mountain. There are 2 main trails you – via Asahan or via Sagil. The via Asahan distance is slightly longer but with more challenging rock climbs.
#2 Gunung Yong Belar, Perak
Gunung Yong Belar is the 3rd highest peak in Peninsular Malaysia, standing at 2,181m high. It takes a reasonably fit person 5 – 6 hours to summit and 4 – 5 hours back down. The trails are undulating, but, gives you great views from atop. The total distance to be traveled is 10.5 km in and another 10.5 km out, making it 21 km in total. You start from Blue Valley in Cameron. You have options to park at the Kwan Tee Temple or Kampung Raja and arrange for a 4 wheel drive to bring you to the trailhead.
#3 Gunung Korbu & Gunung Gayong, Perak
Photo Credits: SOS Malaysia
Standing at 2,183m high, Gunung Korbu is the 2nd highest peak in Peninsular Malaysia. It is mandatory to get a permit from the forestry department in order to be able to summit Korbu. Many people will plan to conquer Mount Gayong in the same expedition because Mount Gayong stands 2.4 km away from Korbu. Mount Gayong is the 4th highest peak at 2,173m high. This trek is known as Korga.
#4 Gunung Trusmadi, Sabah
Gunung Trusmadi is the 2nd highest peak in Sabah after Kinabalu standing at 2,642m. The trail is less tourist-friendly, offering you a thrilling adventure experience. You will also need to engage a mountain guide for this hike. There are 3 different trails you can take to the peak, but the most popular trail is via Tambunan which is only a distance of 4.9 km to the peak. Most people take 2 days 1 night to complete this hike.
#5 Gunung Tahan, Pahang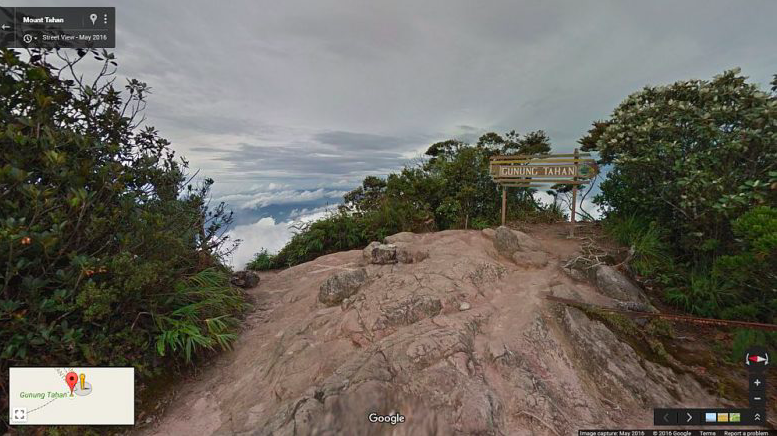 Photo Credits: The Skop
Conquer the highest peak in Peninsular Malaysia standing at 2,187m. It challenges you. If you're looking to do this in a day hike – the Tahan Climbathon in your chance to conquer this peak in a day. The climb up and down is 32 km in distance. Look out for the dates of the 2019 edition!
Cover Photo Credits: Travelled Paths
Read More: