The RAK Half marathon was a highly anticipated one – with big names to run the race. Everyone was looking forward to watching the battle between 2 elites in particular – World Marathon record holder, Mary Keitany and World Half Marathon record holder Joyciline Jepkosgei. Everyone wanted to see who would come out on top. 2 World Record Holders, but only one can emerge champion.
However, the much-anticipated clash didn't quite materialize. Joyciline Jepkosgei was not feeling her best having caught a flu bug 2 weeks ago. She dropped out of the leading back slightly after the halfway mark to come back 5th in a respected time of 1:06:46. However, that did not mean it was an easy win for Mary Keitany.
Read More: Joy For Joyciline Jepkosgei – Kentan smashes 4 World Records In One Race
It was 23-year-old Fancy Chemutai that stole the show. She demonstrated greater strength and speed than Mary Keitany over the final 100 meters of the race. She out-sprinted Mary Keitany to come home in a 1:04:52. She was only 1 second outside the World Half Marathon record set by Joycline Jepkosgei back in Valencia last year. Mary Keitany came back 3 seconds later with another personal best for her.
Read More: Another Joy For Joyciline – Smashing The 10 km Road World Record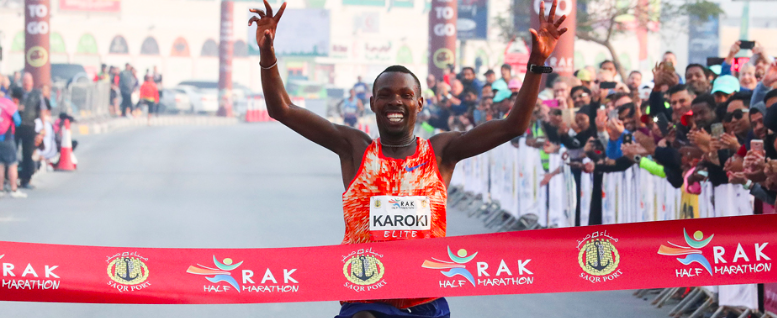 Photo Credits: Rak Half Marathon 2018
In the men's race, Bedan Karoki, defending champion took home the crown again. At the 19th km point, he put in a test surge where there was no response. It was then all him all the way till the finishing line.
Both Champions are set to run the World Half Marathon Championships in Valencia.
Top 10 Men:
1 Bedan Karoki (KEN) 58:42
2 Jemal Yimer (ETH) 59:00
3 Alex Kibet (KEN) 59:06
4 Jorum Okombo (KEN) 59:36
5 Morris Gachaga (KEN) 59:36
6 Wilfred Kimitei (KEN) 59:40
7 Edwin Kiptoo (KEN) 59:54
8 Benard Kimeli (KEN) 1:00:16
9 Vincent Rono (KEN) 1:00:24
10 Lelisa Desisa (ETH) 1:00:28
Top 10 Women:
1 Fancy Chemutai (KEN) 1:04:52
2 Mary Keitany (KEN) 1:04:55
3 Caroline Kipkirui (KEN) 1:05:07
4 Joan Chelimo Melly (KEN) 1:05:37
5 Joyciline Jepkosgei (KEN) 1:06:46
6 Degitu Azimeraw Asires (ETH) 1:06:47
7 Brigid Kosgei (KEN) 1:06:49
8 Gladys Cherono (KEN) 1:07:13
9 Helen Tola Bekele (ETH) 1:07:47
10 Naom Jebet (KEN) 1:08:22
Source: IAAF.org