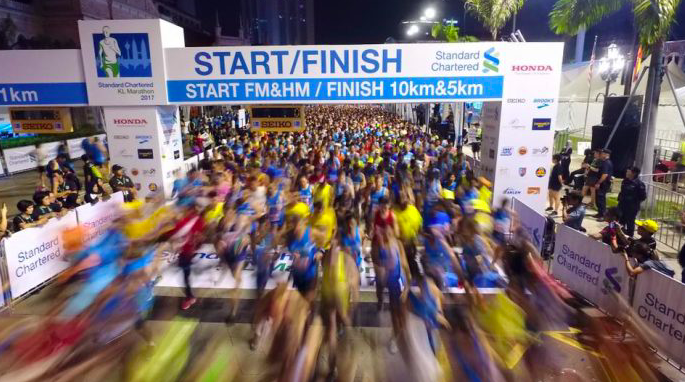 Malaysia's BIGGEST marathon is back – Standard Chartered KL Marathon returns in 2018 on the 8th April 2018. The most iconic running event in Malaysia welcomes 36,000 runners to descend into Dataran Merdeka at the 10th Edition of the Standard Chartered KL Marathon! The run was sold out in a record-breaking 10 hours but, here's your chance to win a complimentary slot with Lucozade Sport.
Stand a Chance to Win A Free Entry To SCKLM 2018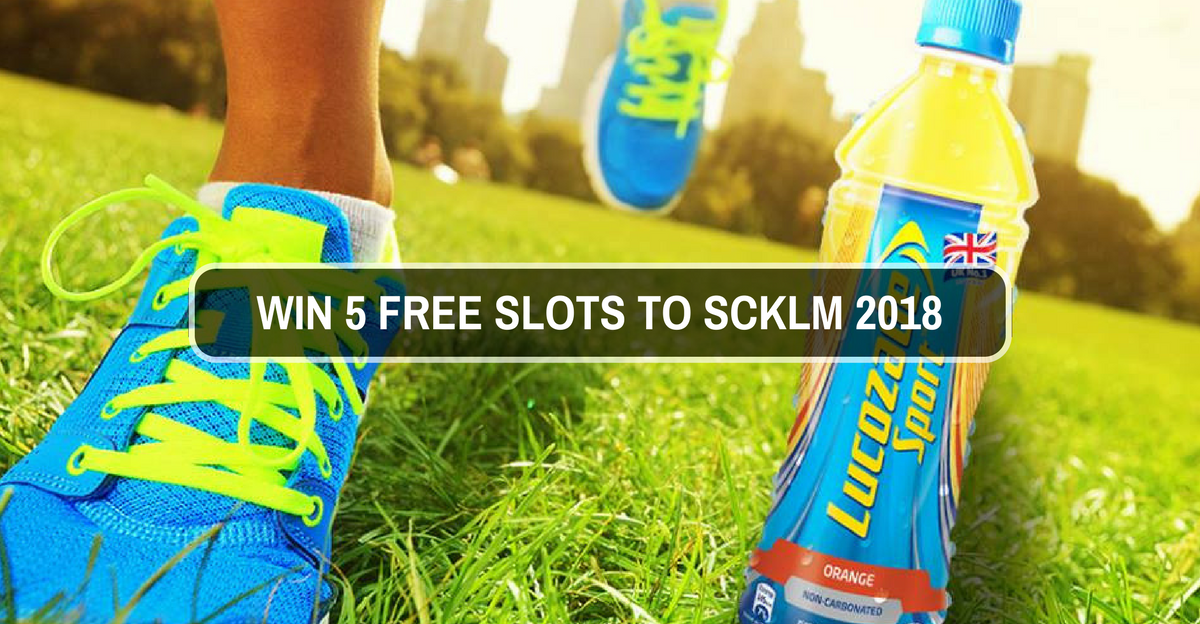 Great news for JustRunLah! readers! Thanks to Lucozade Sport, 5 lucky winners will stand a chance to win a complimentary slot (10km – Speed/Cruise/Leisure) to the Standard Chartered Kuala Lumpur Marathon 2018. All you have to do is to take part in the Lucozade Sport Facebook Contest Challenge to be in the running to win a free slot! Good Luck!
Contest: Facebook Photo Challenge
Contest starts 9th February (Friday) – 15th February 2018 (Thursday)
Step 1: Capture a sports action photo/video with your favourite Lucozade Sport Drink (the more creative, the better)
Step 2: Post it on Facebook with a caption less than 30 words, telling us what is your 2018 fitness resolution.
Step 3: Don't forget to hashtag #LucozadeMalaysia #YourSportYourRules #LucozadeSportxSCKLM2018 #JustRunLah and set your post to public (or we won't be able to find you!)
Terms & Conditions
The eligible prize winners will be announced on 21st February 2018 via the Organiser's social media & website platform. Winners are required to send their full name, mobile number, email address and IC number via email or in a private message on Facebook to the Organiser two (2) days from date of announcement. 
The Organiser will not be held liable in the event the winners could not be tagged in the Facebook or fail to reply to the Organiser before the deadline for whatever reasons.
Five (5) SCKLM 2018 slots will be given away for 10KM distance category (Speed, Cruise & Leisure). 
Winners are not allowed to amend the distance category that they have chosen during the contest. Failure to comply will result in automatic cancellation of the slot. 
Each participant can only win once but can submit as many entries as desired. Winners will be decided by the Media. Upon winning and confirmation of slots, participants are required to register for their own slots by 25 February 2018 @ 11.59pm. Failure to register by the deadline will result in forfeitment of the slot. 
The Sponsor reserves the right to substitute any prize with that of similar value at any time without prior notice. All prizes are not transferable, refundable or exchangeable in any other form for whatever reason. All prizes are given on an "as is" basis.
The Organiser and the companies involved in this contest shall not be held liable in any way for delays, non-deliveries and/or interruptions of Facebook messages sent or received and shall not be held responsible for any unauthorised use of the mobile phone or subscriber's account in conjunction with the contest.
The Organiser is not responsible or liable for any error, omission, interruption, deletion, defect, delay in operation or transmission, communications line failure, theft or destruction, unauthorised access to, or alteration of, user or member communications, or any problems or technical malfunction of any telephone network or lines, computer online systems, servers or providers, computer equipment, software, failure of e-mail on account of technical problems or traffic congestion on the internet and/or websites.
Participants shall assume full liability and responsibility in case of any accident, injury, damage or claim resulting from participation in this contest and on SCKLM 2018 race day. 
By participating in this contest, participants consent to give their personal information and the Organiser reserves the right to publish, use the winners' names and/or photographs plus their entries for purposes of publicity, advertising and/or trade without further compensation or notice and each participant is not entitled to make any claims for the use of their entries by the Organiser.
The Organiser collects personal identifiable information to provide services or to correspond with the participant. This information is stored in a manner appropriate to the nature of the data by the Organiser and is used to fulfil the participant's request(s). By submitting the participant's personal information, the Organiser deems that permission is given to the Organiser and/or its authorised agents to use this information for the purpose of present and future marketing and promotional purposes and to improve its products and services. If the participant informs the Organiser via email that the above information should not be used as a basis for further contact, the Organiser will respect the participant's request. The participant's information will not be provided or shared with other company for their use. 
By participating in this contest, participants agree to be bound by the official Terms and Conditions and decisions of the Organiser.
The Organiser reserves the right to amend, delete or add to these Terms and Conditions without any prior notice at any time and the participants shall be bound to such changes. For the latest Terms and Conditions, refer to the Organiser's web page. 
The Organiser's decision is final. Any correspondence pertaining to the decision made by the Organiser will not be entertained.