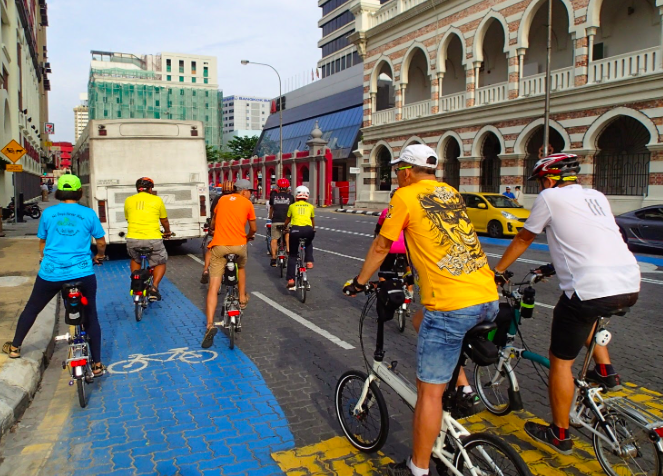 Kuala Lumpur wants to move one step closer to achieving its goal of being a world-class liveable city. KL city implements it's very first bicycle lane – the 11.86km lane, which costs approximately RM4mil, stretches in a closed loop along Jalan Raja, Jalan Raja Laut, Jalan Sultan Ismail, Jalan P. Ramlee, Jalan Ampang, Jalan Pinang, Jalan Perak, Jalan Raja Chulan, Jalan Gereja, Jalan Tun H.S. Lee and Lebuh Pasar Besar.
The noble aim of this project is to promote a healthier lifestyle among city folks and allow for a convenient and safe commute for cyclists. The project hopes that city folk will start embracing a healthier way of life.
Success Or Flop?
However, the blue lane has drawn much criticism from citizens.
#1 Citizens question whether 4 million spent on the 6 km stretch of dedicated bicycle lane has been a wise investment. Barisan Nasional strategic communications deputy director Datuk Eric See-To pointed out that the bicycle lane project a few years ago in Penang was previously reported by the Penang state govt to have cost RM30mil for 12km while the Penang budget for 2018 had stated that an additional RM45mil will be spent to build 39.3km of bicycle lanes. He stands by his point of view that it is inexpensive.
#2 The bicycle lane has become a parking space with motor vehicles parking, some even double parking along the bicycle lane. Many vehicles have been misusing the lane using it as free parking space. Motorcycles also block the entire lane at the traffic lights, rendering the bicycle lanes useless. Motorcyclists also weave in and out of the bicycle lane whenever convenient.
#3 Bicycle lanes are not consistent. Sometimes the lanes are on the left, and sometimes they are on the right. This makes it dangerous. Bicycle lanes should be on the left side because you would be going slower. It's dangerous for bicycles to be on the right side of the lane which is the faster lane for vehicles.
The idea is a great one, but, the execution – not so great.