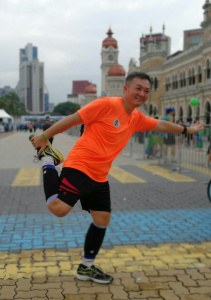 What a feeling when months of preparation comes to a harvesting moment in a form of Standard Chartered KL Marathon – SCKLM 2017.  It is one of the biggest marathon event in Malaysia.  Some regard it as the biggest in Malaysian standard.  Which is also the nerve wracking moments building to this event.
The ninth edition of the Standard Chartered KL Marathon (SCKLM) took place at Dataran Merdeka, Kuala Lumpur (KL), Malaysia, with close to 36,000 runners from 52 countries and 75 nationalities taking part in the event. Out of these, 8,000 runners had taken part in the Full Marathon category, a 7% increase from previous year.
I like this analogy from our SRR leader and buddy, Chin Heng.  He said that this marathon is like a major examination, and those training that we had were like revisions, exercises, assignments and trials.  This is the day of the report card, the day to show your performance from all your hard work of endless training.  Training after training just to beat our best record in the previous year's achievement.  I am no different as I was carried away by the waves of enthusiastic runners group I am associating with.
From the social media group like Facebook, Instagram, WhatsApp, WeChat and Blogs, everybody seems very much involved into this event.  Describing about their training, nutrition, habits, best practice etc.  To a point that I had an impression that this event was as big as the Boston Marathon, an iconic marathon event in the world.  Perhaps SCKLM is regarded as iconic in Malaysia's perspective.
On the eve of the race day
On the contrary to my running buddies, I was lack in training due to commitments to family and work.  In fact I was still working on the eve of the event.  The place of work for that day was so near to the starting line in Dataran Merdeka.  Felt the strong urge to pose a couple of photos at the starting line, but decided to deterred as it was already 4:00pm at that time, and I supposed to catch some rest and sleep before the big day (see how the adrenaline got the better of me).
Normally I would prepare everything before the race day – Bib pin nicely to shirt, ensure all nutrition is in order, shoes, socks, watch and phone are fully charged etc.  This time all has not being prepare, oh man.  Panic mode sets in briefly, before everything is set in order around 7pm, except for the watch and phone which is still charging.  I got to settle down, calm the nerve and catch some sleep.  Easier said than done… 8pm I can't seems to sleep.  The heart beat seems to be drumming like a war beats than a soothing relaxing beat.  10pm, still the same (that was the time my watch is fully charged).  11pm better but still on alert mode….11:30pm finally….. and 12:50am woke up at the first sound of alarm.  In summary, not much rest as I would like it to be.  I guess that I have to sit this through without much rest…yes running a marathon like a zombie if I have to.
Race Day
Walked with Master and Wai Ming at 1:25am to the waiting point at 99 speed mart.  Around 6 cars arrived at the waiting point.  I hopped into Ping's car together with Master and Alex Wong.  A convoy of SRR cars spearheading to Central Market Kuala Lumpur, the place of parking.  We had arrived at around 2:45am.
Weather forecast said that it has a 55% chance of raining between 3am to 5am.  It was cloudy when we arrived but no signs of rain or thunders.  Everybody was excited, adrenaline was boiling high.  So many familiar faces in the running scenes. High five each others, fist pumping, self affirmation, self talk, joking with bunch of friends, some catching up with old times… all just to calm the nerves that were running so high that I can hear the sound my heart beating even with the noisy environment in Dataran Merdeka.
Ready, Get Set, Gun Time
Everybody was instructed to go into their respective PEN.  I was in the PEN 4, the most runner category.  A quick warm up session by the MC, which we could hardly see from PEN4.  And there is no place for that as all runners were packed like sardine fish.  The moment of truth had finally arrived, this is it!.  A quick call out and a 10 seconds countdown from the mayor of Kuala Lumpur…and gun time!!!
We have to walk a bit towards the starting line as we were from way back.  From slow walk to slow jog, to faster jog as approaching the starting line. Started my watch for a recording when crossing the starting line mat.  I was consciously minding my pace, as I made the mistake in last year's half marathon.  This time guess what, it is still the same 6min pace…this adrenaline seems to be a 'nagging' adversary (I shall put that in my note as a point to improve in my training).
Running journey
Summary of my run by 5-10km block:
km1-km15 – managed to maintain my cadences above 180spm on average
km15-km20 – slight walking due to the uphill slopes of the highway
km20-km30 – more walking and a sharp drop of cadences.  But still managed to maintain at about 180spm for the moving pace.
km30-km40 – was the most suffering of all, as I'd subdued to more than half the distance to walking.  Walk/run at this stretch, especially the uphill – walk, downhill – run, at a control pace.
km40-km43 – tried to run steadily but not fast, as I felt some pulling sensation at my hamstring.  Passed by the last 500m big Honda baloon banner but dare not surge until the last moment of about 200m.
Cutoff points:
14, 20, 30, 36 and 6:30 was all the numbers I had in my mind when I started the run.  These were the cutoff points for the race, which translated to the followings:
Reach KM14 before 6:35am
Reach KM20 before 7:35am
Reach KM30 before 9:15am (and collect wristband)
Reach KM36 before 10:15am
and reach the finishing line before 6 hours 30 minutes.
I had a Data Fields called Race Screen in my Garmin watch that serves as a real-time finishing predictor.  It uses your current pace to predict your finishing time as you run.  It has it's pros and cons.  The Pro is when you are faster than your set pace, it will give you a shorter finishing time, and the Cons is when you are below pace especially at those killer hill slopes which it will give you a longer than kingdom come sort of finishing time – which is not helping your defeated spirit at that time.
I was happy that I had reached those checkpoints with time to spare:
KM14 reached at around 5:43AM (6:35AM)
KM20 reached at around 6:32AM (7:35AM)
KM30 reached at around 8:00AM (9:15AM)
KM36 reached at around 8:52AM (10:15AM)
With these timing, it had encouraged me to surge on the remaining of the course.
The pinnacle of the cutoff point is the KM30 where the green colour wristband was handed to me.  Without this band, you can't collect the finisher T and medal.  It is so important that I dropped the band while running through the row of volunteer handing out the bands.
GPS glitches
I was running at a steady pace of 6+ min.  It was manageable and felt good about it.  At about KM3, my watch reported less than 6min pace (5:52min), I knew instantly something was wrong.  At this time it was about 300m off the mark.  Then it struck again at KM5, recording 4:26min, this time it was off by around 1.7km!!.  This is similar to previous year GPS glitch incident at about the same area.  This had imposed a physiological barrier as the mileage build at the later stage.  Imagine when your watch told you that you had reached 38km, but later you saw the distance marker board that says KM37.  It create a false positive scenario that affected my performance.  At this moment I really wish that I have the 'Run by Feel' skill (ok, another note in my training book).
The accidental pacer
I was running my own pace, kept telling myself not to load too much anxiety into my run.  Keep the adrenaline at bay.  All the sifus' teaching flashing in my mind at that time… don't exerts the energy, keep the energy for later use especially in all the elevation and uphills that is ahead.  Don't be intimidated by people that passing you by, even those that looked bigger and fatter size than you.  Then I came across Madam Sim who was running alone.  I'd noticed that she had difficulty breathing, some runny nose problem.  She was running at a slower speed, and I thought I can use her company and be able to watch for each other in the run.  At first I thought she would just stick for 1 or 2 kms before she would sped off.  But we ended up finishing the race together (I was just 0.1 seconds ahead of her).  For many occasion she would waved me to carry on while she clear her nose for better breathing.  I would keep looking back to check on her.
She almost gave up at KM12, which I'd encouraged her to keep going.  "Try to see whether we can reach KM14 the first checkpoint", I told her.  We'd managed to passed the checkpoint 30 minutes ahead of time.  Then in KM16, she wanted to declare DNF again, which I told her "let's see whether we can reach the second checkpoint at KM20", which we did.  At about KM23-24, she told me to carry on and I haven't seen her since.  At about KM40+, she reemerged again.  She told me that she had walked a solid 2km and really wanted to declare DNF.  Luckily she kept on.  It is at this point that I almost gave up on the idea of sub 6.  Well it was a funny game, as she encouraged me in return this time.  She told me that sub 6 is still a possibility and not to give up now.  We both fist pumping, run and walk till the last 200m before dashing to the finishing line for our 'strong finish' :).  The last stretch in Dataran Merdeka was a memorable one, as it was filled with spectators at both side.  Leaving a small lane to passed by before going into the finishing line.
Madam Sim taught me not to run in uphills when energy is low, and make the time back by running at downhill.  This was part of the reason I didn't get any cramps through out the race. (apart from loading madly on power-gel and salt stick, but that's another section).
Fueling strategy
I had consulted the sifus on how to fuel to keep the energy up and prevent runners worst nightmares – the cramps.  So I stick to the fueling play book (the first hours 1 powergel and 1 salt stick, the next 10km 1 salt stick, another 10km or hour 1 powergel and so on.  The last stretch 1 powergel).  I have never practice this before in my LSD runs.  So I would not know whether my body will adapt to this settings.  By the way, it will cause me a fortune if I'm practicing this fueling strategy this on the weekly LSD 🙂
The following were the actual fueling I had at this race.
KM 9 – 1 power gel + 2 salt stick
KM12 – 1 salt stick
km? – 1 salt stick
KM25 – free power gel – consume
km? – 1 salt stick
KM35 – consume the free power gel from KM32
KM39 – power gel
Due to the fatigues, I couldn't remember clearly the exact KM mark that I took what.  When I stock counted, I left with 3 power gel and 5 salt stick.  The overall experience was that I didn't felt any hunger as my stomach was quite full to a point that I don't feel like consuming the banana. I even gave one of the banana that I got from the 1st fruit station to a road worker.
I was able to skip water station at the first 15km – stopped at alternate water stations in order to shed some precious timing. However, I had stopped at each water station from KM20 onwards.
Reflections of my run
I'm still in disbelief, surreal state that I'd actually completed a marathon.  A humongous challenge that anybody can take on at any given Sunday.  Like what all my sifus would have said, "Don't be a hero on race day", "Run as per what you had practiced", "Don't change your game plan", "Reached 30km mark to assess your condition before deciding to surge or walk".  These wisdoms were what I hold at heart during those massive challenge especially on the rolling and punishing elevated highways stretch and Bukit Tunku.
So now, I am officially a Marathoner.
Side note:
I saw a lot of people stopped by the road side due to cramps from KM25 onwards.  This could be due to the rolling hills of the highways where runners pushed too hard too soon.  And the weather was not helping – hot and humid.
It could be fatigues that blurred my vision which I thought I saw abandoned of unopened power gel pack on the road.  At least 3 sightings.  I couldn't u turn and check it out.  But it could be a hallucination.
My overall average pace was 8:02min, the exact pace as previous year half marathon.  In my HM I finished in 3 hours, but this FM I'd finished less than 6 hours.  Perhaps this time my pace was more consistent than previous year.
Caught up with Chin Heng, Peter and Albert at the Jalan Kuching turning into Jalan Duta.  I was pleasantly surprise that I could caught up with them, especially the Goh's brothers.
Chin Heng told me that it is his wish to finish every marathon below the 6 hours cutoff time at the international marathon level.  I have not fact-check this one yet.  Perhaps I shall check it out later.  Chin Heng is an international marathon runner who has 9 marathon under his belt.
Both Peter and Albert were so relax finishing the race.  They had encourage me to continue running and minimize walking.  Very good sifu they are.
I have to confess that I didn't go to the mobile toilet throughout the course.  I have the urge to pee at KM4 mark, but the toilet stoppages incident that caused my sub3 HM finishing by 1 minute last year still fresh in my mind.  Somehow the urge subside and gone from KM9 onwards – miraculously 🙂
Along the Duke highway (after the U-turn just before the toll gate), at the Damai LRT station, I'd noticed a train with a handful of runners (with SCKLM running vest) looked a bit worry.  It was about close to 6AM.  I guess if they were HM runners, they would have been late for 30mins, unless they were the fun run or 10km competitors.
For the rest of the blog, please do visit my blog site at here