PHUKET, Thailand (Press Release) – More than 4,000 runners lined-up this morning to run the Marathon and Half Marathon distances at the 12th Laguna Phuket Marathon. With a record turnout of almost 7,000 runners over the two day event, the Marathon and Half Marathon have proved the most popular and with more than 1,600 in the Marathon distance alone, it's the largest field of Marathon runners ever at the Laguna Phuket Marathon.
Flagged off at 04:00, Marathon runners enjoyed the beautiful course and quiet lanes in the North of Phuket, the rolling hills, Sirinat National Park and running along Bang Tao beachfront and finally running through the grounds of Laguna Phuket to finish at Laguna Grove.
In the lead group early on was Thai ultra-distance specialist Sanya Khanchai who, after a seventh place finish in the 10.5km yesterday stepped up to his favoured Marathon distance today, but it was Japanese runner Nakajima Hiroki who stole an early lead and at the 10.5km split was more than 12 minutes ahead of the second placer.
Nakajima went on to extend his lead further and finish in a time of 02:34:57.6, beating last year's winning time by almost three minutes, and more than 30 minutes ahead of second place finisher David Escolar Ballesteros (ESP). Cheng-Ya Sha (TWN) finished third. After a slow start Spanish athlete Zigor Iturrieta finished hard in fourth, just 50 seconds off the podium.
In the female race the early leader was Sabine Egger-Weickhardt (AUS) but as the temperatures soared Japanese long-distance specialist Inoue Tomomi reigned her in and was the runaway winner in a time of 03:10:34.6. Ana Ferreira (PRT), a full 20 minutes back, finished second ahead of Martyna Jakobczyk (POL) who finished in a time of 03:38:19.6
In the Half Marathon, yesterday's 5km winner Rattakarn Lamanee (and last year's 10.5km winner) stepped up and was amongst the early leaders but it was fellow Thai runner Danchai Pumkong who lead to the half way point and went on to extend his lead and run out the win in a time of 01:19:37.6. Danchai also finished second in yesterday's 10.5km and won the Marathon at Laguna Phuket Marathon in 2012.
Picking up his pace in the second half of the race, Rattakarn came through for second ahead of Thirapong Yongthio (who finished second behind Rattakarn in yesterday's 5km), making it a Thai 1, 2, 3.
Elsewhere in the Half Marathon race, Paralympic marathon champion and world-record holder, Mr Eitan Hermon from Israel placed sixth in the highly competitive 40-49 age group, and finished 13 overall.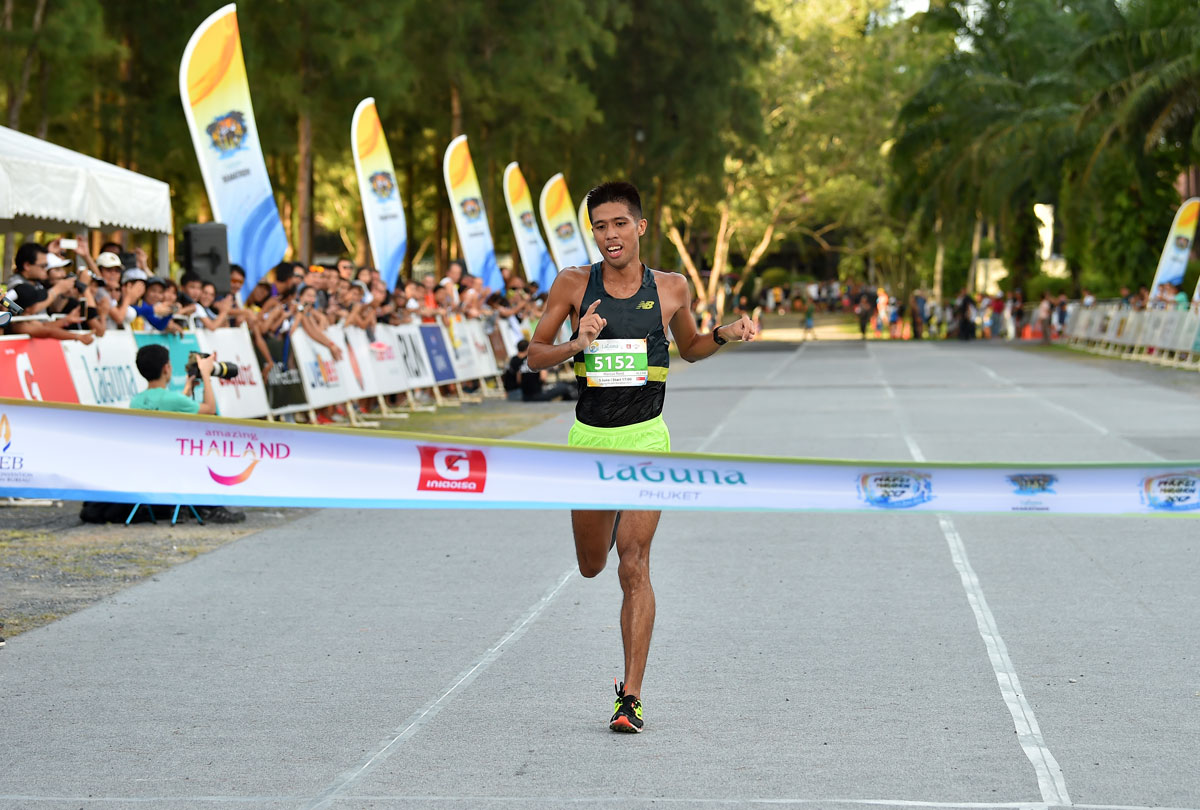 In the female field, Phuket-based triathlete Elle Brookes from Australia did the early running but Sukanya Srisawad (THA) and Patteera Ruengjai (THA) kept her in their sights. However, Sukanya fell off the pace later in the race and fellow Thai Benjamas Phujit came through to take third in a time of 01:45:53:2, just nine seconds ahead of British athlete Annie Pedroni.
Celebrating a sixth consecutive participant record, close to 7,000 runners took part in the 12th Laguna Phuket Marathon which is sanctioned by the Association of International Marathons and Distance Races, and is organised by leading sports management company Go Adventure Asia with professional timing and results by Sportstats Asia, ensuring the highest of international standards.
Top three overall results in all distances
Marathon (Male)
Nakajima Hiroki (JPN), 02:34:57.6.
David Escolar Ballesteros (ESP), 03:05:16.6
Cheng-Ya Sha (TWN), 03:09:03.5
Marathon (Female)
Inoue Tomomi (JPN), 03:10:34.6
Ana Ferreira (PRT), 03:31:06.0
Martyna Jakobczyk (POL), 03:38:19.6
Half Marathon (Male)
Danchai Pumkong (THA), 01:19:37.6
Rattakarn Lamanee (THA), 01:23:51.7
Thirapong Yongthio (THA), 01:24:24.4
Half Marathon (Female)
Elle Brookes (AUS), 01:38:38.4
Patteera Ruengjai (THA), 01:45:04.2
Benjamas Phujit (THA), 01:45:53.2
10.5km (Male)
Marcus Ong (SIN), 00:36:24.4
Danchai Pankong (THA), 00:37:59.0
Mark Honsa (PHI), 00:38:32.2
10.5km (Female)
Immogen Simmonds (GBR), 00:39:41.1
Ling Er Choo (SIN), 00:43:56.8
Claire Adorna (PHL), 00:47:52.1
5km (Male)
Rattakarn Lamanee (THA), 00:17:38.0
Thirapong Yongthio (THA), 00:18:44.3
Samuel Canavan (AUS), 00:19:28.7
5km (Female)
Hayley Newman (AUS), 00:20:26.6
Thirajit Boonsaen (THA), 00:23:39.1
Justina Zeng (SIN), 00:23:47.9