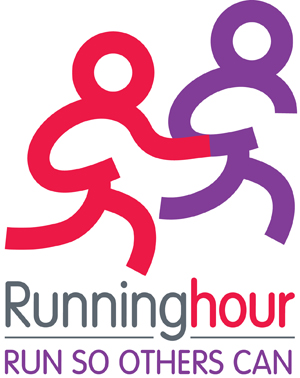 FEAR the final frontier, to boldly go where no runner has gone before!
Runninghour 2017 is a unique run where you get to experience what it's like to run without sight. As this run required a buddy, I roped in my running buddy Christina to join me. She was pretty excited about it as it would be a novel run experience. She collected our race packs as I was busy that weekend and could not pick it up. I think this is the only race pack where besides sponsored stuff and a run tee, you get a lanyard and blindfolds in the pack. The run was held on Saturday 13 May at Bedok Reservoir, flag off for the 10k event was at 5pm while the 5k and 3.5k events were flagged off later.
We arrived pretty early and had a chance to catch up on some of the activities there. For the 10k event, it would be 2 rounds the reservoir with a small loop on the first lap. It was a fun run to create awareness for the visually impaired. What happens is that you and your buddy will take turns running with the blindfold on. After the first 500m there is a change over area and then another 500m, after which you are free to complete the course in any fashion you wish.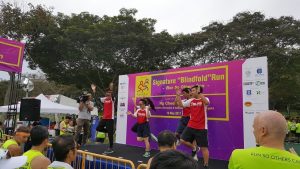 We got off to some heart-pumping aerobics exercise led by these 5 very enthusiastic and coordinated young people. Me with my 2 left feet usually do not fair well in these types of warm-ups.
5pm and the horn sounded and we were off. I decided to start with the blindfolds first and by buddy would guide me with the lanyard. Now at these runs usually you would go through a few emotions like anxiety, the adrenaline rush, the exhaustion, pain, exhilaration of completing the event etc. etc. but for the first time a new emotion was felt … FEAR ! Once the blinds went down over the eyes, it was not easy just to even take the first steps. You can hear the voices and shuffle of feet so near you. There was this illogical fear of bumping into someone and I even felt that there would be a tree or lamppost right in front of me and I would bump right into it. But all you got to do is trust your running buddy. So with that after the initial fear (well it did not actually go away) I felt more comfortable and picked up the pace a little. Falling over was not so much of a worry it was the bumping into someone which was the main fear … for me anyways. We changed over at the changeover point and this time it was me who lead and you had to be aware of your surroundings as you guide the runner through. We made it through the first km and then we took off our blinds and ran the rest of the way. On the 2nd loop, we tried again the blindfolds and it did not really get better, same old fear was there. It truly gave me a greater appreciating of visually impaired runners.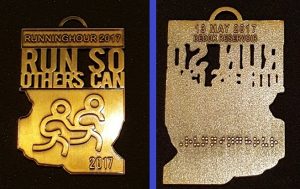 As we completed our run we ran through the finish point lanyard in hand. We collected our medal .. only the medal as the lanyard was already given and proceeded to make our way home. As you can see from the medal above, the reverse side had braille characters. Now I think that was an excellent idea as it got me curious and so I googled braille and managed to read out the word and it said "Runinghour" and that was with a capital "R". All in a really interesting event and it was an eye opener to run blindfold, well at least 2km of the 10km route. If you ever want to try something different, this would be it !!