SKYathon, SKY Cable Corporation's annual beach run, returns to Boracay on April 22 for its 8th year of raising awareness and funds to sustain the island's excellent natural beauty and rich marine ecosystem.
For two years now, SKYathon aims to help restore the island's coral reefs by raising funds to purchase reef nurseries via the Coral REEFurbishment project in partnership with Boracay Foundation, Inc.

In fact, SKY Cable is dedicated to support the advocacy on a long-term basis.
"Boracay has given so much to Filipinos and it is only fitting that we return the favor by helping the country's world-class island remain beautiful. SKY is committed to uphold this advocacy through SKYathon," Jaynalen Redondo, SKY Cable's airtime sales marketing head said.
SKYathon returns this year with the foremost running event organizer in the country, Coach Rio, as race partner.
According to a DENR assessment conducted in September 2015, coral bleaching, unregulated diving, and the spread of crown-of-thorns starfish have caused damage on Boracay's coral reefs. The rehabilitation project can help coral reefs to recover for Boracay to maintain a healthy coastal marine ecosystem.
The highly anticipated destination run will happen on April 22 (Saturday) at the Epic Beach Front (station 2). Gunstart at 6AM. Aspiring SKYathon runners can choose from a 3K (P500), 5K (P600), and 10K (P800) beach run. A race kit includes a singlet, timing chip, loot bag, and a finisher's medal.

Be a hero for Boracay this summer by joining the SKYathon beach run. For more information on registration, interested racers can visit www.skyathon.com.
Continuing Reef Rehabilation
With Boracay's power to attract tourists and an undersea ecosystem as delicate as any, the island needs 'heroes' who can share in sustaining its environmental health.
Shore clean-ups initiated by the island's various "stakeholders" happen seasonally, but its underwater life is of equal importance.  This is where SKYathon, the annual beach run by leading cable and broadband provider, SKY Cable, finds a place for the 'heroes' of the environment to offer their help.
"As the reefs continue to need care and upkeep, we are heeding Filipinos, particularly our beach runners, to join our cause to help save the island through SKYathon 2017, thus our battle cry, be a hero for Boracay," Delbert Santos, SKY marketing services manager said.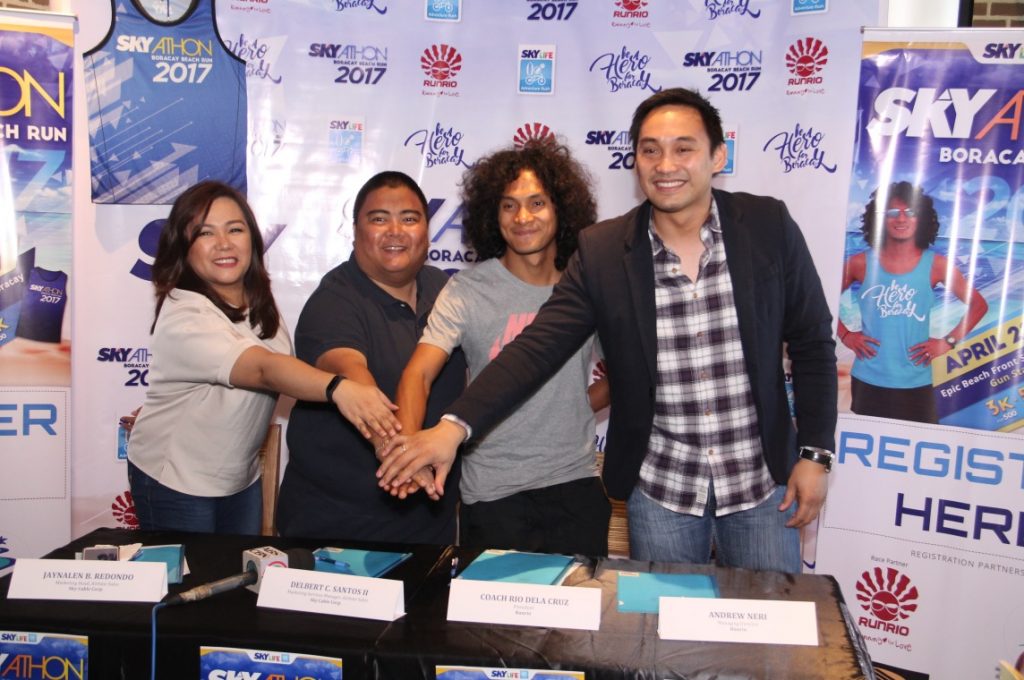 Because of the debilitating condition of Boracay's coral reefs, SKYathon will once again allocate a portion of the registration fees to support Boracay Foundation's Coral REEFurbishment Program to help save the island's coral reefs from dying.
In fact, SKY is dedicated in supporting the advocacy on a long-term basis.
The rehabilitation project can help coral reefs to recover for Boracay to maintain a healthy coastal marine ecosystem.
Updates are regularly provided on the race official Facebook page (https://www.facebook.com/SKYathon). The online registration is open until April 10, 2017.
Other registration venues include the Boracay Foundation Inc. office located on the 2nd floor of AKY Gasoline Station, Main Road, Manocmanoc, Boracay Island, Chris Sports branches in SM Megamall, SM North Edsa (Main), SM MOA, Glorietta 3, Robinsons Ermita, and D'Mall Boracay; as well as Rudy Project Branches in Alabang Town Center, The Podium Trinoma, SM MOA, SM Cebu, Robinsons Cebu, and D'Mall Boracay.
SKY Cable Corporation is the first to introduce cable television to Filipinos in 1990. Since then, it has been a frontrunner in technology and cable TV content by being the first to design a highly customized viewing experience among subscribers, and offering the most number of HD channels. Its properties have expanded beyond pay TV. SKY now has One SKY Premium (cable, broadband, and mobile internet unlimited bundles), One SKY Lite (cable, broadband, and mobile internet consumable bundles), SKYmobi (mobile internet), SKY On Demand (video-on-demand), SKYdirect (direct-to-home), SKYcable, and Destiny Cable (cable television).