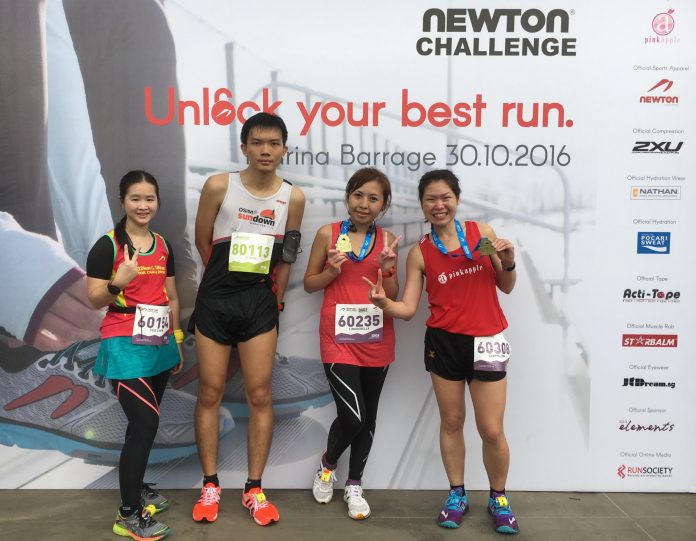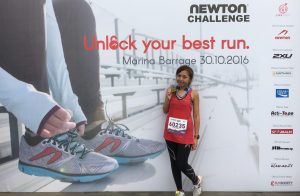 Unlock your best run. Though at one point, I thought it is possible that I could finish within the 32km within 3hrs35mins, but I was lazy and not determined enough, after entering Gardens by the Bay east I walked a lot which is still about 8km more to finish. I saw Justina and Chee Beng just slightly ahead, Justina suffered a leg injury and had not recover yet and I walked a little while with them. I figured that anything faster than 3hrs57mins is a PB. And I finished in 3hr49mins, 8mins faster than last year's Newton 32km 😊 And according to Garmin, today when I'm at 21.1km, I beat my best half marathon timing which I gotten in GEWR2015 by more than 3mins! 😁 Seriously, I ran at least 5 half marathon this year but I couldn't even beat 2hr24mins my first ever half marathon timing 😂 The distance markers placed along is route are pretty accurate according to my Garmin. So nice just next day afternoon of the race, results is out! 😊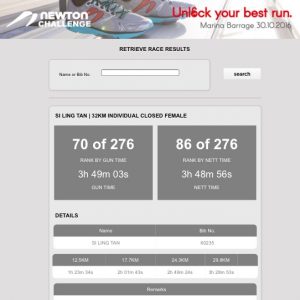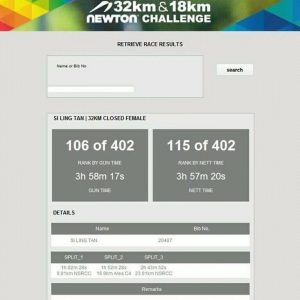 Really want to thank Pinoy SG Runner's Coach Arnel and Coach Jayson and all the fellow runners at PSR giving me advises and encouragement during the run and trainings, going to PSR trainings I really improves a lot in running 😊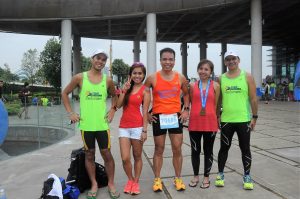 Unlock your best run. What is a best run? I suppose that any reason can also be why its a best run. It may be the first time a completing a long distance run such as 21km or 32km or getting a personal best timing or simply relationship goals like running together with your spouse, buddy buddy or hold your sweet heart hand and cross the finishing line together can also be considered a best run.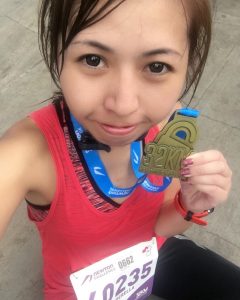 Unlock your best run. I did and I didn't. I really walked a lot. Now when I looked back, I can only feel regret and disappointment as I didn't push myself harder. I can definitely do better than this. Now I'm angry with myself for even walking. No matter how slow I could have run, I should have keep on running. And I will definitely challenge myself again the 32km again! Ah, that's why it's called as "Newton Challenge" 😊 Seriously even without giving us the finisher tee, all runners will be very prideful enough even just wearing the race singlet! Even the shortest distance to complete is 21km! I took M for finisher Tee as I think too highly of myself that I can fit a size M nicely and it turns out to be too big for me and July say: Look like you're wearing a "boyfriend shirt" 😂 What if the boyfriend is smaller size than me? 😅 But no, it's not a "boyfriend shirt", I earned it myself! 😆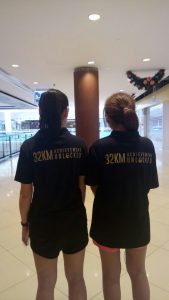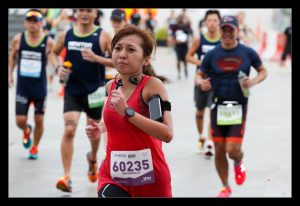 (Photo credits: Ming Ham)
Thank you Ming Ham for this great photo! It captures really a thousand words or even more than that 😊 This picture is a super emotional photo, it's just near the finishing line when I'm trying to chiong the last distance running at maximum speed to get my timing recorded. Can see the struggle, the 感動-ness I have to finish the run.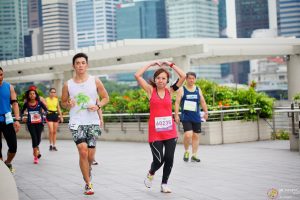 (Photo credits: RunningShots: Erwin)
This is my second time joining the Newton Challenge. Honestly speaking, what attracts me back to running this race is partially because of its super chio medal I got last year 😅 I was hoping this year's medal will be nice too. Medals are not just useless piece of metal like some would said, but it means memories to me, it meant that I had conquer my mind last year. Last year, I ran the 32km distance as well, it was my first longest distance ran my entire life till I did my first full marathon in SCMS 2015.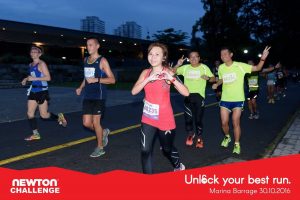 (Photo credits: Pink Apple Events)
I'm all wet and was soaking in sweat. Couldn't even unlock my phone as my hands are all wet with sweat, what I'm wearing were also soaked with sweat so I used my finisher tee as a hand towel 😅 Maybe it's a good idea to give a small dry towel too after the races as it's always a problem that after run, I have no where to dry my hands so that I can use my phone. Oh, maybe another idea is that I rather get a Chio FINISHER TOWEL than a finisher Tee. Good idea right? My finisher t-shirts are really piling up, giving towels is more practical too! I didn't even look properly at the medal and finisher tee after I crossed the finishing line but the first thing I do is to enjoy the iced cold towel 😁 Though no Sun and I was seriously very cold the entire run, but it's still very shiok to enjoy the cold towel and the bottle of super cold Pocari Sweat 😆 Newton Challenge really provides the BEST hydration service 😊 ALL the water I take at hydration points along the running routes are cold and there's enough hydration point, I think almost 1 hydration point is available at about every 2km.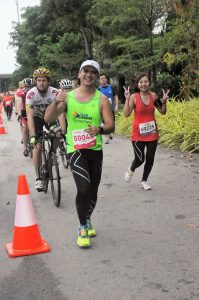 (Photo credits: July ❤️)
Just 5 mins after I crossed the finishing line, while I was with Sabrina and YiHeng queueing for the Pocari Sweat photo booth, I start to feel unwell. I was giddy , my vision went white that I thought I was about to faint and I feel very vomitty. And this crazy zhar bor dunno why tahan so hard just to take the photos. Look at her forcing a smile and how pale she is 😅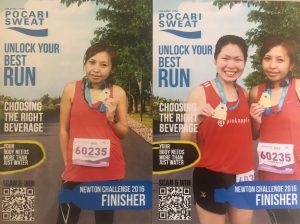 And immediately after taking the photo I literally couldn't move so the entire 1 hour plus or so, I was just sitting at only 3 steps away the tentage of Pocari Photo Booth sitting down loading myself with water and food after that. And miraculously the power of a doctor, I feel better seeing Dr Mok! (LOL! Have to specify more when you say tell people you see a doctor, seeing as in really just use eyes and see, no consultation of my symptoms 😂) Manage to get a very nice photo with him 😍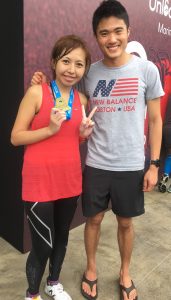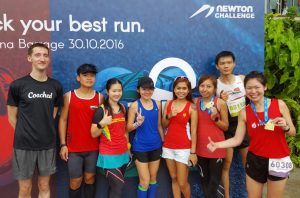 Thank you July and Romain to come support us and help us take nice nice photos 😊 And thank you YiHeng for collecting my baggage at the deposits and collects food for me, really appreciate his kindness 😊 Really enjoyed the Soya Beancurd and the food. Guess it's the only running event that caters food for runners like rice and bee Hoon. There's also ice cream and the water at the race village prepared is really enough for the runners that I think no one would complain of being thirsty.
I guess this is the first time after a running event I took the least photos around with friends. I didn't even have the strength to go look for Kelvin, ChiuPing, Eugene, Rey, Thomas, Serene and HaoHan. Wonder is it because the night before NewtonChallenge, I couldn't sleep. I only slept like 1 hour when I could have slept 5 hours at least, but I think the rest of the time I was just rolling here and there on the bed but simply can't sleep.
I bought the shuttle bus ticket pick up from Yishun as there is no pick up available at Khatib MRT station which is nearer to home so I will need to walk at least 30mins to Yishun MRT but luckily Jasmine offered me a ride as her friend is driving, thank you Jasmine and Kok Leong! 😊 And congrats to Jasmine for coming in first in the 32km women's closed catergory 😍 And I'm really lucky because I get to know after that that the shuttle bus to pick the runners up at Yishun is late for more than 20 minutes! 😡 How can like this 😡
Flag off is at 4.30am exactly, after Jasmine and I deposited our bag and head to the start line, it's the first time the start line is at the slope of Marina Barrage, I felt that it's quite dangerous as it's quite dark is a very potential place for people to fell down 😅 Floor is also wet due to raining previously and it's a downward slope so hopefully everyone is safe 👍🏻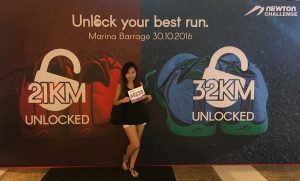 Race Entry Pack Collection is fast, collected it on the last day of REPC and there is no queue at all. Now I try not to collect my race pack on the first day of REPC as the first day is more crowded usually. There's also a pair of Newton socks given this year for the early bird registration. I like the race singlet, it's comfortable to wear, already wore a few times before race day, it looks nice too and also particularly just because it's not Compressport 😂 Seriously I realised when I was packing my clothes a few weeks back and notice too many race singlet's brand collected this year by the runs I participated in is printed with "Compressport" 😑 Hopefully I will get to keep more other brand's race singlet.
[Deepavali]
On Saturday, Sabrina and I went to Bukit Timah Hill for a hike, we figured that as next day is Newton Challenge, we will just be going for a easy walk. There is no other plans made actually but then we decided to head to Dhoby Ghaut for lunch and who knows just nice it's Deepavali and Istana is open! And well, since National Museum is nearby too so we just went! It's really fun and we were out whole day since 8am and I walked about 32000 steps on Saturday 😆 Justina helped me collected my race pack for the coming GEWR but they didn't give me the tutu along with the race pack, so I went back and collect it on Saturday and we bump into Justina 😊 And have fun at the photobooth. And then Sunday too, after Newton Challenge we went to Marina Square for breakfast and take go to the photo booth for some pictures again 😆 We took many beautiful photos on Saturday and just want to share it here too 😊