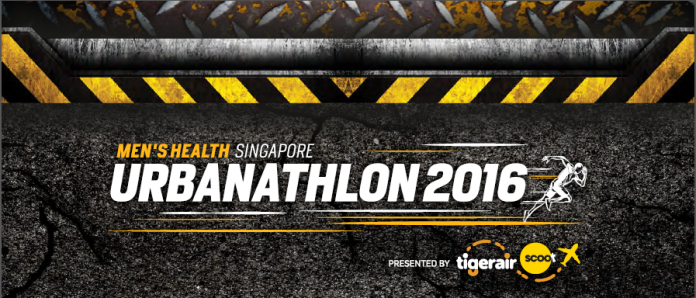 Disclaimer: I was fortunate to have my race slot sponsored by SPH Magazines (and many thanks to JustRunLah! for liasing). In return, here's a review of the race experience! Enjoy 🙂 If it gets too unexciting, do look out for the font in italics which I feel are probably fundamental aspects of a race.
Race Pack Collection
Race Entry Pack Collection (REPC) was held on the 4-6 March 2016, from 11am-7pm daily. I dropped by on a Saturday afternoon. No queues at that time, in fact, REPC was rather quiet. Slightly disappointingly, there were no sponsors' booths to browse (compared to just a week ago, during the REPC for the Green Corridor Run 2016).
The Race Precinct
I do love races in which access by public transport is possible and thankfully, this was one of them. The Race Village was held at Kallang Practice Track. With flag-off to begin from 7.30am onwards, this meant that I could access the venue in time via MRT 🙂
There were minimal queues for the portable restrooms (and since the race venue was Kallang Practice Track, there were proper restrooms available as well, possibly distributing the participant load), though baggage deposit took a little longer (about 10mins – I started queueing at 6.45am).
Just after 7.00am, the race pen opened. I had queued up about 5-6m from the front – which I thought would get me into the first wave. Much to my surprise, only a few handfuls of runners (maybe around 40) were let through, after which a division was made to separate subsequent runners into the next wave. I didn't make it into the second wave either, but thankfully got into the third wave. Later waves equated to potentially longer queues at the obstacles and quite certainly more sun exposure!:O I noted some of the potential podium finishers (Gurkhas) did not make it into the first wave. However, with some negotiation and explanation, I'm glad race officials allowed them to join the first wave.
The Race
The first wave was flagged off promptly at 7.30am, thereafter the second wave shifted into position and were then flagged off as the clock hit 0:03:00. As I was in the third wave, I was flagged off as the clock struck 0:06:00.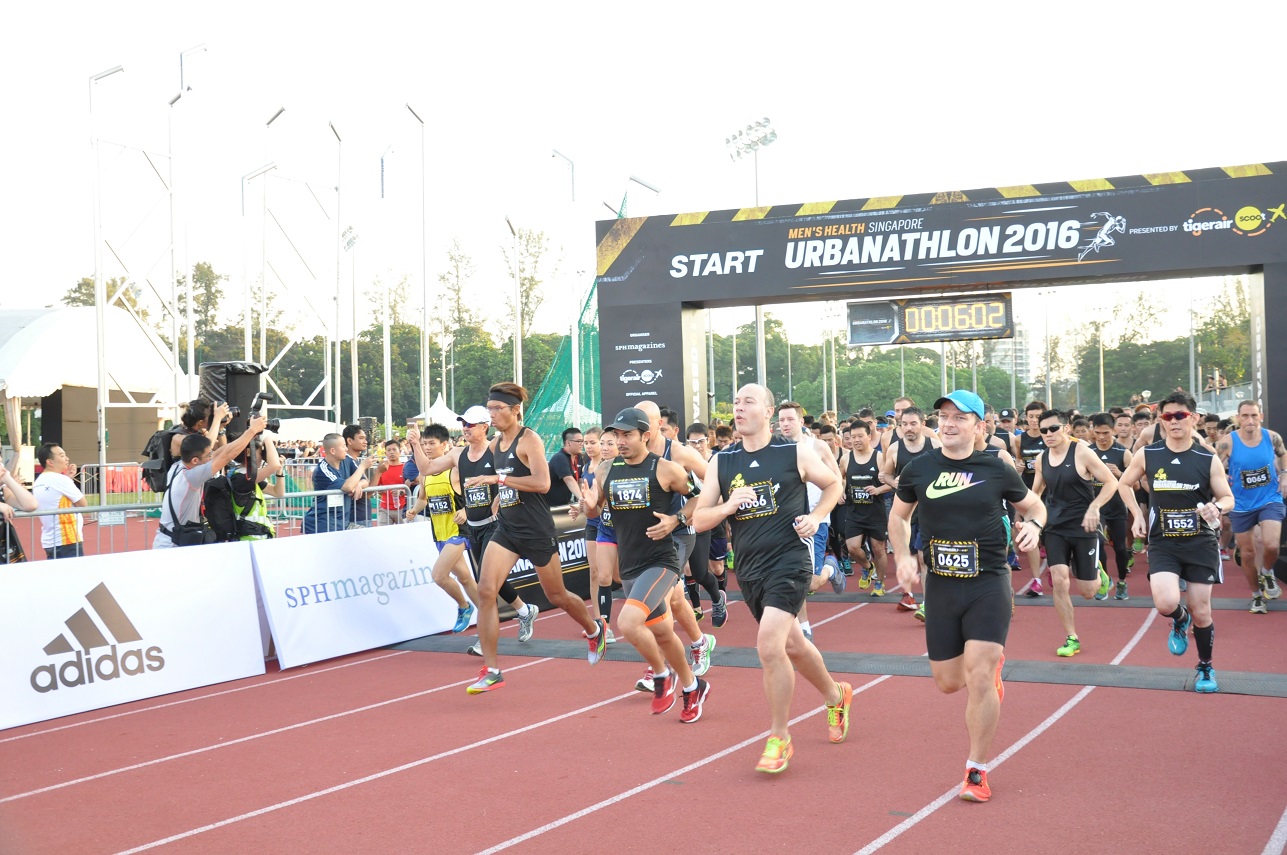 The race route was a rather complicated one, quite suited for an Urbanathlon I suppose. It would take participants around the National Stadium, before progressing along Tanjong Rhu, then up the Benjamin Sheares bridge via some flights of stairs. Thereafter, it continues around Marina Bay Sands, Esplanade and the Singapore Flyer, before proceeding towards Nicoll Highway. That's not the end yet, but just in case you're like me and can't quite visualise my explanation, it's probably best explained with the route map below.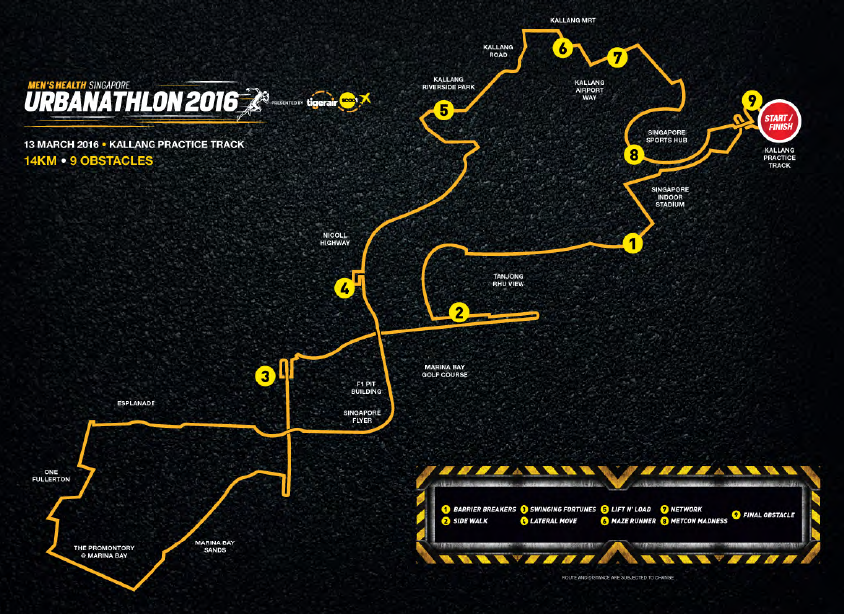 Spanning a total race distance of 14km, it would take participants through 9 obstacles. Here they are! As I've figured, a picture paints a thousand words.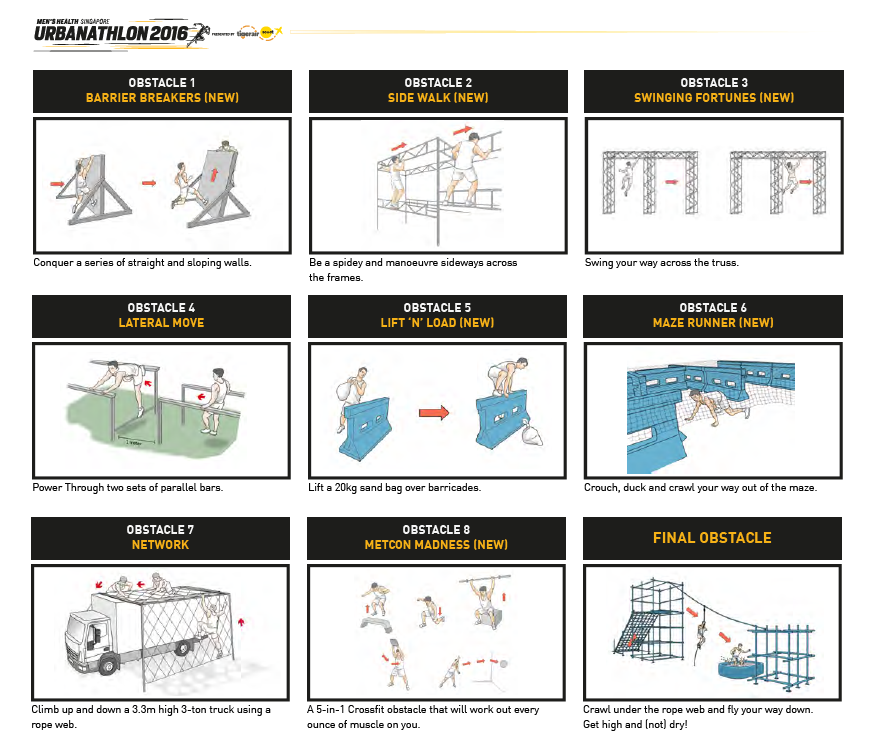 For complete coverage of all the obstacles (in essence, my entire race journey), you may view my personal blog here. Instead, I shall attempt an analysis of a few obstacles, particularly those I suspect posed more challenges (or anything else of interest to me). Before that however, I would just like to mention there were adequate hydration stations (5 well-distributed stations serving both plain water and isotonic hydration) and distance markers were placed every 1km (:
Obstacle 1: Barrier Breakers. Though participants ought to be fresh this early into the race, I noted that some participants had a little more trouble negotiating the 3rd wall (the steepest of them all), particularly those who aren't vertically inclined (admittedly I'm not that tall myself), who may lack upper body strength or who have awfully slippery shoes. Nonetheless, there were many kind souls around to provide assistance 🙂
Obstacle 3: Swinging Fortunes. Sweaty palms = slipping fortunes.
Obstacle 5: Lift 'N' Load. The only reason why I mention this is because though stated in the race guide that the sand bags weigh 20kg, I'm certain that was drastically inaccurate (completely filled jerry cans also weigh 20kg – and I know there's a big difference). Thankfully, the difference was that they were lighter than the stated weight, making this less challenging than anticipated.
Obstacle 8: Metcon Madness. This is the crossfit station that was previously publicised and trust me, it's challenging to perform the tasks this late into the race. The first two stations of this obstacle are body-weight related (box jumps, lunge jumps); however the next three involve lifting fixed weights. For those who are as light as a feather, they're lifting a decent proportion of their body weight. The number of reps adds to the burning sensation
Final Obstacle. Strangely MHU doesn't seem to have named this obstacle. I'd have suggested something like "The Finale" or "The Plunge" instead of "Final Obstacle" (as written in the race guide). I found this really enjoyable! I was on the verge of a calve cramps while climbing the netting while upside down, but the refreshing plunge into the inflated pool of water was a brilliant reward. Probably as long as you aren't taking the plunge after a thousand have already done so (do they change the water?).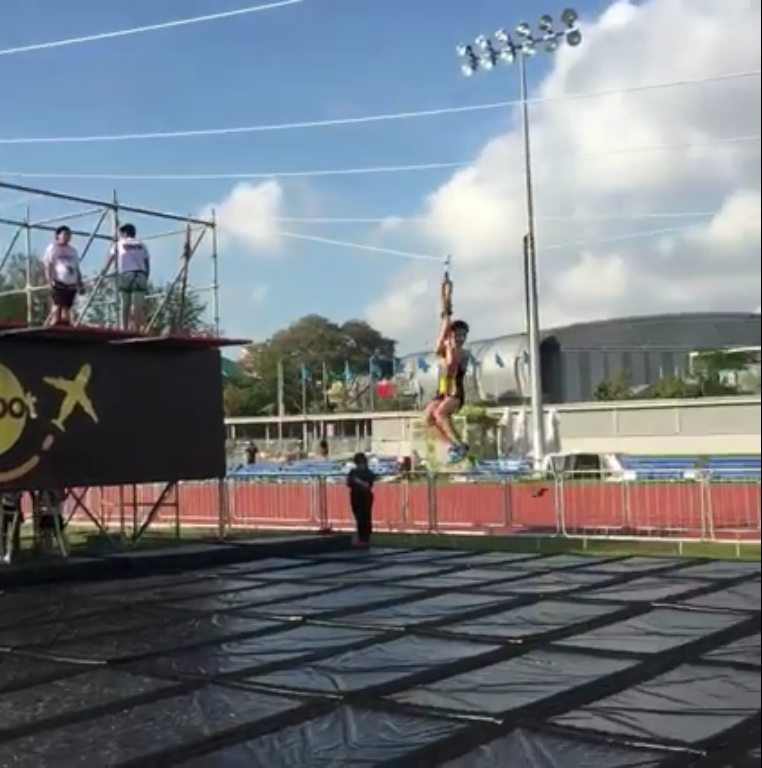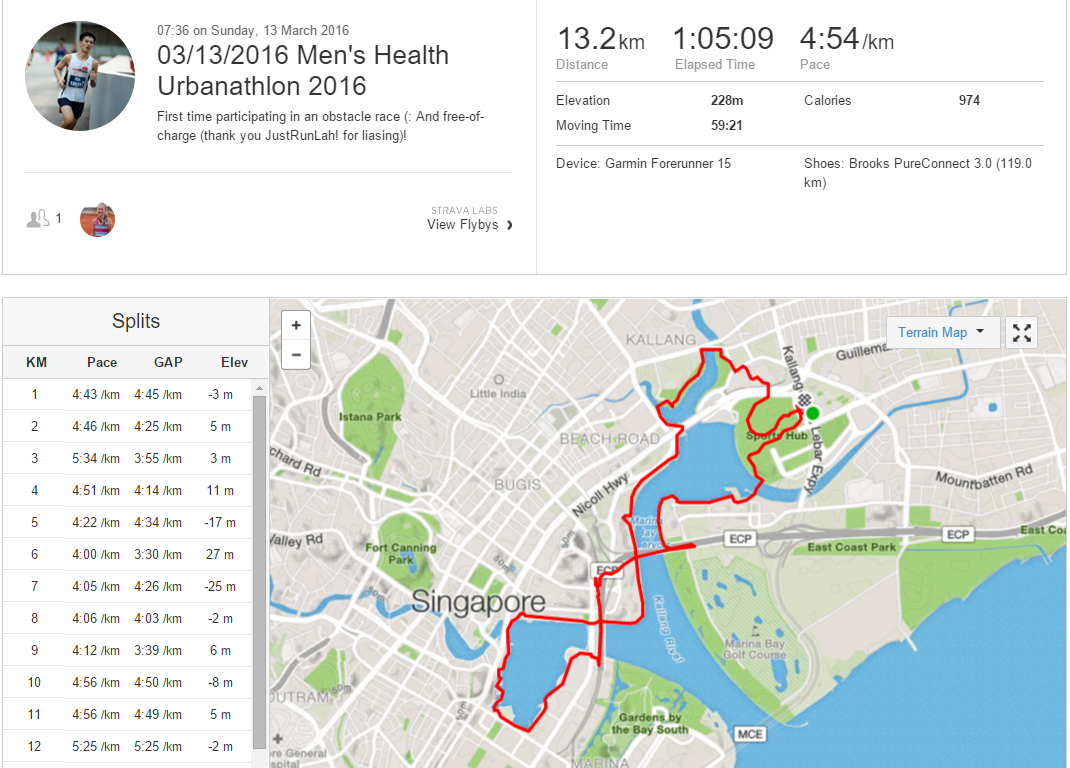 Post-Race
There were numerous race activities participants could engage in after completing the race and collecting their Finisher's Medal and Finisher's Tee. Drinks and snacks were available, along with sponsors booths (Adidas, TigerAir, Scoot) and even a Lab Series Shower Area (not to mention one could shower in the Kallang Practice Track changing rooms as well). Compared to some races where there are limited activities to engage in after one's had a gruelling race, the Men's Health Urbanathlon 2016 certainly had little lacking.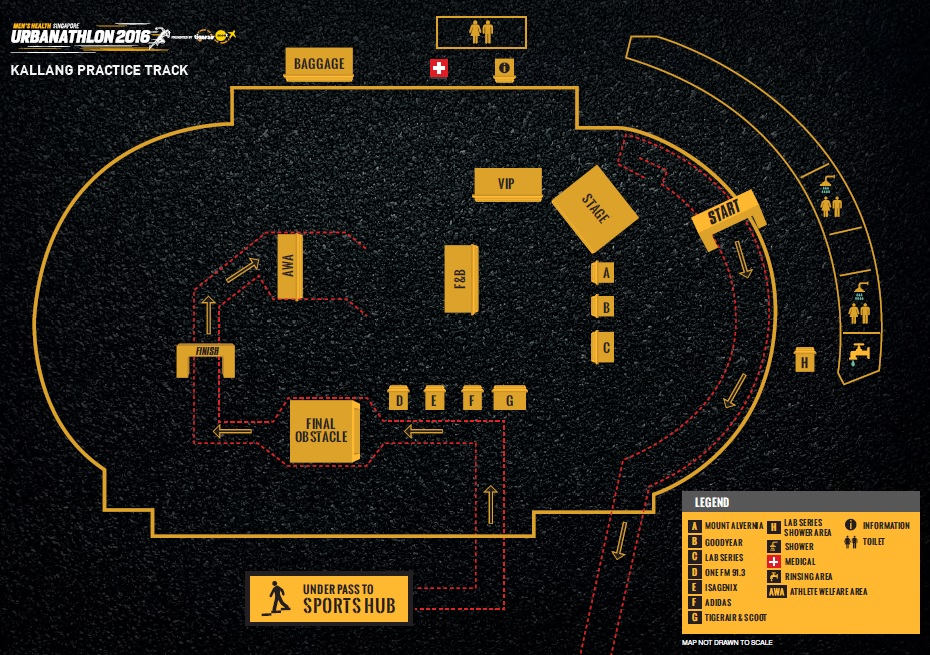 With that, I conclude my review. Hope it was informative and engaging. Feel free to comment if you'd like anything else covered (bearing in mind I try my best to write a holistic, objective review here). You may also check out my personal blog here 🙂
Cover photo credit: MHU's Race Guide.