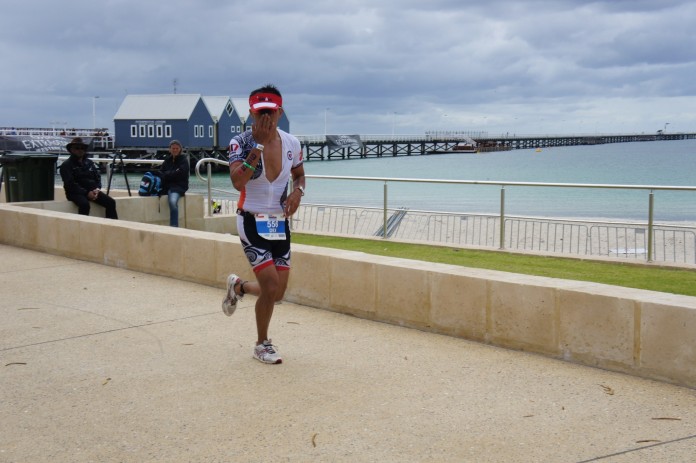 An Ironman Triathlon is an ultra endurance triathlon, consisting a 3.8 km swim, a 180 km bicycle ride and a marathon 42.2 km run. It is widely considered one of the most difficult one-day sporting events in the world and is the ultimate test of human physical and mental capabilities. Dex Tai, 35 years-old and a father of one, recently completed his 10th Ironman Triathlon at Western Australia.
JustRunLah!: How would you introduce yourself to Singapore running/triathlon community?
Dex: I started my first love with running and slowly evolved into a long-distance multi-sports enthusiast.
JustRunLah!: When did you first pick up running?
Dex: I picked up running during my early days in Army SAF camps where I started participating in Track & field. Initially I started representing my unit in 5km and 10km, one thing leads to another, then Squadron, Formation and eventually MINDEF.
JustRunLah!: Would you say that one needs to have a certain mindset to take up running as a sport/exercise activity? If so, how must a runner – whether a newbie or experienced – prepare himself or herself mentally?
Dex: Ask yourself, why did you start running? And use that same reason to get yourself (off the bed in the morning or after work) and run. A goal facilitates me to set my eye on a target, just like a ship, she requires a destination to steer to.
JustRunLah!: When did you first pick up triathlon and what inspired you to do so?
Dex: I started my fist triathlon after I completed my first marathon in 2005. I asked what's next after marathon? Ironman seems like good hill to overcome. After all the matra is "Anything is possible". So I registered for Ironman WA 2006 after Standard Chartered Marathon. I was 26 years old when I attempted my first IM.
JustRunLah!: What would you consider to be your biggest running/triathlon achievement so far?
Dex: That would be completing a series of multi-sports over a period of time. 3 Ironman distance triathlon over 15 days in 2012. I managed to fund-raise for a charity by completing Ironman Klagenfurt, Ironman Frankfurt and Ironman Zurich via the kind donation from well-wishers.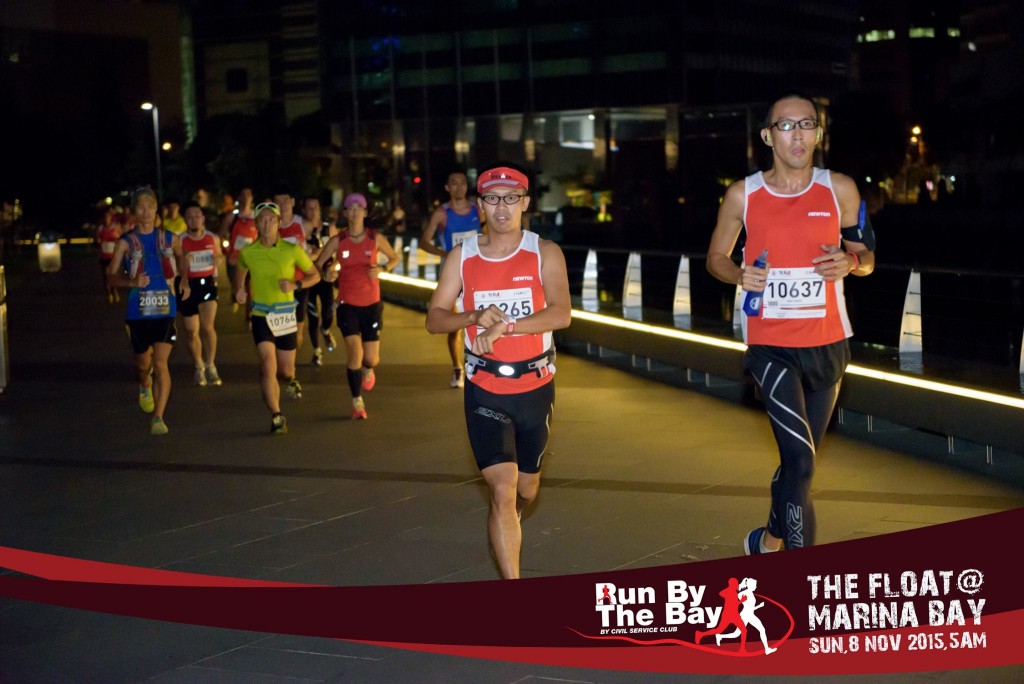 JustRunLah!: You ran an impressive 1hr 37min for the 21km race at CSC Run by the Bay 2015. How long did it take you to train for that and what advice would you give to someone taking that 21km race?
Dex: Thank you, I was blessed when I managed to pace after a good runner on that faithful day. Nevertheless prior to that, I was training progressively since August for marathon. The CSC race came in timely to gauge my 21km performance. The advice I would give is "Pace yourself and Just Run Lah".
JustRunLah!: You also recently completed your 10th Ironman race with a time of 11hrs 38min! Being a seasoned triathlete, what advice would you give to someone who wants to attempt it for the first time?
Dex: Thank you, its a validation after my rotator cuff surgery. Ironman seemed like an impossible feat, but if you break it down, I Am possible. What you needs to do to get started. Start with an Olympic Distance triathlon to appreciate how it feels like. Treat each discipline like a race of its own. Build it up progressively and with a program you will be on your way to that Ironman Goal. The key to long distance racing is, you don't need to be fast, you just need to be consistent.
JustRunLah!: Do you have any pre-race rituals? What goes through your head every time you run?
Dex: Clear your bowels prior to every race? LOL.
JustRunLah!: What is your mantra for when the going gets tough in a race?
Dex: I would love to watch motivational video clips i.e. TDF (Tour De France) where Lance was dancing up the Pryrenees, Ironman 2006 where Macca was chasing for 1st position after Norman Stadler. I would visualise these inspirational images and it brings out the positive vibes and helps me when the rubber hits the road.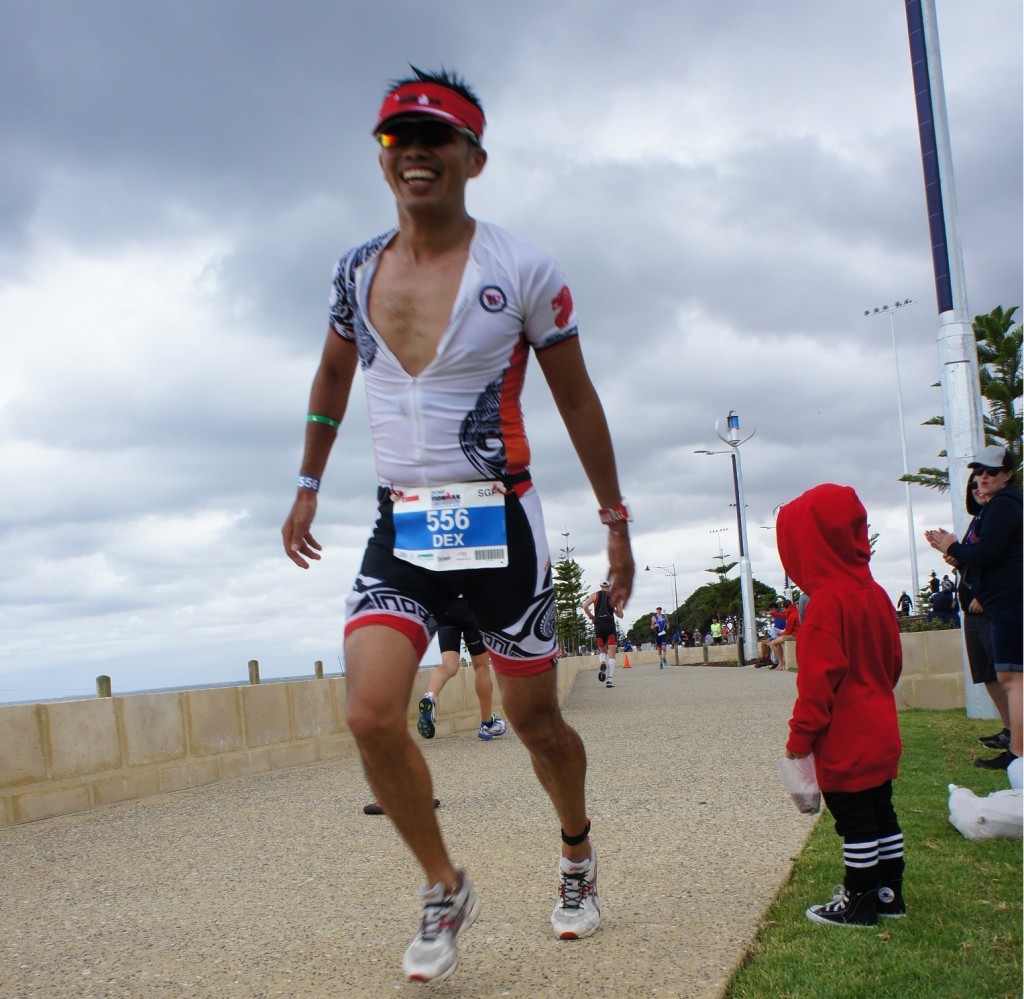 JustRunLah!: What do you think makes a runner/triathlete, especially someone who keeps at it day after day?
Dex: I would think that it's not how well you perform, or rather when the day comes if you fall, it's how well you pick yourself up after that. Everyone will have a bad day somewhere in time. Choo Ling Er broke both her legs during a ride in 2009, she returned and ended up winning her age group to qualify for the 2010 Ironman 70.3 World Championship in Clearwater within a year.
JustRunLah!: What are your goals going forward, in running and in triathlon?
Dex: Like I mentioned, a ship needs a destination to set sail to. I look forward to Ironman Kona qualification in 2017 as well as Boston Marathon qualification in 2018.
"If your dreams don't scare you, they aren't big enough!" – Ellen Johnson Sirleaf
JustRunLah!: Finish this sentence: Running is…
Dex: addictive, watch out for injury folks!