Two years ago, I was a disappointed finisher of the inaugural Commando Challenge. We were delayed for hours at the start point along the green corridor, many obstacles broke down beyond repair, and for a registration fee of $90+ we received a transparent plastic bag of a t-shirt and few vouchers as "race pack". I did not return for the 2014 edition though it was managed by a different organiser.
But I heard that it went well. So this year, since the 2014 organiser is doing it again, I decided to give Commando Challenge another shot. Held at Sentosa, the 6km race over sand, tarmac and jungle, and featured 13 obstacles.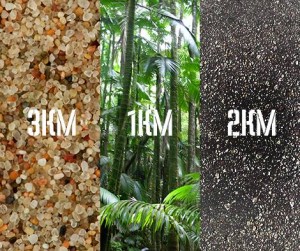 Two tutorial videos were published on the Commando Challenge Facebook page to prepare us for the race but I didn't feel those were very useful. Perhaps next year the organisers may wish to consider a 30-day pre-race workout plan like The Spartan Race has for its participants.
Compared with the 2013 plastic bag, the race pack this year improved, albeit very slightly. It's a drawstring bag, with a t-shirt, a can of Monster energy drink, an AXN handphone armband, and a few vouchers. T-shirts were unisex this year, i.e. men's cut. An XS was still too big for me. The original registration fee was $85, and a $35 discount was extended to past-year runners. I still don't think the race pack was substantial enough given the registration fee.
We started on time and none of the obstacles broke down. Red3 has done a fantastic overview of the obstacles, so please do hop over if you're interested to find out about them.
Two years ago I gave up on the ice bath because it was too long. This year I went through both! I couldn't feel my legs halfway through the first one which was chest-deep, but I decided the only way out was through the roughly 7m-long pool. The numbness took some time to subside. Then I heard from a friend (who finished the 10km Extreme Commando before running the 6km Commando Challenge) that there was a second ice bath. But we only had to crawl through that, without exactly submerging ourselves in the ice and water, so that went fine for me.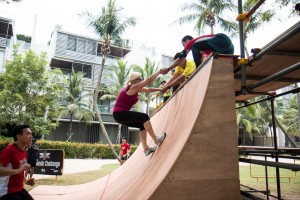 Many of the other obstacles require a certain amount of upper body strength, but everyone I witnessed did fine either by themselves, or with the aid of some awesome friends or fellow racers.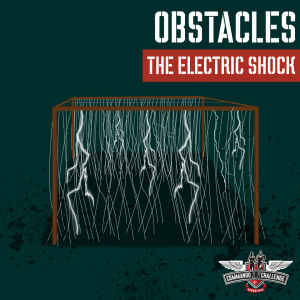 The most memorable obstacle for me was the final one, The Electric Shock. Prior to the race, I noticed a post on Commando Challenge's Facebook wall that they would be bringing this back (from the 2014 race), and somebody responded with a vehement objection. So as I ran through the wires, I made sure to consciously experience the journey.
The voices in my head went something like, "hmm…nothing leh…oh wait. OMGOMGOMGOMGOMG YAY it's over!"
So I felt the electricity about halfway through. My calves were pulsating. Strange that the feeling was only concentrated at my calves. I kept on putting one leg in front of another, but my legs seemed to have a life of their own and couldn't stop right after the obstacle was over. So even after a Commando Challenge official hung my medal over me, I went on for a few more steps uncontrollably. Effects of the electric shocks probably differ between people, as some just collapsed for a breather after passing through the wires, and a friend's ear was still tingling around 15 minutes after the race.
I felt that the most challenging part of the race wasn't any particular obstacle, but rather running on sand. The uneven and unstable terrain gave my ankles great training. Washing my sandy shoes afterwards gave my arms great training too! Do you have any recommendations for suitable shoes for running on sand? Please share by leaving a comment below(:
Overall, I enjoyed the race and I felt it went well as there were no major mishaps on race day. Nevertheless, a plumper race pack and a women's cut t-shirt would have been much appreciated.