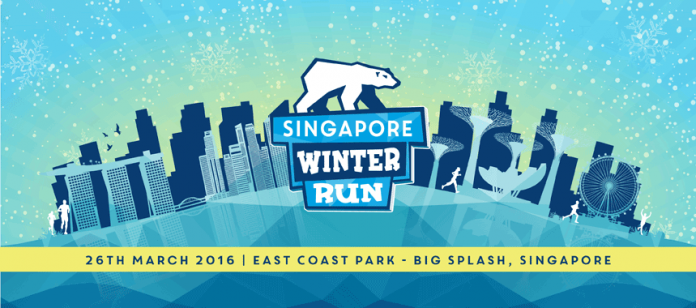 Experiencing a different climate in Singapore seems like a mission impossible. But, coming to Singapore next year 26th of March, is a spin-off of the iconic UK Winter Run Series! Yes, the Winter Run, in Singapore! The organisers are making this a dream come true to many, to bring us Singaporeans a winter in summer, where we can breeze (or freeze) through a 5 kilometre route that boasts 3 different climatic zones with sensational on-route activities and line-ups at this fun-run.
Enjoy 10% off by using code: WINTERRUN10DISCJRL upon checkout!
3 Different Zones For Different Adventures
Fun Zone: Slip into the Fun Zone on the bouncy slide! From clowns and jugglers to carnival games, there is something to keep everyone entertained right here in this zone.
Snow Zone: Be greeted by falling snow flurries welcoming you in the snow zone. In this zone, you are transported into a land of snow-tipped alpine trees, snowmen, and chilly breeze. Filled with wondrous photo opportunities and photobooths, you might want to prepare yourself for the amazing selfies you can take here.
Cold Zone: This is where you experience the freezing winter – evoke all senses as you venture through an ice cave. Prepare for some brain freeze while you grab hold of the ice-cold tasty treats stalls, or jump right into the ice bath; there is no finishing the race without a shiver down your spine!

Chill Out And Have Fun!
Join in the Winter Run and enjoy a cool weekend afternoon with your family and friends. Bring them along to experience this rare winter in summer! Last but not least, don't miss out on the runners entitlements, including a unique ice medal and a mystery item!