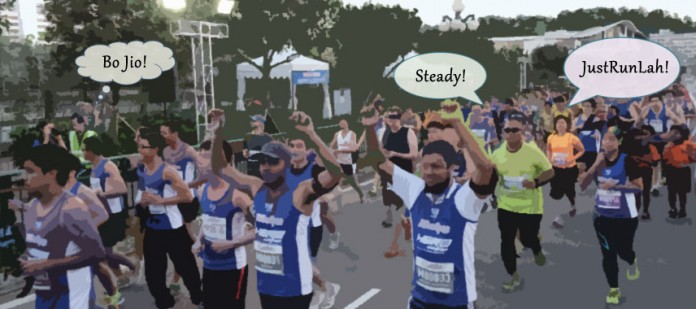 TGIF! In this light-spirited post to end your week, JustRunLah! brings you 10 slang words every true Singaporean runner should know, and the perfect occasions to use them! Can you relate?
1. Siong Ar!
When: Going up the slope. On a very hot morning, afternoon or evening. During interval trainings. Benjamin Sheares bridge at SCMS.
2. Bo Jio!
When: New running event in Singapore and got to know about it later. Latest sports warehouse sale. Free running clinic. Race at exotic travel destination.
3. Wah Lau Eh!
When: Long queue at race pack collection. Not enough water points. No finisher medals. Long queue at race site toilets. Foul smell on public transport after race.
4. Siao Ar!
When: Seeing runners in costume running attire. Ah Siao dragging his tire.
5. Pang She!
When: Wake up late for race. Never attend scheduled training / appointments. DNF (Did not finish). DNS (Did not start).
6. Jialat!
When: Bad weather. Bad race experience. Ambulance sirens on race day. Stomach upset during race. No toilet paper. Abrasions from running. Muscles cramps.
7. Sian!
When: Bottleneck during race. Wrong size for race singlet and/or finisher tee. No isotonic drinks. Alarm clock rings at 5am. MP3 battery run out during a race. No parking lot before a race.
8. Steady!
When: Before race registration. At the last km in every race. Running past race photographers. Selfie and Wefie! Gels station. Bananas station.
9. Shiok Ar!
When: Sit down after a race. Cold drinks after a race. Personal Best in a race. Free race slots at JustRunLah.com
and last but not least…
10. JustRunLah!
When: At all races, any running route in Singapore, or on your car decal!