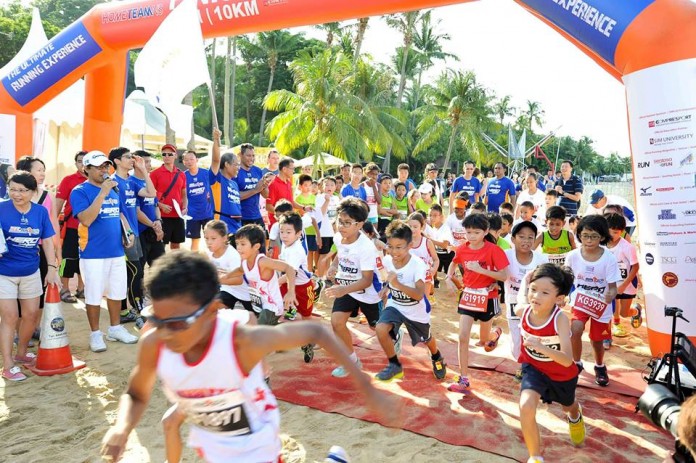 The month of May had been a fun-filled month with a variety of races to choose from, be it charity and family runs, vertical races or night runs! Here are the highlights of the races.
HomeTeam NS REAL RUN 2015
Organised at Sentosa on 17 May, the HomeTeam NS REAL RUN 2015 had a total of 3 race events including competitive 10km, 5km and 500m kids dash.  Running on sand was a challenge to most runners and the adequate and commendable hydration, as well as enthusiastic volunteers managed to keep the runners going. Participants were also satisfied of the pre-race logistics and route planning around Sentosa which included famous landmarks such as the Merlion and the Universal Studios. With an overall rating of 3.5/5, this race can be improved by including more race day expo and activities and add in more perks for the runners' entitilements. JustRunLah! is the official running portal and your running photos can be found at our gallery.

Energizer Night Trail 2015
Being one of Singapore's most popular and anticipated night race, it is no surprise that the Energizer Night Trail 2015 has scored very well on all aspects of a race event, achieving a commendable score of 4.5/5 on average. Participants who ran on 2 May 2015 at Mandai were very satisfied of the organised and efficient pre-race logistics, clear signage and route planning for the 6km, 12km and 18km race events, and hydration points were sufficient and positioned at strategic locations.
Cold Storage Kids Run 2015
The 8th annual Cold Storage Kids Run 2015 flagged off at the Gardens By The Bay on 17th May, 7am with 1.6km and 800m race categories. Overall, the race performed over average with a rating of 3.6/5, with pre-race logistics, route planning and race day activities being the most satisfactory. The race committee can consider including more hydration facilities and include more perks in the race packs to encourage the kids to join for another round of fun run in the coming years.

ISCA Run 2015
On 30 May, the ISCA Run 2015 took place at the East Coast Park to raise funds for MINDS and SPD, with race events including the competitive 10km, 5km and 750m kids run. With organised pre-race logistics, adequate race day amenities, satisfactory runner's entitlement and fun race day expo and activities, this race had an overall rating of 3.9/5. Some of the fun race day activities included a pop-up photo booth and a variety of beverage trucks. This race can be improved with better route planning to enhance the running experience. JustRunLah! is also the official running portal for this race, so check out your running moments at our gallery.
Meiji 5km Fun Run
Being a popular household brand for its dairy products and sweets, the Meiji Run 2015 was advertised a highly-anticipated event with its attractive runner's entitlement worth over $120 of Meiji products. However, the Meiji fair, buffet, yoga and live performances on the race day did not manage to pull up its runners' rating on the other aspects of the race. The race had an overall rating of 2.2/5, with primary complaints being the security bag checks for what was considered a fun run event, as well as the organisers' refusal to let participants bring home the huge quantities of unconsumed Meiji products from the 5km event. This led to a poor value-for-money perception, as participants felt that the $65 registration cost was unjustified.

50 Hours Non Stop Run 2015
As challenging as it sounds, this non-competitive endurance run commenced on 30 May and ended on the next day 1st June with participants running on a loop distance of 4.3km at the Bedok Reservoir with no loop limit within 50 hours. With well-organised pre-race logistics, route planning and satisfying runners' entitlement and race day expo and activities, the organizing committee community sports festival at Tampines should be applauded for hitting a commendable 4.6/5 rating! The adequate hydration and amenities kept the runners motivated and energized as well.
National Vertical Marathon 2015
On 24th May, runners challenged themselves to a 63 storeys race at the National Vertical Marathon 2015 against the force of gravity, physical and mental exhaustion. This race has scored a stellar rating of 4.9/5 with all aspects of the race being rated above average. The organising committee had regular updates on their social media platforms to inform racers about the venue, timings and answered all public enquiries on a timely basis. The race day expo and activities included enjoyable song and dance performances mainly by students from NTU. The generous race pack included a whole range of items including cosmetic products, retail vouchers, food and magazines. Kudos to the students on the organising committee for making this vertical race an enjoyable and pleasant experience for all!
Ulu Pandan Vertical Run 2015
Organised in a neighbourhood, the Ulu Pandan Vertical Run 2015 had participants challenge 10, 20 or 40 floors of Blk 23 Ghim Moh Link on 30 May at 8am. This race fared well in the route planning, hydration and race day activities. However, the participants felt that the amenities and runner's entitlements could be improved to make this a run to remember.
Bare Your Sole 2015
On 30 May at the Palawan Beach, Sentosa, participants walked barefooted for a good cause covering a distance of 2km and 4km, for the Habit for Humanity's local initiative, Project HomeWorks. This event managed to raise a total of $350,000 which will be used to improve the living conditions of elderly, the sick and the physically-challenged living in one-room flats all over the island.
May Fest 2015
Hosted by the Orchid Country Club on 9th May, participants experienced a good time competing in 5km, 1km and 2.km races. The race scored and overall 3.3/5 rating with the route planning, runner's entitlement and race day activities being the most satisfactory.
Changes
Please note that the Rotary Run 2015 has been postponed to 29 November 2015.
Photo credits: Facebook pages of races.