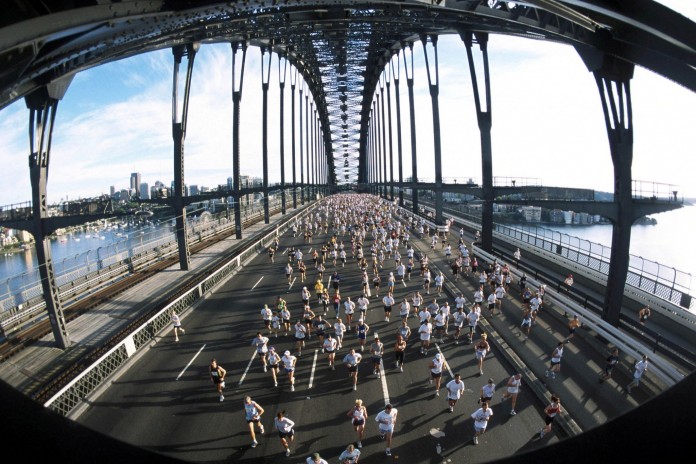 Blackmores Sydney Running Festival
The Blackmores Sydney Running Festival is Australia's largest and most prestigious running event. Last year, the event drew over 34,000 participants, including more than 2,500 international runners from 57 countries, and 2,000 interstate contestants.  For its 15th edition this year, the IAAF Gold Label certified race will be happening on 20 September 2015.
First held in 2001 as a legacy of the 2000 Summer Olympics, the marathon distance of the Sydney Running Festival followed the same course as the marathon during the 2000 Summer Olympics held in Sydney. The organisers have modified the route slightly in 2010, resulting in "a faster, more scenic and spectator friendly course", which was claimed to be well-received.
There are 4 categories to choose from in the Blackmores Sydney Running Festival: the full and half marathon, and the shorter Bridge Run (9km) and Family Fun Run (3.9km). All races start at Milson's Point, and runners get to enjoy a spectacular view while crossing the Harbor Bridge. The shorter distance runs end at the Royal Botanic Gardens, while the half and full marathon finish at the famous Sydney Opera House – one of the 20th century's most distinctive buildings, world-famous performing arts centre and a UNESCO World Heritage Site.
En route, runners of the marathon will pass through the northern end of the CBD, through Hyde Park, out to Moore Park and around Centennial Park.  The course then returns to the CBD, through The Rocks, along Hickson Road and out to Darling Harbour, then back to Circular Quay and along the Harbour Foreshore before finishing at the Sydney Opera House.
A highly attractive race to both amateurs and elites alike, the September date falls in the Australian spring, when the temperatures are cool and comfortable (high of 25⁰C, low of 10⁰C), suitable for racing the flat course. The cut-off times are 6 hours for the full marathon, 2 hours 45 minutes for the half marathon, and no time limit for the Bridge Run and Family Fun Run.
Runners will enjoy the well-organised logistics of the race. Road closures during the event ensure runners can safely take to the roads, with distance markers set at every kilometer to help with proper pacing. There are 16 hydration points for the full marathon, of which 8 provide sports drinks, and 4 with GU. Runners also enjoy post-race free public transport on trains, buses and ferry upon presentation of bib.
Running aside, runners can look forward to the three-day pre-race ASICS Event Expo, for race pack collection and baggage drop-off, as well as the post-race Blackmores Recovery Village, where food, drinks and giveaways await, live bands providing entertainment, activities for children and grown-ups alike, and runners can receive free massages, with priority given to marathoners of course!
Sydney
Sydney, the capital city of New South Wales, is a vibrant multi-cultural city, and home to Australia's largest Aboriginal population.
With its colonial-style architecture, art galleries, and museums, Sydney offers endless options to the culture vultures. Film festivals, performing arts theatres, musical orchestras and live stand-up spectacles cater to a variety of artistic preferences.
Nature lovers will appreciate the fifteen parks around Sydney, including Hyde Park, The Domain and the Royal Botanic Gardens within the inner suburbs. Sydney is also home to literally hundreds of beaches, including the iconic Bondi, Coogee, Manly and Cronulla, all popular spots for surfing, dining, or simply people-watching.
Foodies will love exploring the night markets and cafes for cheap and tasty eats, knocking back a craft brew or a cocktail in one of the numerous pubs and bars, or the weekend markets, cafes and bistros that offer up a chic brunch or high-tea experience. Sydney is also home to several internationally renowned gourmet dining restaurants like Momofuku Seiobo, Quay, Sepia and Rockpool.
Run in Sydney with CTC Travel
Focus on scoring your PB, and let CTC Travel take care of the rest.
The Run Package offers return flights to Sydney on Scoot, with 3 nights at the Holiday Inn Darling Harbor, breakfast included. It also includes registration to the Blackmores Sydney Running Festival, and airport transfers will include a stop at the Expo for race pack collection. You will also enjoy a welcome dinner and transfer to starting line on race day for half and full marathon runners. Leading up to your trip, the Run Package also includes workshops, advisory, a 6-week training programme and pre-departure and race briefing.
Commonwealth Travel Service Corporation Pte Ltd
133 New Bridge Road
#03-03 to 06 Chinatown Point S(059413)
Free n Easy Travel Centre
6216 3456
enquiry@ctc.com.sg
www.ctc.com.sg
This post is sponsored by CTC Travel.