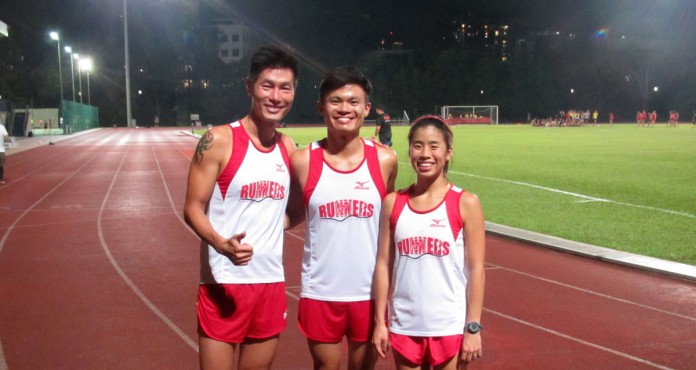 This Sunday, four F1 Runners take on IRONMAN 70.3 Vietnam. Vietnam's third-largest city, Danang, is a bucket-list destination for travelers. While F1 Runners is certainly best known for its fast runners, the team has produced some outstanding triathletes too. As Derrick Chee, Alan Chiang, Ginni Chan and Joanne Mak make their way to the airport, we catch up with them to chat a little about their journey from runners to triathletes.
JRL: A hubby who shares your passion. Is it all about swim, bike, run during the weekends?
Ginni: Yeah! We wake up much earlier on weekends as compared to weekdays, go for morning training and head home to do our household chores/rest before heading out in the late afternoon/evenings for dinner with our family or friends. It is a blessing that we both share the same passion, as we can train together and there is a common understanding. To us, training = dating. HAHA
JRL: What is your mantra when the going gets tough in a race?
Ginni: "You are strong, it is all mind over body!" I will keep this running in my head telling me that I am strong and yes, I can complete it. When I am tired, I tell myself that i can't let my effort go to waste and the faster I complete, the more time I get to rest. Sometimes, I will also think about what I want to eat after the race, [it serves as] some sort of motivation.
JRL: In your opinion, what is the biggest difference between a marathon and an Ironman?
Alan: To me, the main difference would have to be the number of sports involved. An Ironman involves three disciplines: swim, bike and run, while marathon only focuses on running. But then again, both sports require one to possess strength and endurance. For an Ironman, training for strength and endurance does not stop at running only, but also for swimming and cycling. In this case, we have to train almost everyday with different disciplines. To be honest, this sport takes up quite a bit of time – considering there are three disciplines to master. I am really glad to have my wife sharing the same passion, coaches Lexxus and David for the advice on running and swimming respectively, and for my triathlon buddies for the numerous group riding and brick sessions. Having a go at an Ironman has been made it easier and fun at the same time!
JRL: Who has been your source of inspiration?
Alan: My biggest source of inspiration has to be my wife. She inspired me to take up the sport of triathlon when I was still studying in Perth. I saw a couple of her photos, in which she mentioned that she completed her first mini-distance triathlon, and she loved it. Back then, I had not even started triathlon. Her joy and happiness encompassed me to kick-start the sport of triathlon. When I returned to Singapore, I signed up for my first triathlon in 2010, and I have not taken a step back since. What's more, our wedding proposal was held at the finish line of a triathlon back in January 2013.
JRL: A sentence of encouragement for all running mummies out there?
Joanne: I would say if running or triathlon is your passion, press on and pursue your dream. You only live once. Juggling work, family and training is tough and your family members may not understand, especially if they possess very traditional mindsets of where a woman's place is (i.e. at home) but I believe we should live life without regrets. Make adjustments to your schedule to fit training in. For instance, I train in the mornings when my children are still asleep and do not indulge in naps when they are at home.
Gaining their understanding is important. whenever my 9 and 11 year old daughters ask me why I have to go out to run/cycle, I explain to them who competitive swimmers are, and that just like how they need to train regularly, I need to train regularly too, . I hope they eventually understand. Being a mother doesn't always have to mean putting your life on hold. (Or maybe I'm just not a very good mother, but sports has been a part of my life since I was in secondary school, and it's not possible for me to give it up.)
JRL: Please finish this sentence. Running and triathlon have made me…
Joanne: …skinnier? Haha! Both running and triathlons are such effective weight loss sports that I'm back to my primary 6 weight! But seriously, running and triathlon has expanded my world in terms of:
(1) Friends – My circle of friends has not only expanded, a few have also become my lifelong buddies. Training can sometimes be a drag and it's not easy waking up at 5am on weekends but their company always takes the grind and pain out of training.
(2) Mind – Travelling to new countries (eg. Japan, Vietnam and Philippines this year) – triathlons has allowed a swaku like me to explore new places and gain new experiences in terms of different cultures and countries. I like to believe I have also developed a stronger sense of resilience and self-belief through running and triathlons, and my mind is set on pursuing my long buried schoolgirl dream of completing a full Ironman despite having to juggle with work, motherhood and training.