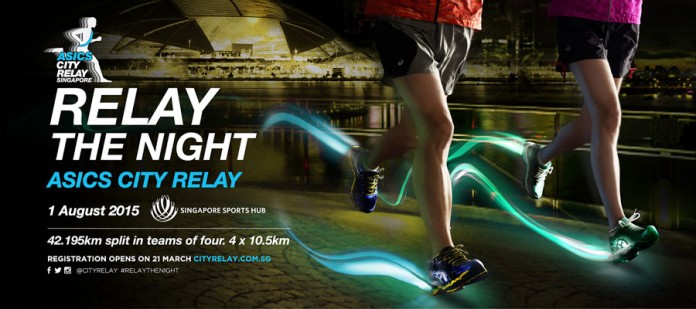 Something new in Singapore's racing scene!
At some point in each runner's life, it is a dream to run in a marathon; yet not everyone is capable of tackling the gruelling 42.195km distance. With the launch of the inaugural ASICS City Relay this year however, you can share the fun of a full marathon event in a relay format along with three other teammates. To be held at the Singapore Sports Hub on 1 August 2015, the ASICS City Relay is an exciting new race concept which will see teams of four compete in Singapore's first ever night marathon relay-only event.
"We see the ASICS City Relay as having massive potential here in Singapore. The relay format has proved hugely popular and with the exciting new Sports Hub venue, we're set for a truly exciting night race which is quite different to any other existing event on the local race calendar," said Chris Robb, CEO of Spectrum Worldwide, the company behind the Standard Chartered Marathon Singapore and Cycle Asia.
"This event is also much more than just a marathon. While we certainly cater to serious running teams, the ASICS City Relay is designed as a social event with a real emphasis on the entertainment, corporate hospitality and food and beverage options on the night," Robb added.
At the ASICS City Relay, each team member will run one lap of the course around the Sports Hub precinct (approximately a 10.5km km circuit) and all relay changeovers will take place within the new National Stadium. While participants are completing their leg of the relay, teammates can prepare for their race or cool down within a designated athlete zone on the pitch. "Live" results will also be shown on the two giant LED screens within the stadium to keep everyone updated on the leading teams.
You can also enjoy the atmosphere within the "race village" surrounded by the sounds of DJs Matthew & Zushan from Zouk and roving performers who will keep runners and spectators entertained throughout the night, starting from the flag-off at 6.00pm.
Participants can enter the Corporates, Clubs, Students or Open categories and register as all-Male, all-Female or Mixed teams. Places are capped at 2,000 teams to ensure the best running experience for all. In-store and early bird registrations have sold out, but normal registration is still available. Students will be able to enjoy a constant registration fee of $210.00 throughout.
"Completing a marathon is the ultimate accomplishment for any runner, and at the ASICS City Relay they can also experience the atmosphere of Japanese heritage Ekiden. We look forward to seeing runners come out in full force at the Sports Hub in August," said Yogesh Gandhi, General Manager for ASICS Asia Pte. Ltd.
Slots are selling fast  – visit CITYRELAY.COM.SG to sign up for your team today.
Sponsored by ASICS City Relay.