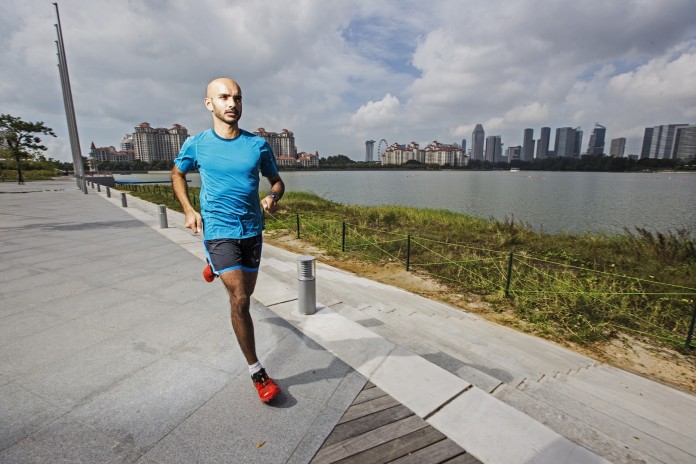 Running. One of the simplest, most pleasurable acts in life, that not many of us runners need to find a reason to do it. We do it because we want to, and because we can. But like so many things in life, sometimes we take this freedom to move for granted. Sometimes we lose motivation, create excuses, and complain. Sometimes, to remind ourselves why we run, we need to run for those who can't.
The Wings for Life is a race like no other. A global race that kicks off simultaneously all around the world, it's a charity race in support of spinal cord injury. Whether it's a race against the world, or a race against yourself, it's the only race in the world where the finish line catches you.
This week, JustRunLah! speaks with ultramarathon runner Paviter Singh, who will be representing Singapore in Yilan, Taiwan, for this remarkable event. Paviter shares with us how he got into the wild and fascinating world of ultramarathon running, the mental fortitude required to tackle challenges of such scale, how running ultramarathons has changed him, and how he's preparing for Wings for Life on May 3 2015.
JustRunLah!: Tell us a bit about how you got into running.
Paviter: I think running was ingrained in me since I was young. I was a fan of Carl Lewis (American track and field Olympic champion) as a kid, and my dad introduced me to the mountains at a really young age; I think I was about four years old when I first went up to about 3000m.
In school, I was in the track and field team, I was in the cross-country team as well, but the real running started happening when I was in the army. I started doing half marathons in 2004, and eventually marathons and ultramarathons.
JRL: What inspired the transition to doing ultras?
Paviter: I'd done a couple of marathons, and actually got a bit bored of them because I found them a bit monotonous. I felt myself stagnating a bit, and I needed a new challenge. I needed to seek a new pursuit, a new form of adventure, and I felt that just doing a road marathon again simply wouldn't do enough for me, and I needed to do something a bit more. I think I was at a stage where I wanted to change something in my life, and I found this to be a catalyst. I thought I might as well give it a go, and see what happened. So that's how I came about doing ultras.
To celebrate my 30th birthday in 2011, I decided to try a bit of a longer run in Kinabalu. I had a bit of free time, I started looking around for extreme running, and came across the one that was closest to Singapore, and I thought yeah well, I think I'm going to give this a go. I did that run and I was quite exhilarated by the experience, the learnings that I had, the people I met, the terrain especially, because it's different from running on road. So since then, it's just been ultra-running.
JRL: Describe your running highlights in the last 12 months.
Paviter: The last 12 months have been really exciting. I did the TNF100 Australia last year in May; this was the second time I was doing it. I was quite happy with the results as I finished it in 16 hours, which was 4 hours better than the year I did before. It's a 100km run in the Blue Mountains and it's a beautiful race. I would recommend anyone to do it; it's very runnable with beautiful sights and you get amazing support as well, and you meet lots of good people.
Three weeks after that, I ran a race in the Beaufort 100km in Kinabalu. This was to raise awareness for autism. It's probably one of the hardest 100km races I've ever done because it was a road race, and we were running in temperatures reaching up to 39 degrees (Celsius). It was really really hard. I hit some really low points during that race, but I had some really high points as well. I came in 5th in that race, which was really nice, although I did struggle a lot, and it took me a while to recover from that.
The main highlight for me last year was running in the UTMB CCC (Courmayeur-Champex-Chamonix) race, which is a 101km race in the Mont Blanc trail. I needed 4 points to qualify for this race, which took me about 2 years, as I had a really bad year in 2013. I DNFed in one race, and I only ran in one other race.
I think coming from a place like Singapore, which is quite flat, to running in mountains in the French and Swiss Alps, this gave me a good reality check on the kind of mountains that are out there, because it was a really tough race!
To give you an example, I did a scale of the Swissotel in Singapore compared to our first climb, and the Swissotel is almost like one pixel compared to the first climb. We had 6000m of climbing in total. Apart from the race, I think the highlight was spending a whole week with a bunch of runners from Hong Kong. We all lived and stayed together, we trained together, and that community, that communal feel and the camaraderie, I think was more important than the race for me. We're good friends now, and that's lifelong.
Now I have enough points for the UTMB 100 miler, which I hope to get into next year, which is after my Ultra Trail Mount Fuji (UTMF) this year. So the UTMF will be my first ever 100 miler that I'm doing.
JRL!: What are the biggest factors that contribute to running an ultramarathon successfully?
Paviter: I think mental preparation is one. Having to prepare to deal with the lows in an ultra is really important, because the lows will come, and they get worse and worse the longer you go through the race.
Managing personal expectations is another thing, because sometimes, aiming for the stars is the worst idea in an ultra, the best is to stay focused and to stay present in a race rather than thinking too far ahead.
That's the biggest lesson that I had, and the reason why I didn't do well in the races in 2013, because I was thinking too far ahead, trying to go too hard, too fast, and things just fell apart pretty quickly.
JRL: Ultramarathon running is also a little bit different, in the sense that when you're out on the road for hours on end, there are so many elements beyond your control, and there are certain things you can't be completely prepared for.
Paviter: That's right. The first one is weather. I've been through the rain for hours and hours, I've been through really hot sun, and these are things that you'll never know when it would happen.
The second one is nutrition, where you get digestion issues. People start throwing up on the race, which is pretty common. Let's say you're running a 20-hour race and for eight or 10 hours, all you're eating is bits of food here and there, and it's quite natural to forget to eat sometimes, so the body starts rejecting food after a while. It's not very pleasant when it happens, but it's something that we have to work through somehow, which is not very nice.
The other thing we can't do much about is terrain. I could run the same race every year, but it could be different because maybe there could have been a landslide on one hill, maybe another hill is more slippery than before. It's so different from tarmac, which is completely predictable. So I think these are the key factors.
JRL: There is a huge mental component to running long distances. Do you have a mantra when the going gets tough?
Paviter: When the going gets tough, the tough get going, but if you're going to run an ultra, you have to keep it in mind that it will be tough, so try not to think about it being tough at all. If you feel like it's going to be hard, it will feel harder than it actually is.
I'd rather not think about that and just take it as a run. I never think of a 100km run as a 100km run. I break it up into 10km or 15km bits. I do a lot of planning. I make a lot of charts and draw a lot of graphs so I break up the 100km into the names of different hills that I'm going to climb, so that way I don't think about the entire distance. I have x hills to climb and I'll just do it one at a time.