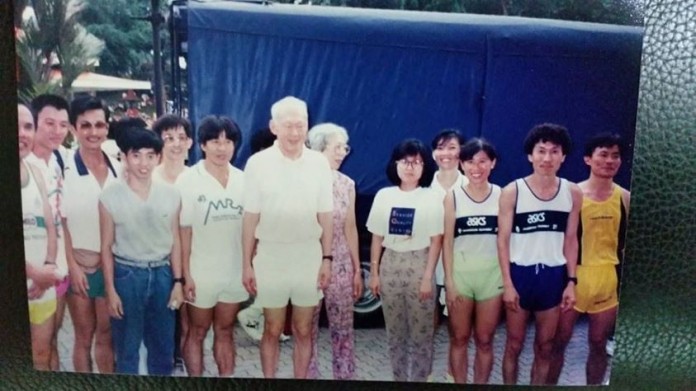 JustRunLah! presents a collection of images contributed by various running groups and individuals around Singapore, paying tribute and choosing to remember our Founding Father, Mr Lee Kuan Yew, in various ways. While we may be affiliated with different running clubs and societies, we stand united as one single running community – the Singapore running community.
23 Mar 2015 SGRunners: Our condolences. May he Rest in Peace.
23 Mar 2015 Queenstown Backyard: Farewell run to Our Country's Founding Father.
27 Mar 2015 Dr Mok Ying Ren paying his respects and writing his tribute to Mr Lee Kuan Yew, founder of modern Singapore.
28 Mar 2015: Gei Gei Running Club's Run for LKY, 7:15-8:15am @ Esplanade
28 Mar 2015 Pierce Reservoir Runners: Special Tribute Run In Honour Of Our Founding Nation Mr Lee Kuan Yew
Mar 28-29 91km @ Twilight Ultra: In honor of Mr Lee Kuan Yew 91km, 31.8km, 9.1km, 7:20 pm @ F2 East Coast
29 Mar 2015 The Morning Greeters: A tribute run for a special someone, 7:15am @ Raffles Statue
Mr Lee Kuan Yew has run the marathon of his life. He had run it strong, he had run it well, and he has earned a much-deserved podium finish. Fellow runners, the race is not over. The baton is being passed over to us – we, the fortunate ones, who continue to reap what he has sown. We have inherited the legacy, and it is our privilege and our responsibility to continue marching forward, as one united people.
Thank you, Mr Lee Kuan Yew.
– Singapore's united running community
Cover image source: MacRitchie Runners 25