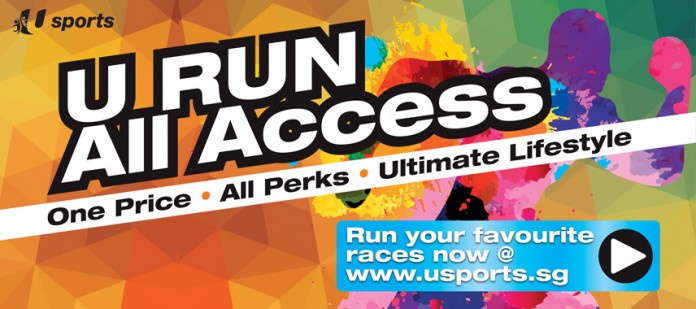 What is U Run All Access?
Previously known as the 'U Run Premium Package', the annual running package introduced by U Sports, NTUC Club, is now rebranded as 'U Run All Access' package, bringing about attractive lifestyle benefits and exciting features for avid runners and enthusiasts with its comprehensive registration and notification system.
U Run All Access offers a one-stop, no-hassle registration for any 3 to 5 of Singapore's most popular running events all year round. There are 3 flexible running packages available at a fixed price, namely the 3, 4 and 5 Runs packages. U Run All Access is open only to NTUC / nEBO members. Non-members will have to sign up as a NTUC / nEbO member before registering for U Run All Access.
How it works?
Upon registration, members will be given run credits to utilise for running events. Each running event under U Sports' list of participating events is worth 1 credit and members can utilise the credits for registration of races that interest them. For instance, if a member has purchased a 3-runs package, he/she can utilise the 3 run credits for his/her choice of runs that is available under U Sports Calendar of Events in the year of 2015.
Features of U Run All Access Package
– Convenience
Convenience is the first key feature that users will experience. The race information for all listed running events are made available on the U Run All Access portal, hence saving users the hassle of having to cross-reference between multiple event sites for important details such as date, time, venue and race categories. Also, there is no need for users to repeatedly key in personal information when signing up for a race as details has already been recorded during registration for U Run All Access.
– Guaranteed Race Slots & Timely Notification of Running Events
Early birds need not fret as all package holders will be informed once registration for the race is available on the U Run All Access portal. The timely and efficient notification of race events via email enable users to refrain from worrying about missing out on their desired races, especially the popular ones that run of out slots within a short period of time. Package holders can also be assured of their race slots as after the running credit has been used for the race, registration is confirmed and the race slot is guaranteed
– Flexibility
To top it all, the flexibility of the U Run All Access package provide package holders the freedom to mix and match their races throughout the year which is not limited to any race category or distance. To clock extra miles, budding runners can also join the U Run weekly running sessions at 2 different training venues: Novena Velocity & One Marina Boulevard, where one can expect to meet new running buddies and gain valuable advice from elite runners and trainers. Registration is free via the U Run Facebook page and what's more, refreshments will be provided too!
– Useful Tips & Exclusive Privileges
Besides the user-friendly registration portal, useful race reminders, and running tips from experts, package holders are well-rewarded with exclusive privileges and benefits such as hospitality booths at selected races. Attractive discounts from affiliated merchants are not to be missed as well.
With the wholesome benefits and features of the U Run All Access Package, signing up for races can be so easy, efficient and rewarding! So grab your package now and click away for a run-derful year ahead!
For more information about U Run All Acccess, visit www.usports.sg.
This post is sponsored by NTUC Club.