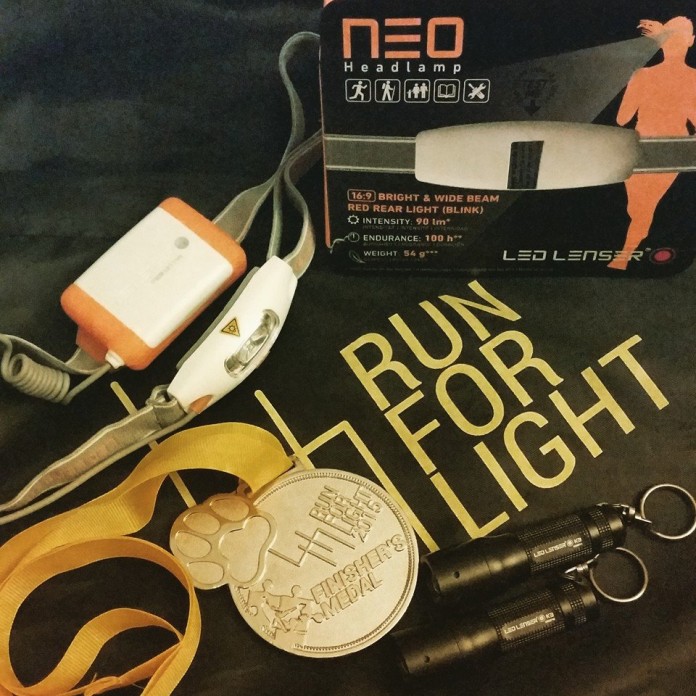 Visitors to Gardens by the Bay and Marina Barrage on the evening of Saturday, 17 Jan, would have found themselves swarmed by people donning neon yellow shirts. Walking or running, with dogs or friends or babies in prams, these were participants of Run for Light 2015, held in support of the Guide Dogs Association of the Blind.
There were 3 parts to the event– Dog walk at 5pm, the main 5km race at 6.30pm, and the race village which officially begins at 8pm. I had registered for the main 5km race.
Even for that, there was a special segment for partners to guide each other while they took turns to be blindfolded, so they could have a feel of what it's like for the blind. Unfortunately my partner and I didn't manage to sign up for it in time, else it'll have been a great bonding experience too!
Registration
Rewinding my review to registration phase, everything was done online like most races today. However, I realised a discrepancy between the race tee size charts provided on the event site and during the registration process, so upon completion of registration I dropped a message to the organisers. Much to my surprise, I received a reply within 5 minutes, and the error was rectified immediately.
Race pack collection was held at City Square Mall one week before the race. I dropped by at dinner time and there were no queues at all, so the process was smooth.
Instead of number bibs, runners received wrist tags instead. These did not have timing chips, so runners had to time themselves. Also included in the drawstring event bag was a Compressport neon yellow tee, a Run Singapore magazine,  and tonnes of vouchers.
Event Day
No baggage deposit was provided at the event, so runners were advised to travel light. Not a problem for my partner and I since we drove, but many runners ran their 5km with small backpacks and some seemed uncomfortable with having a load bouncing with every step they took.
The programme delayed slightly, and the 5km race began around 7pm instead of the stipulated 6.30pm. However, that might have been a blessing because throughout the course of the run, we managed to catch the process of sunset. It was beautiful witnessing the Singapore skyline against hues of orange and purple, then deepening shades of blue as we closed into the finishing point. Strong winds seemed to evaporate my perspiration as they formed, so by the time the 5km was done, I wasn't as drenched as usual day-time races.
One water point was set up at roughly halfway through the route, and provided only room temperature mineral water. Runners were to dispose of the paper cups in bins rather than the usual canvas platform.
Distance markers were labelled at 1km, 3km and 4km and many volunteers were stationed along the route marked out by cones too. Most of the elderly volunteers were really enthusiastic about their role, giving us wide smiles and waving their light sticks. But I felt it was slightly too quiet, compared to the cacophony which accompanies many races. Not much of an issue once I framed the race as a leisurely, personal evening run. With many other people who just happened to be in the same tee, haha.
At the finish line, runners receive a bottle of water and a finisher's medal. Post-run entertainment at the race village had a good lineup of local bands, and some sinful grub to reward ourselves for a good and meaningful run. My favourite, though, was the lightsaber display.
Conclusion
Overall, it was a great run and my partner and I managed to complete it together in record time. But it could have been better with baggage deposit, official timekeeping, and a slightly more upbeat running atmosphere.
Cover photo: Bernadette @ Facebook