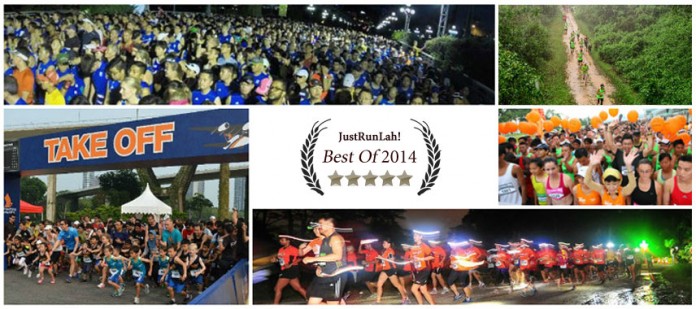 And the winners are…
For our selection process, please refer to our introduction article on the series, Special Edition: JustRunLah! Best of 2014.
In Part II of the Best of 2014, we present to you the winners of the following categories:
Best Cross-Country Run
Best Fun Run
Best Charity Run
JustRunLah! Best Cross-Country Run 2014
The Salomon MR25 X-Country Marathon 2014 was organized on 22 June, and featured a 4-loops route of the MacRitchie Reservoir, Singapore's largest water catchment area. Despite being a small scale race event with approximately 500-800 participants, it was a highly-rated race where runners were satisfied with numerous aspects of the event, including hydration, pre-race logistics, runners' entitlement and race day expo and activities.
The runners' entitlement consisted of a finisher medal, finisher Salomon shirt, Pocari Sweat sports drink and HIGH5 energy gel. In addition, participants were provided with sufficient hydration and banana stations located along the race routes in the lush greenery.  Dark clouds, thunder and other signs of an impending storm on the race day did not deter the race from flagging off as it was still safe for running and runners were in for a somewhat unique, tropical-rainforest running experience, thereby setting itself apart from other road races.
Shortlisted by CNN as one of the 10 Best places to run in Singapore, the running route of MacRitchie Reservoir is known for its grueling slopes and intense humidity amongst the greenery. With that in mind and the arduous 42km distance to conquer, the decision made by the race committee to reverse the direction of the route for this marathon, made it physically and mentally possible for runners as some of the supposed uphills turned into downhills, allowing runners to have some 'let loose' time and enjoy some temporary relief from exhaustion.
This is a full marathon unlike any and a race that brings runners close to nature – definitely an event to look out for!
JustRunLah! Best Fun Run 2014
Energizer Singapore Night Trail came in as a clear winner with an excellent overall rating of 4.4/5 as the Best Fun Run of the year. With numerous race categories ranging from the 1.5km parent and child obstacle race to the 18km night trail race, it was definitely an event catered for everyone. Participants were most satisfied with the event's hydration, route planning and race day expo and activities given the well-execution and organisation of the event management team.
Firstly, participants realized that there were more actual hydration points for the trail race than was stated in the race map and each hydration point offered both isotonic and water. This certainly provided race participants with sufficient hydration and energy to conquer the slopes and roads in the dark.
Despite holding the trail race events at night with the inevitable reduction in visibility, runners were well-directed by large LED panels that signaled the directions at split points for the loop. Volunteers were strategically positioned at areas requiring manpower to ensure that participants kept their morale and spirits high, as well as providing information about potential road hazards ahead. In addition, road marshals were mobilised via motorcycles at various parts of the race route to maintain order and security.
Being a SAF-protected zone, an area of prohibited access to the general public, Lorong Asrama of Mandai is a place rarely visited by most Singaporeans, excluding army recruits who had experienced military training there. As such, the event organizer had been lauded by many in being able to gain permission to organize the race event successfully and allow more people to discover more places of Singapore.
Furthermore, the race pack included useful items such as headlamps that came in handy for the night trail, as well as race shirts that were had reflective elements sewn on them. Also, the shuttle buses provided on the race day made travelling to and from Mandai much more convenient, providing participants with multiple drop-off points.
All in all, the Energizer Singapore Night Trail proved to be a major success in the Fun Run category given its good performance in multiple aspects of a race event, leaving many participants excited for the next one in the coming year.
JustRunLah! Best Charity Run 2014
SIA Charity Run and POSB PAssion Run for Kids 2014 were both ranked first for the Best Charity Run of the year with an outstanding overall rating of 4.1/5. The SIA Charity Run took place on November 2nd at the F1 Pit Stop, while the POSB PAssion Run for Kids was organized on September 14th at the Marina Promontory and both events provided multiple race distances catering to the different running preferences of participants.
The SIA Charity Run was rated highly on its pre-race logistics, route planning and hydration and there were 3 race categories available, namely 10km, 5km and 300m. Participants reflected that the race pack collection held at Kallang Leisure was efficient and the queues were well-managed. The race route spanning from Esplanade to Singapore Sports Hub was mostly flat and comfortable to run on, with most of the path on Nicoll Highway. The event organisers had also made a wise decision to flag off the 10km race in 2 waves in order to prevent congestion during the race, hence giving participants an enjoyable running experience.
In addition, participants were also satisfied with the sufficient hydration points throughout the race route, providing that extra boost for them to complete the race. The race finishers each received an exclusive finishers' medal, which had an exquisite Kerbaya-inspired lanyard design similar to that of the Kerbayas worn by the flight attendants of SIA.
Race participants were also entitled to take part in a lucky draw at the end of the race where they stood to win attractive prizes including a pair of Singapore Airlines Business Class return tickets to any Singapore Airlines destination, and tickets to different places of attraction in Singapore. The SIA Charity Run was organized to raise funds for the Community Chest of Singapore, along with the Care & Share Movement and a total of $1.22 million was raised from the race alone.
The POSB PAssion Run for Kids fared best in its route planning and runners' entitlement. The race pack included a variety of items including water bottles, many food and beverage items, shoe bag, race tee and pain relief patches. The finisher medals were in the shape of the official squirrel mascot which was unique and appealing to both children and adults.
Both the 1.2km and 800m kids run were held near Marina Bay Financial Centre and city while the 10km adult and 3.5km family walk extended towards the Marina Barrage, with the 10km route looping near Gardens By The Bay. With numerous spectacular and iconic features such as the Singapore Flyer and Marina Bay Sands, the race route gave participants a rewarding visual experience taking on a physical challenge for a good cause.
This charity run was organized with the aim to support children in our community so that they can live a happier childhood and enjoy a brighter future without being affected by financial constraints. About $1.1 million had been raised from the run and it was a meaningful charity event that provided opportunities for both the young and adults to do their part for the less privileged.
Click here for Part I: Best 10km Run / Best 21km Run / Best 42km Run
Click here for Part III: Most Used Apparel: / Race with the Most Unhappy Runners / Race with the Most Happy Runners