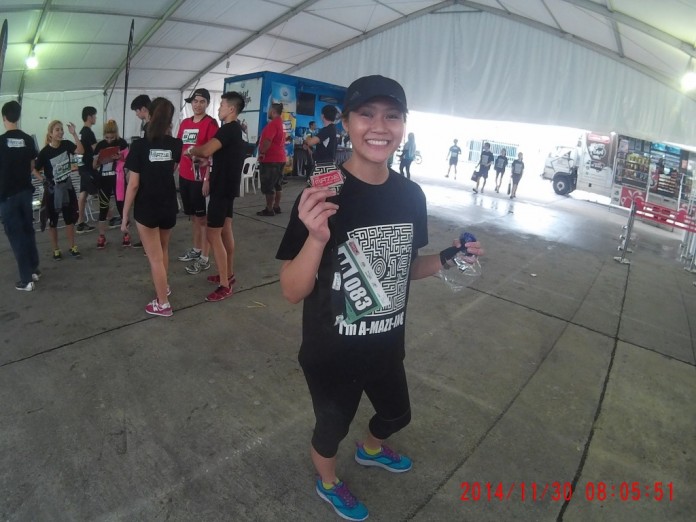 Challenge accepted!
I have a confession… I'm not the most active/sporty person in the world. Most of my free time are spend lazing at home (probably reading the latest Young Adult book from the library), trying out a new restaurant, going shopping, surfing the internet, or just catching some Zzz's.
When I got invited by my friend Priscilla (below photo, right) – who's one hell of a runner – to join the Maze Challenge Asia in Kuala Lumpur, I hesitated. Sure, I've joined a few marathons for the past few years in my attempt to become more fit and healthy, but the thought of running and overcoming obstacles along the way freaked me out. But I decided to take on the challenge and gave her my most emphatic YES!
On the day before the race (29 November), at about 745 am, I found myself at Golden Mile Complex about to board the bus which would take us to Kuala Lumpur. When we got there, we headed to Concorde Hotel near KL Sentral and when we checked in, discovered that it was the wrong hotel. So we took another hour to go to the right hotel – Concorde Inn at KLIA.
When we got to the hotel, which was kind enough to sponsor the racer bloggers with an overnight stay including meals, we headed straight to our room to get that much deserved rest for the big day ahead.
Race Day – 30 November 2014
We woke up at about 530am on the day of the race, pumped up and ready to overcome whatever may come our way. But first, we needed energy so we grabbed a bite at The Melting Pot, the hotel's restaurant which fed us with freshly cooked eggs, vegetables, and protein for that added boost. And then, we were on a van heading to Sepang International Circuit for the Maze Challenge Asia.
Some backgrounder on this event: It's a first of its kind in Asia, and it features a temporarily built maze that is peppered with obstacle courses along the way. You wouldn't really know what you would be in for until you enter the venue itself. Intimidating, right?
We got to the venue with a little time to spare, so we rushed to the entrance and the host was already counting down the seconds until we officially begin. 10, 9, 8, 7, 6, 5, 4, 3, 2, 1!!! Then the gates opened and we just ran like zombies were chasing us.
The first obstacle, though tough, was probably the easiest of the lot. There was a kind of tarp on the ground that was wet and very slippery. Above it was an entrapment of ropes that prevented us from walking. My friend and I just crawled and crawled until our knees and elbows hurt.
When we stood up, there was a giant wooden wall looming at us. The marshals told us that we had to climb it using a rope. My reaction was like, "No way!" but if I didn't do it, I'd get disqualified. Mustering all my courage, I grabbed the rope and started my shaky ascent. When I reached the top, I discovered that I had to go down the same way. But I'm proud of myself that I did it without chickening out.
The third obstacle was a very wet one. There were about three makeshift pools that we had to wade through. To make it more interesting, there were tires below and we had to step into the holes while we made our way. The last pool surprised us… not with sharks… but with ice cold water.
Cold and dripping wet, we reached the biggest obstacle of them all– the MAZE! There were four entrances and my friend and I took the 2nd one. I don't know how long we were inside but there were a number of times when we just wandered aimlessly. But we were not alone, we saw a couple of racers who were also going in circles. We decided to team up with some of them and came up with a strategy to find that elusive exit. And voila, we found it!
Before the finish line, there were two more challenges we had to do. The muddy trail with a few bricks to step on and another wall climbing obstacle. But after surviving everything before these, we just breezed through them and ran towards the finish line.
Overall, the Maze Challenge Asia was a good learning experience for me. It was a great accomplishment being able to break the chains of my mind and do all the obstacles I didn't think I was capable of before all this.
Being able to be a part of this event also fuelled my thirst to become a more active and healthier person. In conclusion, you'll be seeing more of me in upcoming marathons and events like these in Singapore. If you do, please say hi. I won't run away.
*Special thanks to Maze Challenge Asia for allowing us to participate in this event and for Concord Inn at KLIA for sponsoring our hotel stay and meals in Malaysia.