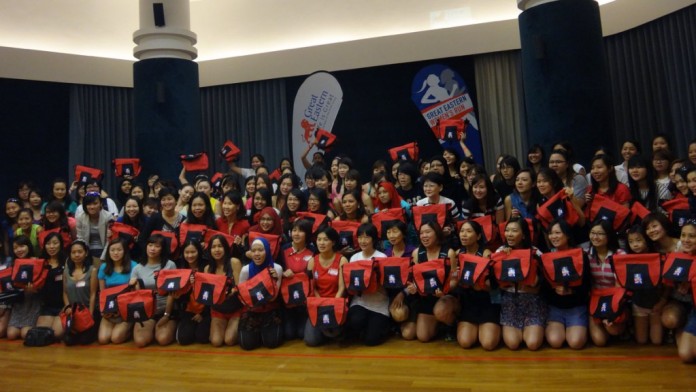 The Great Eastern Women's Run 2014: Run To Live Great Programme
During last weekend, the Run To Live Great programme kicked off. This event, targeted at new runners, is aimed at helping them to take the first step towards a healthier lifestyle of regular exercise and staying fit.
This programme is part of the Great Eastern Women' Run, which is taking place on 9 November this year and comprises of three categories – the 5km Fun Run, and the 10km and 21km Competitive races. It is organised by HiVelocity Events.
50 pairs of women were chosen from 500 entries
For the Run to Live Great programme, 50 pairs of women were chosen from about 500 entries. They were required to write a 100-word essay on why they deserved to be picked for the programme.
Received a $350 goodie bag
The participants all received a $350 goodie bag, comprising of items such as a pair of New Balance shoes and a Polar Loop activity tracker – to kick-start them on their new running hobby.
One of the women was 23-year-old advertising executive Vivian Sng, who has hated running ever since she was a little girl.
So by taking part in the Run To Live Great programme, she will be overcoming a huge physical and mental hurdle. She is hoping to complete the 5km Fun Run in one piece and without stopping to walk.
Participants treated to a variety of activities and tips
The Run To Live Great programme participants were treated to a variety of activities, including icebreaker games to get to know their fellow programme participants better – last Saturday.
As well, they got tips from Adrian Mok, the founder of HiVelocity, who also shared some insights with runners on the Polar Loop Activity Tracker.
They also got to ask some of Singapore's leading experts and influencers in the running, health and fitness field, such as Mok Ying Rong, Dipna Lim-Prasad, Liv Lo and Claire Jedrek – questions on running.
Throughout the programme, the participants will be taking part in a myriad of other activities, including kickboxing and fun runs, to prepare them for race day.
Informative session for the participants
So it was definitely an informative session – which the participants thoroughly enjoyed.
Click here to read more about the Run To Live Great welcome session.