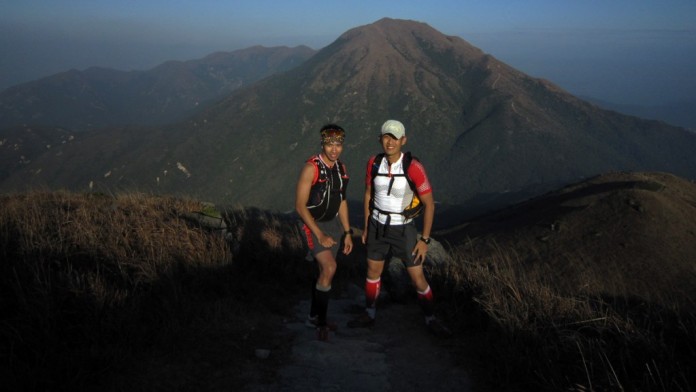 6 Days. 250 km. Across the Sahara desert. For charity.
Two Singaporeans, Chin Wei Chong and Ian Lye, are running 250km within 6 days (April 4-14 2014) across the Sahara Desert to raise S$100,000 for the local animal welfare organization Save Our Street Dogs. Just Run Lah! is always happy to support such good causes, and after Yvonne's 7 Marathons In 7 Continents, we hereby present you their case.
Marathon des Sables
Held in Morocco each year, the Marathon des Sables (MDS) is considered by many to be the "toughest footrace on Earth".
Participants cover approximately 250 km (156 miles) over the course of six days. During this time, they must traverse the Sahara desert crossing dunes, mountains, and brave sand storms and temperatures that can exceed 50 degrees Celcius, while carrying all of their own supplies, including food, clothing, a sleeping bag, and other items needed to survive, except for a small ration of water given out each day.
Project Saharan Footprints
Wei Chong and Ian have been training for ultramarathons since the start of 2013. Motivated by the possibility of finishing races in excess of 42 km, they signed up for the Sundown Marathon 100km and trained progressively towards the 14 September event. To get the confidence of running longer races, Wei Chong and Ian completed back-to-back weekend runs of up to 80 km from May to August. They also completed both the Sundown half and full marathon races on consecutive days in May.
In an attempt to simulate the MDS' punishing conditions including the harsh terrain and heat, Wei Chong and Ian have decided to inject a twist into their training program since December 2013. Road runs became a mean to cultivate speed and stamina while the key focus were to maintain long distances on sand, trail and hill runs during the hottest hours in Singapore. Four times a week, they will hit the sandy beaches of East Coast, run the undulating trails from MacRitchie to Bukit Timah, work on hill repeats at Bukit Timah, as well as run the Southern Ridges to Mount Faber and train on stairs.
In the last 3 months leading up to the race in April 2014, Wei Chong and Ian will ramp up their weekly mileage from 65 km to 110 km over 5 runs a week. They will also be training with a backpack that weighs at least 10kg by end February, up from the current 3kg they train with. From 10th to 12th January, they will be travelling to Hong Kong to train on the technical trails in Lantau with elevation of more than 3000 feet to test their running performance in an unfamiliar terrain. During this time, they will also be testing out their kit and food packs to find the optimal configuration.
As part of their preparation towards the MDS, Wei Chong and Ian will also be reaching out to fellow Singaporean runners who have done similar races to seek advice and get tips on surviving multi-day stage ultramarathon races in the Sahara desert.
Meet the runners
Chin Wei Chong:
Wei Chong has run countless races and marathons since year 2000. An avid adventurer with a zest for the path less travelled, he has backpacked across the Middle East and scaled numerous mountains in South East Asia. Upon completing his 12th marathon last year, Wei Chong contemplated ultra and adventure racing, fuelled by his passion for running and admiration for the legendary Ray Zahab. He is currently training for the Marathon Des Sables.
Wei Chong graduated from the RMIT University in 2005 and is currently the Asia Pacific Marketing Communications Director for First Advantage. He has worked for companies like Shell and Premier Farnell over the past 10 years where he managed Corporate and Internal Communications in region. He has also spearheaded Corporate Social Responsibility initiatives where he led employee activities to raise funds and volunteer with Associations for the Disabled and Children's homes.
Wei Chong strongly believes in contributing actively to worthy causes and is pleased to be able to help raise funds for Save Our Street Dogs through his participation in the MDS. Wei Chong is married with two children and his other leisure pursuits include reading, travelling and spending time with his family.
Ian Lye:
Ian has led a nomadic existence for a large part of his live, having travelled to more than 60 countries and lived in North Carolina, Washington D.C., Seville, Beirut and Damascus. He is currently back in his native Singapore working for Thomson Reuters as a Research Manager while also pursuing a part-time Masters degree at Nanyang Technological University.
As the owner of 3 dogs, animal welfare causes have always resonated with him. The work of SOSD in particular has been a cause that is deeply personal to him, as he adopted one of the dogs rescued by SOSD 2 years ago.
Although Ian has been racing for many years, he had never run further than a full marathon. In 2013, however, he completed a 100 km ultramarathon in September as part of his preparation for the desert race. By participating in the MDS, he hopes to help SOSD raise SG$100,000 to offset the astronomical costs that are required for its operating expenses. The documentary "Running the Sahara" inspired him several years ago to contemplate the possibility of running in the desert one day, so returning to the Sahara to run will also be the culmination of a longtime dream of his, having first visited the beautiful alien landscapes of Southern Morocco almost 10 years ago.
About Save Our Street Dogs
Save Our Street Dogs (SOSD) is a group of volunteers in Singapore, banded together by the common passion and conviction to be part of a unified voice, purposed to make a difference and effect change to the welfare of our street dogs—our homeless strays.
It's mission? Till every dog has a refuge of safety; a home to call their own. SOSD's mission is to save street dogs to the best of our ability, and give them a chance in life.
Learn more about Save Our Street Dogs (SOSD): www.sosd.org.sg
Connect with SOSD on Facebook.
Show your support
Donate through the fundraising portal: www.geofundit.com/sosd