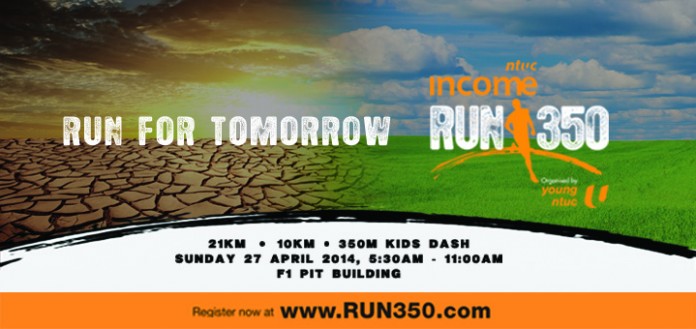 RUN 350: Southeast Asia's Premier Eco-run
Just Run Lah! is proud to support NTUC Income RUN 350, Organised by Young NTUC!
About the race
RUN 350 is Southeast Asia's premier eco-run in support of the global 350 movement. This movement aims to raise awareness to the need to lower atmospheric carbon dioxide (CO2) levels to 350 parts per million, which scientists believe is the level required for Earth's sustainability.
First held in 2010 at Pulau Ubin, RUN 350 saw 1,000 runners coming forward to run for the cause. In 2011, aided by NTUC Income, RUN 350 grew more than 7 times to 7,200 runners. By 2013, the run had already grown in stature with more than 10,000 runners involved. To date, almost 700 trees have been planted through Garden City Fund's Plant-A-Tree Programme.
What is the 350 Movement?
The number 350 means climate safety: to preserve a liveable planet, scientists tell us we must reduce the amount of CO2 in the atmosphere from its current level of 400 parts per million to below 350 ppm.
In the last century, CO2 level have increased at an alarming rate from decade to decade, thus urging us to reduce our emissions and slow the effects of climate change before irreversible damage is done to our home.
NTUC Income RUN 350, Organised by Young NTUC is in support of 350.org – an international campaign dedicated to building a movement to unite the world around solutions to the climate crisis–the solutions that science and justice demand.
The mission is to inspire the world to rise to the challenge of the climate crisis – to create a new sense of urgency and of possibility for our planet.
Greening RUN 350
RUN 350 has implemented a number of green measures, these include:
– Paperless Race Entry Pack Collection
– Race handbook to be given in e-format
– Waste recycling
– Reduced use of plastic
– Bring Your Own Bottle initiative where participants are strongly encouraged to bring their own reusable water bottles with them to RUN 350
and many more. Read about them here.
Medal Recycling Campaign
This year, NTUC Income RUN 350, Organised by Young NTUC is proud to introduce its inaugural Medal Recycling Campaign – making it the first run in Singapore to introduce a Medal Recycling Campaign. The public is encouraged to donate their old medals and give them a new lease of life. The medals will be processed and be used in the production of new medals.
Medal recycling bins will be available at various locations island wide until 28 February 2014. Visit www.RUN350.com for a list of medal collection points (till 28 February 2014) and to register for the Run now! Registration closes on 28 February 2014.
Let's make a difference by running for a greener future.