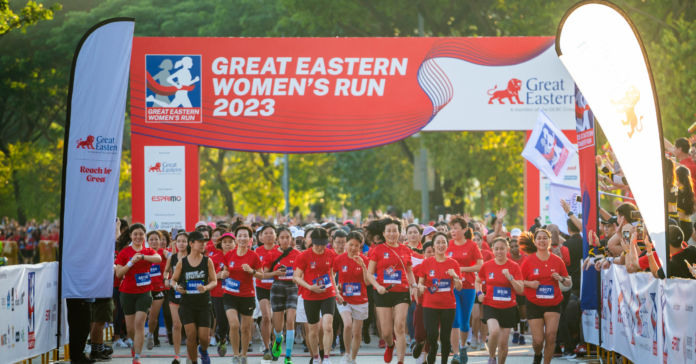 Singapore, 29 October 2023 – Over 9,000 ladies convened as the 17th edition of the Great Eastern Women's Run (GEWR) kicked off at the Singapore Sports Hub this morning. This year marks the full-scale return of Singapore's only all-women's run since the pandemic featuring six race categories and with runners between the ages of 3 and 82 participating.  In a nod to GEWR's integral role in uplifting female communities, participants also included rehabilitation beneficiaries from Singapore Cancer Society, women from Daughters Of Tomorrow and runners with special needs through the co-operative Runninghour.
This year's Guest-of-Honour was Edwin Tong, Minister for Culture, Community and Youth and Second Minister for Law, who flagged off the 5km race with Khor Hock Seng, Group Chief Executive Officer of Great Eastern, and presented the trophies and cash prizes to the race winners.
Commenting on the event, Minister Tong said: "The Great Eastern Women's Run holds a unique place in our local sporting calendar as Singapore's only allwomen's race – championing the unity of women in health, wellness, community and friendship. It is an excellent testament to the power of sport in bringing people together, advocating healthy living, and making a positive impact on our wider community."
The by-invite-only Elite 21.1km Half Marathon saw the return of previous years' winners and participants. This year, Vanessa Lee came in first at 1:22:51. She was joined on the podium by Jasmine Teo and Rachel See who came in second and third place respectively, at 1:23:16 and 1:24:58 respectively.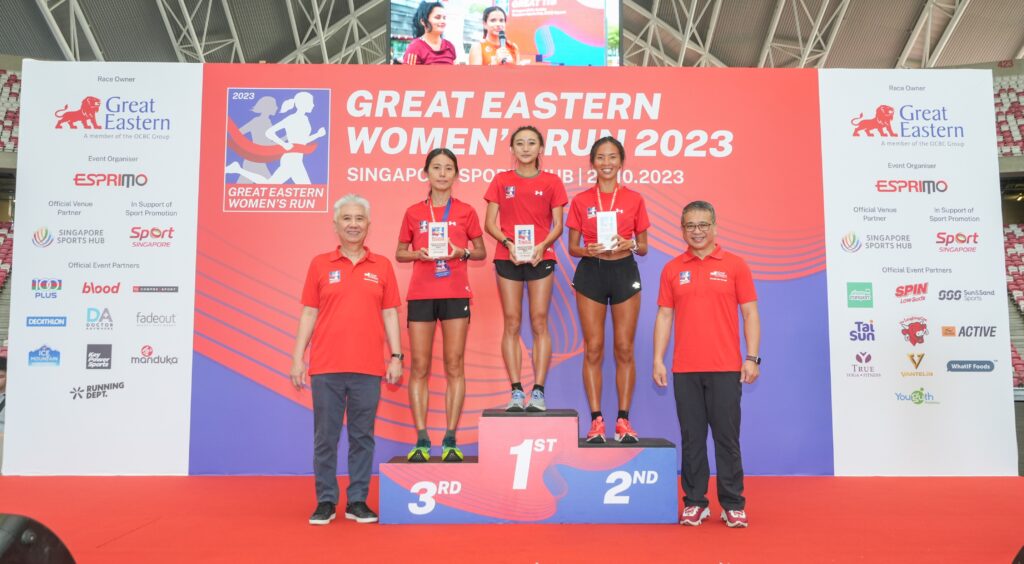 Elite category winner Vanessa Lee said: "I didn't expect to cross the finish line first today as there was such strong competition from my fellow runners who also gave it their all this morning. I am glad that my training over the past few months paid off!"
The Great Eastern Women's Run also champions the uplifting of communities in Singapore through fundraising. This year, Great Eastern and its employees and financial representatives raised $260,000 for the beneficiary organisations, Daughters Of Tomorrow and Singapore Cancer Society.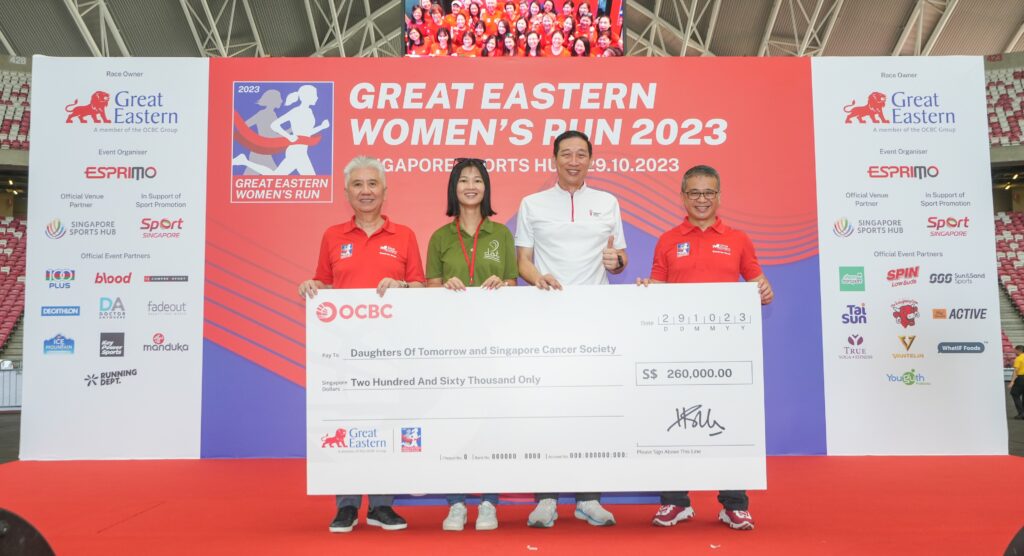 Khor Hock Seng, Group Chief Executive Officer, Great Eastern, said: "The Great Eastern Women's Run is a celebration of female empowerment and female potential. This year, it continues to energise and engage women in their fitness journeys while raising funds for needy causes. We are very proud and thankful for the strong and sustained support of our staff, Financial Representatives, elite athletes and race participants, as well as our corporate partners and Ministers. We will continue to create the space and stage for women of all ages and ambition to be the greatest version of themselves."
Participants were rewarded with a slew of activities in the Race Village after their run. Participants could refuel with complimentary food and drinks, capture memories at Instagrammable photo walls, and bring home a souvenir at the DIY badge making booth. The post-race powder rooms and massage zones were popular among participants to relax and freshen up. The little ones were thrilled by the burst of sweet treats from the candy cannon and took joy in the inflatable bouncy castles and craft activities.