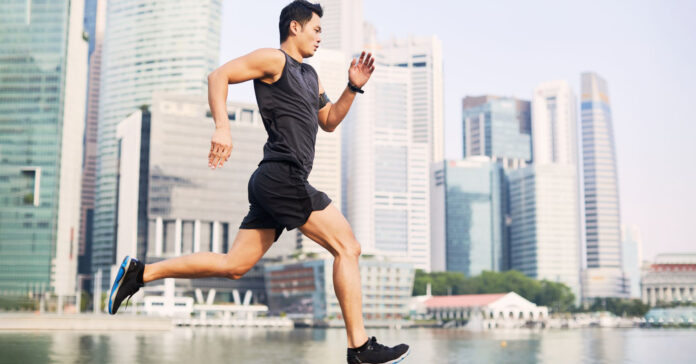 Obesity and lifestyle-related illnesses are now on the rise in Singapore, largely due to a continued drop in physical activity among the city-state's working population. With work-from-home arrangements continuing well after the COVID-19 pandemic, there are now fewer jobs that require daily cycling commutes or walk to and from MRT stations, resulting in less regular physical activity for many Singaporeans. Making matters worse, thanks to factors like the increased popularity of food delivery in SG, the average Singaporean's diet has also become less healthy.
Fortunately, one thing that hasn't changed about Singapore is a landscape that offers various fitness opportunities for citizens. Local sports groups abound, and international fitness chains are well-represented in the country. Uniquely Singaporean micro-gyms have also cropped up to meet the county's diverse and growing demand for fitness. The country's numerous gardens, parks, and shopping malls are also host to hundreds of regular yoga, dance, and other fitness classes, and many neighbourhoods boast well-maintained gardens and jogging paths.
Even with Singapore's abundance of fitness-friendly spots, a few do stand out for their cultural uniqueness, novelty, or natural beauty. If you're in Singapore and you love outdoor workouts, these locations will serve as memorable backdrops to your fitness journey:
1) The Southern Islands
Sentosa, St. John's Island, Lazarus Island, and other islands in the Singaporean archipelago are host to various fun fitness activities, including hiking, cycling, and kayaking—all away from the daily grind that has come to characterise Singapore. 
The islands are far from the Central Business District, but you can expect all of them to have great cell coverage. That means that all the fancy tracking devices, apps, and mobile phones Singapore fitness enthusiasts use will work just fine. Whether you want to share your fitness journey in real-time on social media or simply want to enjoy a quiet workout, the Southern Islands are definitely worth heading to. 
2) Marina Bay
With its abundance of pathways and green spaces, Marina Bay is a true urban fitness playground for those looking to burn some calories. It may be known as a tourist trap, but that shouldn't distract you from the genuinely stunning waterfronts and the excellent fitness path that winds throughout the area. 
A purpose-built jogging and cycling track on the Marina Bay grounds offers a scenic route that passes by landmarks such as the Marina Bay Sands and the Merlion statue. The path also has ample lighting, making it a great place for your nighttime fitness routines.
3) Singapore Park Connector Network
The Singapore Park Connector Network (PCN) is a fine melding of greenery and urbanisation. This extensive network of interconnected foot and cycling paths links major urban parks, residential areas, and recreational spaces across the city. If your local jogging and outdoor exercise paths are getting stale, you can effortlessly explore other suitable parks by walking, jogging, or cycling along the PCN's well-maintained routes.
4) Pulau Ubin
For a taste of Singapore's natural heritage, Pulau Ubin offers an authentic and rustic experience. Accessible by a short boat ride, this island takes visitors back in time with its traditional villages, untamed landscapes, and off-road trails. 
The off-road trails are especially popular among cyclists, and Ketam Mountain Bike Park's 10 kilometres of jungle and coastal routes provide a great change of pace from the city's typical urban biking experience. In addition, the island's peaceful ambience and diverse wildlife make it a great destination for hikers who are also up for a little birdwatching.
5) Historic Singapore
If you've lived in Singapore for any length of time, you will have doubtlessly visited Chinatown, Little India, and Kampong Glam, the country's world-famous ethnic enclaves. While most people go to these neighbourhoods to appreciate their cultural heritage and sample authentic Straits cuisines, these historic districts are also great places to keep your body moving. Biking and walking tours through these districts offer unique opportunities to not only immerse yourself in Singapore's heritage but get your daily fitness fix in as well. 
6) The Southern Ridges
The Southern Ridges are a series of paths and walkways that connect Mount Faber Park, Telok Blangah Hill, Hort Park, Kent Ridge Park, and Labrador Nature Reserve. In recent years, the Southern Ridges have become a popular hangout for influencers. The Henderson Waves, an iconic pedestrian bridge, is a particular favourite. But whether you're attracted to the Southern Ridge's trails for their natural beauty or are solely in it for the 'gram, there's plenty of room for fitness enthusiasts of all kinds.
Singapore offers plenty of alternatives to the international fitness chains that seem to be ubiquitous everywhere else. Thanks to decades of effective urban planning, finding a nearby spot to hike, cycle, or engage in outdoor exercise is much easier in Singapore than it is in many comparable cities. Whether you want to offset the effects of a sedentary lifestyle or simply want a respite from the relentless grind of Singapore's urban environments, you'll discover a plethora of nearby options that cater to your fitness goals.