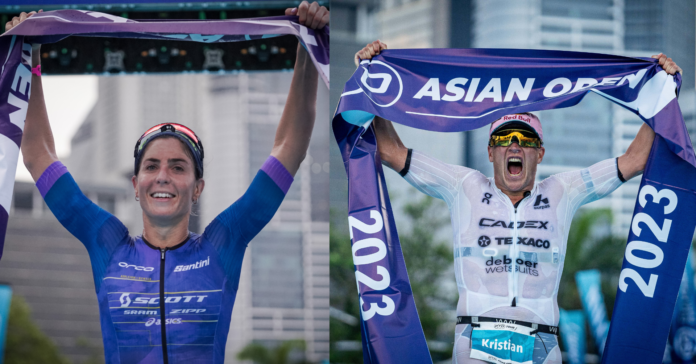 Third Time's The Charm For Ashleigh Gentle Who Wins 2023 PTO Asian Open With Commanding Performance In Singapore
After two consecutive runner-up finishes on the 2023 Professional Triathletes Organisation (PTO) Tour, the third time was the charm for Australian Ashleigh Gentle who blew her competition out of the water and win the inaugural PTO Asian Open on Saturday (19 Aug).
The PTO world No. 1 finished the 100km Pro Women's triathlon in 3hr 41min 16sec, ahead of Germany's Anne Haug (3:43:32) and American Chelsea Sodaro (3:46:10) at the Marina Bay course.
It was third time lucky for Gentle, who, after winning both PTO titles in 2022, had to settle for second place at the 2023 PTO European Open in May and the US Open earlier this month. She said: "It feels very, very good. I've had a couple of second places this year so it's pretty much a dream way to end my season. There was a big group of us in the swim that were swimming at a similar pace. But once I got out of the swim, I kind of accelerated and had a really good transition, so I found myself at the front very quickly. I realised that no one came with me on the bike, so it was about focusing on my effort and doing the best that I could myself. Fortunately, I was able to catch Lucy and Sara and once I realised that they also didn't come with me, it was just about putting my head down, trying to do consistent laps on the bike and just really focus on my effort then do as best as I could on the run. Today was probably my best race of the year and I'm really happy."
Gentle was seventh after the 2km swim in the Marina Bay but was quick to transit to the bike course. She quickly caught up with leaders Sara Pérez Sala and Lucy Charles-Barclay to dominate the 80km bike leg before surging ahead to the 18km run, where no competitor came close to challenging her.
The happiness Gentle felt was evident as a wide grin emerged on her face as she approached the finish line, high-fiving cheering spectators along the way before triumphantly pumping her fist in the air as she effortlessly sealed her victory. She then shared a celebratory embrace with husband and fellow professional triathlete Josh Amberger, who was waiting with a bottle of water and even stayed to hand out water to the other finishers and congratulate them for completing the race.
PTO world No. 3 Haug saw her hope of a win in Singapore dashed when she had to stop to rectify an issue with her bike, causing her to drop from second to fifth. The 40-year-old hailed Gentle's dominant race, saying: "Ashleigh was unbeatable today, so I made the best out of the day and that's what I always do. It's sport, things happen that are out of your control. You always go for full gas, you're always aiming for the perfect race and it will never happen. If you stop every time it's not perfect, then you would never finish a race. So I always want to cross the finish line saying I have done everything I could. Second place is nothing you have to be ashamed of, so you can say I've given my everything today and I have to be happy with 2nd place."
How the race unfolded
As the race got underway with Singapore's stunning skyline as its backdrop, PTO stars got the unique opportunity to swim in Marina Bay.
Despite the warm conditions, it was no surprise to see PTO world No. 4 Charles-Barclay leading at the 1km split, but from there it was Perez Sala who took charge – making this the first longcourse event where Charles-Barclay hasn't been first out the water.
The two had a gap of almost two minutes to Gentle with PTO European Open winner Anne Haug 2:30sec back.
Leaving transition in the shadow of the iconic Marina Bay Sands hotel, the athletes sped out onto the 80km bike course. The terrain proved more challenging than initially expected with multiple ascents of the Benjamin Sheares Bridge testing the athletes' legs while giving us spectacular views of Singapore.
Gentle and Haug were the biggest movers early on, picking up the pace to catch CharlesBarclay who was back in her usual position of 1st place early in the bike leg.
The Australian took the lead with around 45km to go and before too long, Haug was in second – when bad luck struck hard. A spare inner tube got wrapped around the German's rear wheel, costing her around 2:15sec as she dropped back to fifth place.
Ahead, Gentle continued to press her advantage ahead of a late-charging Imogen Simmonds, who'd flown through the pack. The Australian also had 1:06sec to Charles-Barclay with Anne Haug – back up to 4th place – 2:33sec behind.
Following her 2nd place at the PTO US Open just a couple of weeks earlier, Gentle looked even stronger in Singapore, striding imperiously through the Gardens By The Bay – out of sight and out of mind.
Behind, Haug was the only athlete running similar paces to Gentle early on and eventually flew past Simmonds and Charles-Barclay. Halfway through the run, Sodaro emerged the preeminent runner on course, having come off the bike in 9th place to power through the pack.
Never looking under pressure, Gentle underlined her PTO World #1 status, taking the win and $100,000 with a comfortable 2:15sec margin. Haug recovered from her setback in the bike leg to take second and $50,000, while Sodaro clinched third and $35,000.
The top five are as follows:
Ashleigh Gentle – 3hr 41min 16 sec
Anne Haug – 3:43:32
Chelsea Sodaro – 3:46:10
Imogen Simmonds – 3:47:06
Lucy Charles-Barclay – 3:48:00
Gentle will now turn supporter for Amberger who will compete in the Pro Men's Race at 3.15pm alongside a star-studded field led by reigning Olympic triathlon champion Kristian Blummenfelt. She is then looking forward to returning home to Brisbane after four and-a-half months on the road.  
Reflecting on her time here, she said: "I really love Singapore. I have very much enjoyed my time here. Everyone is very lovely and very welcoming. And I feel like when you're in a good environment with nice people, it makes it a good place to race and I had good vibes before the race."
Following the exhilarating Pro Women's Race, over 4,000 avid runners then took to the course for The Music Run, the signature 5km fun run that encourages everyone to work out while listening to their favourite hits, including Moves Like Jagger and Flowers.
Reigning Olympic Triathlon Champion Kristian Blummenfelt Wins Inaugural PTO Asian Open To Finally Clinch First PTO Title
Fresh off the Olympic Test Event in Paris two days ago, reigning triathlon Olympic champion Kristian Blummenfelt shook off jet lag and a ninth-place finish to triumph in the Men's Pro Race at the inaugural Professional Triathletes Organisation (PTO) Asian Open on Sunday (20 Aug).
Blummenfelt had been trailing Pieter Heemeryck for the entire 80km bike leg but he powered through the run to pass the Belgian nearly halfway through the 18km run. From there, Blummenfelt made no mistake and finally clinched the elusive first PTO Tour title as he crossed the finish line in 3hr 20min 48sec. Heemeryck was second in 3:22:47 followed by American Jason West (3:24:03).
A jubilant Blummenfelt released a celebratory shout and pumped his fist in the air after completing the 100km course before settling down on the floor to take in the view at the finish line, reflecting on finally earning a PTO Tour win after three years.  
The PTO World No. 1 said: "I'm very happy and relieved. It's something I've been chasing for three years now and to finally be able to take this is a massive relief. It's been a long time coming since the
PTO 2020 Championship in Daytona and I really wanted to win a PTO race. Two weeks ago at the PTO US Open, 60km into the bike leg, I thought I had it in my pocket but it sort of slipped out when I cramped coming off the bike so you can't really celebrate too early. When I finally sort of knew I have a PTO Tour win, it's what I felt I've been missing."
Heemeryck was surprised to have led the bike course from Blummenfelt and was pleased to finish second despite the win slipping from his grasp at the end.
He said: "I have to be honest, I never thought that I was going to ride away from this field. So it was a little bit surprising. When I saw Kristian running and I knew he's going to get me but I have to be very patient because at the end, you want to be on the podium here. When I saw Jason, I really thought that he was going to get me also. But at the end, I finished with a strong run. It was a hot and hard race, but a fun one. The laps on the bike were beautiful and coming into the transition area, there were a lot of people supporting the race. At the end, I had a good day."
How the race unfolded
Instead of the downpours ahead of the women's race, the men got underway in Singapore's signature heat and humidity – the city's stunning skyline providing a fittingly dramatic backdrop for high-octane racing at the PTO Asian Open.
The group stayed largely together in the swim and after Josh Amberger led the first 1,000m, he waved through Aaron Royle who navigated the remainder of the 2km course to complete the swim first.
As the 80km bike course unfolded, the 10 per cent grades up the Benjamin Sheares Bridge provided the opportunity for moves to happen. Wildcard Mike Noodt was the early aggressor heading to the front ahead of Blummenfelt. By the start of the second 10km lap, it was PTO World No. 13 Heemeryck who put the hammer down to pull away from the rest of the field.
There was plenty of drama on the bike with Sam Laidlow retiring due to illness and Gustav Iden, Royle and West all taking spills while flat tyres and mechanicals added to the jeopardy.
Towards the end of the bike leg, Heemeryck had a lead of 2min 18sec over Blummenfelt while West – second in the US Open with a colossal run – was eighth.
Heemeryck was running well, but after a swift transition, it was clear that Blummenfelt's packed fortnight race schedule – US Open, Paris Olympic Test Event and Asian Open – had not dented his speed. By 10km, the Norwegian had Heemeryck in his sights and moments later steamrollered into the lead.
Behind, West was initially matching Blummenfelt's pace but as the kilometres wore on, the US athlete's foot speed dropped a little – taking away his chances to top the podium.
At the head of affairs, Blummenfelt sealed the victory and US$100,000 with a series of high-fives to the throng of waiting spectators. He, along with his fellow competitors, later took the time to sign autographs and take photos for the adoring fans who were cheering enthusiastically throughout.
The top five are as follows:
Kristian Blummenfelt – 3hr 20 min 48 sec
Pieter Heemeryck – 3hr 22 min 47 sec
Jason West – 3hr 24 min 03 sec
Denis Chevrot – 3hr 29 min
Sam Long – 3hr 29 min 11 sec
The PTO Asian Open weekend saw over 6,000 participants in a fun-filled event at the Marina Bay, beginning with two duathlon races in the morning over a standard 4.5km Run/32km Bike/4.5km Run and a longer 9km Run/64km Bike/9km Run. These were followed by the 100km experienced amateur triathlon, which also saw past and present Team Singapore athletes strut their stuff in relay teams led by 2016 Olympic champion Joseph Schooling.
Schooling said: "Overall, I had a lot of fun. Rounding the buoys was something different, I'm used to turning in the pool. All the Team Singapore athletes did really well. Luke (Tan) was maybe five or six body lengths in front of me or more because he hit it really well. I've trained with him at the National Training Centre and his aerobic base is good, I'm only a sprinter. Overall, I'm just happy to finish. I got a little nervous and excited a few days leading up to this. It was nice to be in a race atmosphere, in terms of nutrition and sleep time – that's something I really missed. Going 20 times what I'm used to in terms of distance… it was out of my comfort zone and that was fun so yeah, I did miss it. Hopefully I get a chance to do it again next year and I'll be better prepared."
His chance will come sooner rather than later after the PTO also announced their 2024 Asian Open dates on Sunday. The 2024 PTO Asian Open will take place from April 12 to 14 and Heemeryck is already looking forward to returning to Singapore after an enjoyable first trip.  
Speaking after the Men's Pro Race, he said: "The bike course was the hardest because during the run it's more cloudy but during the bike, it was the hottest. As you can see, now it's perfect for running so maybe next year, we have to start one hour later. There are also a lot of parks here with many play areas and I saw so many kids, so I think maybe next year I have to take my kids and dogs here because they would find it so cool. I like the atmosphere and you see all the buildings which, as a Belgian, you're not used to. So it was a good experience here."
Sign-ups for the 100km experienced amateur triathlon are open at https://protriathletes.org. More information on the event will be made available soon.