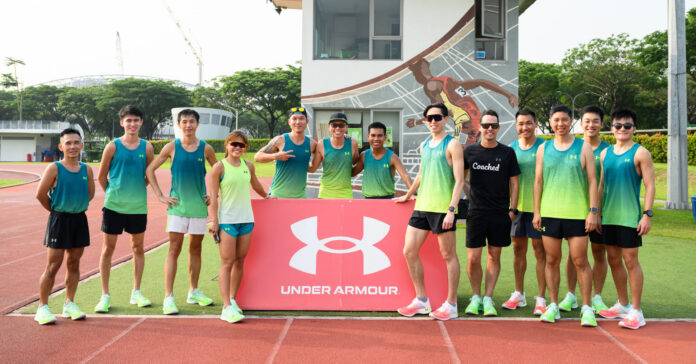 On 15 April 2023, coaches, professional athletes, and avid runners gathered at the Kallang Practice Track in Singapore to experience the fastest Under Armour road racing shoes, the Flow Velociti Elite. The highly anticipated launch of the new shoes generated a lot of excitement and anticipation among the running community.
The event was organised by Under Armour, one of the leading sports apparel and footwear brands in the world, known for its innovative and performance-driven products. The new road racing shoes were designed to enhance speed, comfort, and flexibility, making them ideal for runners looking to achieve their personal best times.
As the attendees arrived at the Kallang Practice Track, they were greeted by the Under Armour team who provided them with the latest Flow Velociti Elite to test out on a 14km run along the park connector through the Gardens By The Bay and Marina Bay area. The shoes featured advanced technologies such as a full-length carbon fiber plate sandwiched between the soft midsole foam that compresses and springs back to deliver explosive lift-offs, a dynamic WARP 2.0 upper which enhances breathability and lightweight containment, and the supercritical Flow foam which creates a seamless, lightweight ride. The UA Flow Velociti Elite also features a TPE sockliner for enhanced resilience and bounce.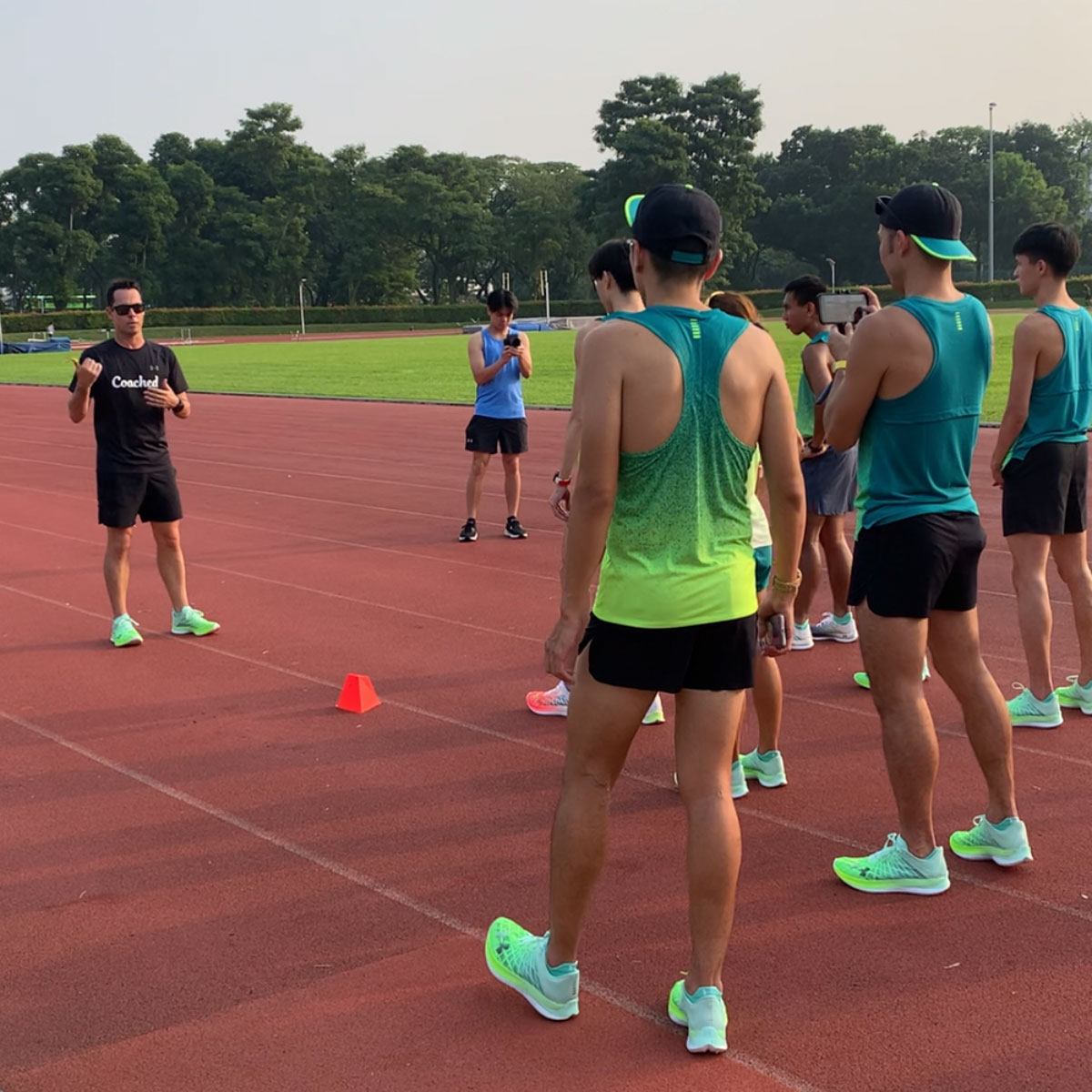 The coaches and athletes present at the event were particularly impressed with the shoes' ability to provide a responsive and comfortable ride, even at high speeds. They praised the shoes for their lightweight and breathable design, which allowed for maximum agility and flexibility.
The avid runners present at the event also had the opportunity to test out the shoes for themselves, with many reporting a significant improvement in their performance. They praised the shoes for their excellent grip and stability, which allowed them to maintain their form and stride even on turns.
---
JustRunLah! had a chat with some of the athletes, coaches and avid runners during the event.
Soh Rui Yong is a Singapore long-distance runner who won the Sea Games Marathon event twice in 2015 and 2017. He is also the national record holder for the 5,000m, 10,000m, half marathon and the marathon.
In his opinion, a good pair of training shoes should be durable, decently light, and also gives sufficient support as we use them most of the time. A good pair of racing shoes may not be as durable but should be very light and able to propel you off the ground.
According to Rui Yong, the Under Armour Flow Velociti Elite is a good pair of racing shoes for him because it has a springiness effect on the ground produced by the Pebax® foam and the carbon fiber plate. It also protects his legs from the long hard races, as his legs feel fresher towards the late stages which are needed for him to gun for his personal bests or national records.
---
Ben Pulham is the founder of Coached, a former professional athlete, and a coach to many athletes in Singapore and around the world. He is also the official coach of the Standard Chartered Singapore Marathon.
In his past life, Ben was a full-time athlete who was paid to swim, bike and run his way around the world. His initial intention was to try to qualify and represent New Zealand in the Beijing Olympic Games 2008. He raced in the 2007 Olympic trials in Beijing but unfortunately, he had a very nasty strain of dengue fever which put an end to his racing career.
In order to still be involved in the sport that he loved so much, Ben decided to take on coaching. He moved to Singapore in 2008 where his parents were living at that time. 15 years had since passed and he still enjoys coaching and helping athletes.
According to Ben, one of the biggest challenges of coaching is "circumstance". A lot of athletes that he works with are not professional athletes. They have families, social lives and jobs and other things fighting for their attention. Consistency in training is critical to getting results in athletics. However, such commitment to training often gets affected. As a result, Ben will have to constantly work on the training scope to fit the athletes' schedules to ensure that their consistency is on track and they are still able to make progress.
Another challenge that he faced is to convince his athletes that recovery is an essential part of the training process. Some runners may tend to run too much, which often becomes detrimental. His advice is that performance comes as a result of balancing training (stress is required for improvement) and recovery. Stress from other sources such as work and family can also affect the training outcome. The last thing athletes should avoid is to end up getting sick or even losing the motivation to train.
When asked about some of the key features which he looks for in a pair of performance running shoes, the two criteria which Ben mentioned are "comfort" and "lightweight". If a pair of shoes did not feel comfortable when they are first put on, he almost always has problems with it down the road. A pair of lightweight running shoes with enough cushioning to take the shock of the road and not compromise its weight is also very important.
The moment that he put on the Under Armour Flow Velociti Elite, he felt that it fulfilled both his criteria of "comfort" and "lightweight". When he brought the shoes out for some testing, he managed to run about 15 seconds faster per kilometre based on the same heart rate that he ran with his other traditional running shoes.
Ben recommends the Flow Velociti Elite to anybody who is looking to improve their racing and wants a comfortable pair of racing shoes. The shoes are stable and feel good and fast for any distance up to the marathon. They are also most suited for race-specific types of training such as high-intensity interval, and fartlek when you need a pair of fast and responsive shoes.
---
Andy Neo is the coach for the running group BKrs. He is an active marathon runner with a personal best of 2hr 49min at the 2019 Seoul Marathon. On top of training his athletes, he is still pursuing his marathon target of 2hr 45min through his own training program.
According to Andy, the first thing which he looks out for in a pair of performance running shoes is the "fit". You should not feel any irritation or tightness the moment you put your feet into the shoes. Feeling good in the shoes is a very important tell-tale sign that it is a good pair.
The second important factor will be cushioning. Shoes with higher stack height will provide better cushioning and support for master runners like him. They help to save your legs, especially during the last 10-12 kilometres of a marathon.
Thirdly, weight is a critical factor. The shoes need to be lightweight to tackle fast-paced workouts such as threshold-pace runs and track speed workouts.
After testing the Under Armour Flow Velociti Elite, Andy felt that it has a comparable weight as its competitors. The rocker at the front is also less aggressive, which allows him to engage turns and bends with greater stability. The shoes also become significantly more responsive at a faster pace, giving more energy return.
The upper of the shoes is also very well-ventilated, which is important for keeping the feet dry and cool in hot weather like Singapore's. The outsole being integrated with the midsole, and together with the Pebax® foam, gives a very nice, comfortable and responsive ride.
Andy recommends the Flow Velociti Elite for marathon workouts, threshold-pace runs and speed intervals.
---
Mohamed Iskandar is an avid marathon runner.
One of the important factors of a good pair of performance running shoes, in Iskandar's opinion, is cushioning. Good cushioning provides good support for the legs so as to minimise the risk of injuries.
Another important factor is stability. Some shoes in the market now do not provide good stability, especially when approaching turns.
According to Iskandar, the Under Armour Flow Velociti Elite is very responsive. The dampening and propulsion effects of the shoes can also be clearly felt during faster runs.
---
Overall, the launch of the new Under Armour road racing shoes in Singapore was a resounding success, with coaches, athletes, and runners all agreeing that the shoes were a significant improvement over their predecessors. The shoes are expected to become a popular choice among the running community, with many runners looking to achieve their personal best times with the help of these advanced and performance-driven shoes.
The UA Flow Velociti Elite is now available online and in Under Armour Brand Houses.