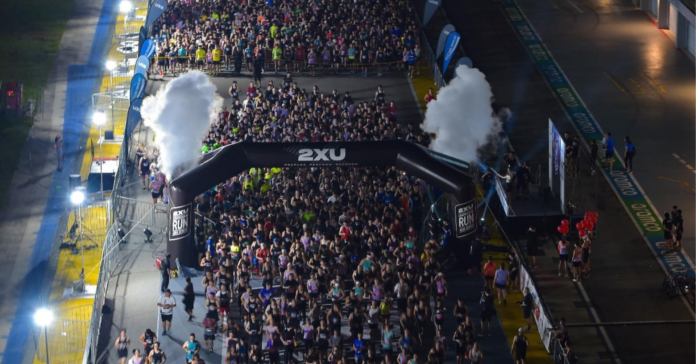 The run had a turnout of over 18,000 runners.
2XU hits over 12,000 participants for the half marathon category
Singapore, 17 April 2022 –  Making a return since the pandemic regulations were lifted, the 2XU Compression Run 2023 kicked off at 4.30 am on a humid Sunday morning. The spirit of the runners was not dampened as they braved the sweltering heat when they were flagged off from the start point at the F1 Pit Building. In support of the event, POCARI SWEAT, the 2XU Compression Run's official isotonic drink sponsor, kept our participants hydrated throughout the event.
The 2XU Compression Run, themed 'No More Limits', saw a turnout of over 18,000 participants, with 2,000 of these individuals being foreigners, across the three different race categories – 5km, 10km, and 21.1km. 
With most participants signing up for the half marathon (21.1km) – approximately 12,000 signups, participants came streaming in bright and early at 3 am that Sunday morning. The ceremonial flag-off at 4:30 am was graced by Jenny Hudson, 2XU's Global Commercial Key Account Manager. "This has been a long-awaited event for 2XU, and I am elated to be here to witness the runners' excitement to be part of our annual run. As a runner myself, I know the exhilarating feeling of being at the start line, which is why I am proud that we were able to organise such a marathon for our runners in Singapore," she expressed.
Daniel Ng, Director of Pink Apple, the race organiser appointed by 2XU shared, "I'm delighted that we were able to make a strong comeback on 2XU Compression Run's 10th edition, after 3 years of having to isolate and adhere to pandemic regulations. Seeing the runners' passion for the sport, gathering with their friends, and their newfound community makes my team and I feel fulfilled to bring runners together for such an event and empower them to overcome challenges and power through with no more limits."