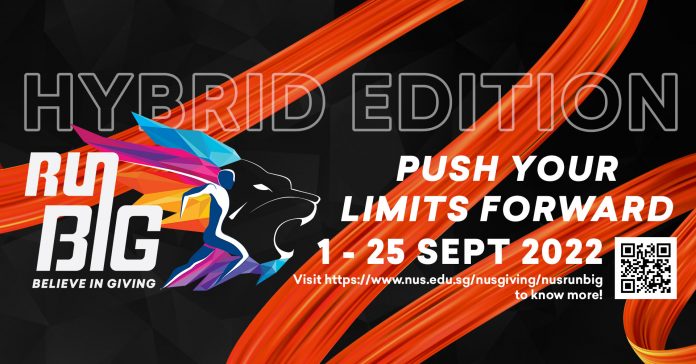 Tough runs don't last, tough runners do. Let's make history together by being part of NUS Giving Run BIG's first-ever hybrid race!
This year's run will take on a hybrid race format that allows both virtual and in-person participation amongst runners of the NUS community and members of the public. Run BIG 2022 will be a special one as 100% of the proceeds will go towards supporting NUS Annual Giving Bursaries. Your support will enable today's students to become tomorrow's changemakers and inspire them to pay it forward to the community.
Join the run not only to beat your personal best, or simply to experience the euphoric feeling of being part of a mass running event again, but also for a good cause!
What is NUS Giving?
As a global leader in university philanthropy, NUS Giving is delivering sustainable impact and realising possibilities.
They build enduring relationships with their donors to seed and grow transformational opportunities that create a ripple effect of progress through their communities and the world, transforming lives and empowering change.
They are future-making as they empower students to achieve their fullest potential, give future leaders and changemakers the opportunity to learn from the best through world-class academic and research programmes, and enable the foremost minds of today to solve the problems of tomorrow through innovative research.
NUS Giving Run Big 2022 at a glance:
Virtual Challenge
Dates: 1 – 24 September 2022
Categories: Individual – 3KM / 5KM / 10KM / 19.05KM / 42KM OR Team of 4 – 190.5KM
Location: Islandwide Race
Run the race, at your own pace and in your own space!
Collect the badges by clocking various distances within the clock-in window to unlock the rewards.
From 1 to 24 September 2022, participants can get active at their convenience while connecting with the NUS Community, and making a real and positive impact on the lives of the students.
Campus Run
Dates: 25 September 2022
Categories: 5KM Non-Competitive OR 10KM Competitive
Location: NUS Kent Ridge Campus
Join us on 25 September 2022 at NUS Kent Ridge Campus to celebrate the return of the campus run.
Come Run BIG with us before slots run out!
Your Bragging Rights!
Every registered participant will be entitled to a race pack containing a Running Tee and many other exciting running goodies. On top of that, finishers will also get to walk home with exclusive finisher entitlements like Digital Certificate, Finisher t-shirt and more!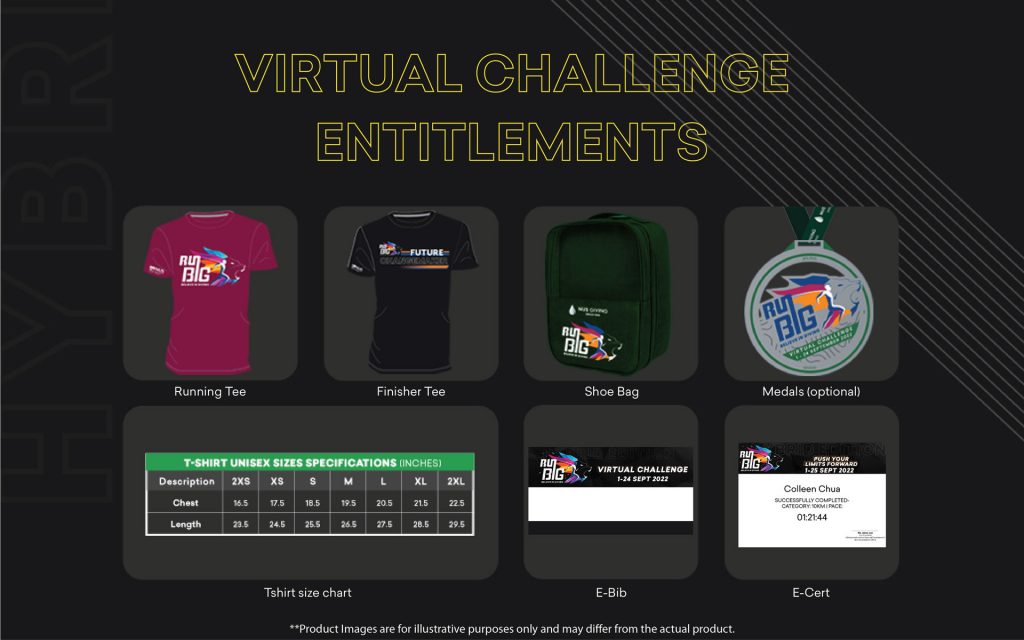 Do take note that the Race Entitlements (The Running Tee and Shoe Bag/ Tote Bag) for all race categories will be mailed to you before 25 September 2022. While the Finisher entitlements (Finisher Tee and The Medal- if needed) will ONLY be delivered to the participants after completion of the registered distance, within the clock-in period.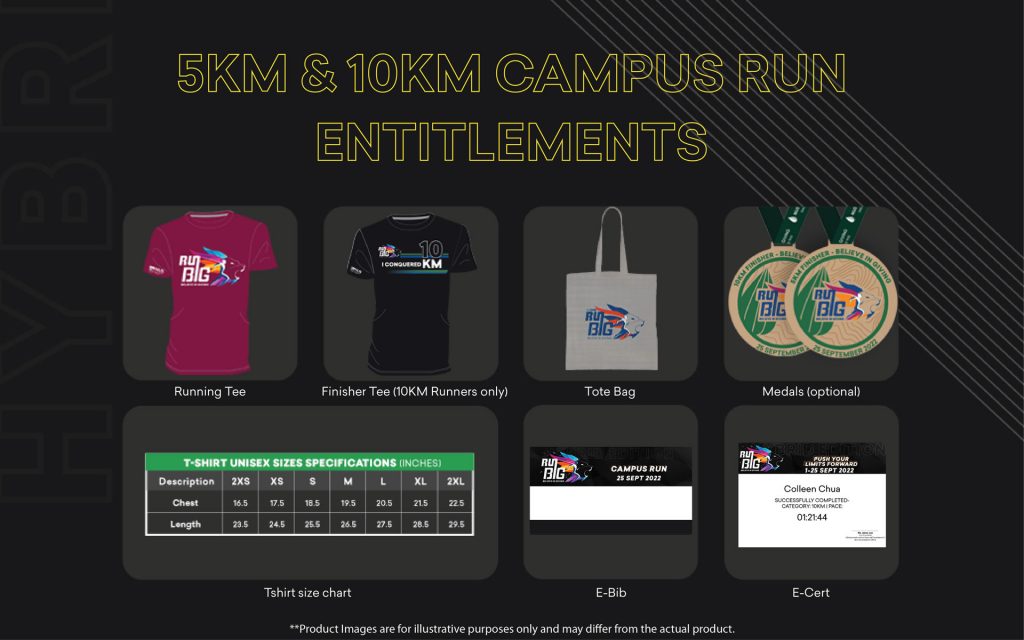 Run Prizes & Lucky Draw
Besides participating in the run, you can also stand a chance to win these attractive
prizes when you join us on the final day of the run!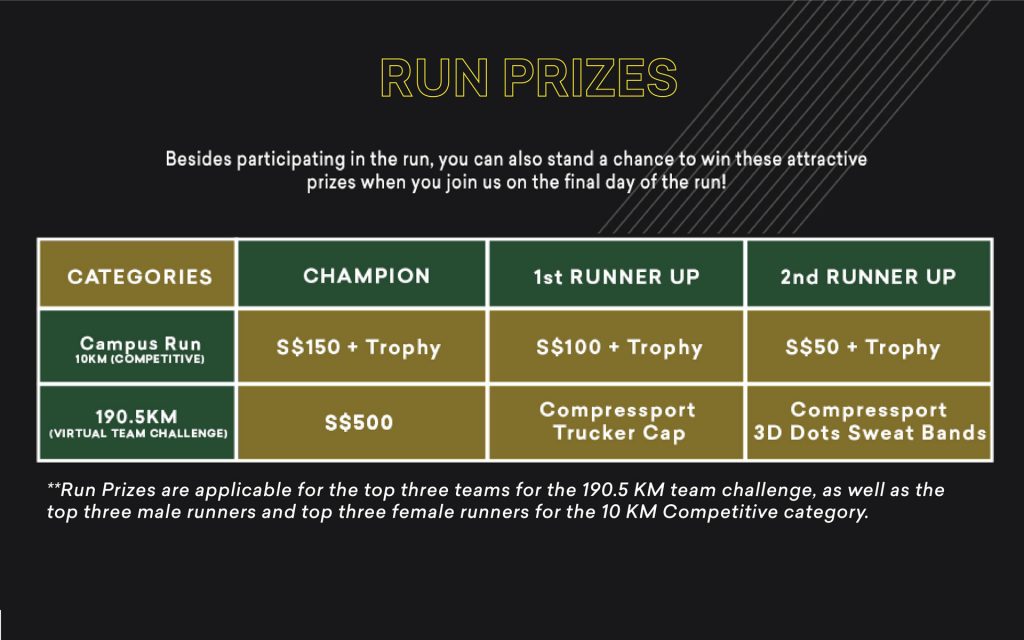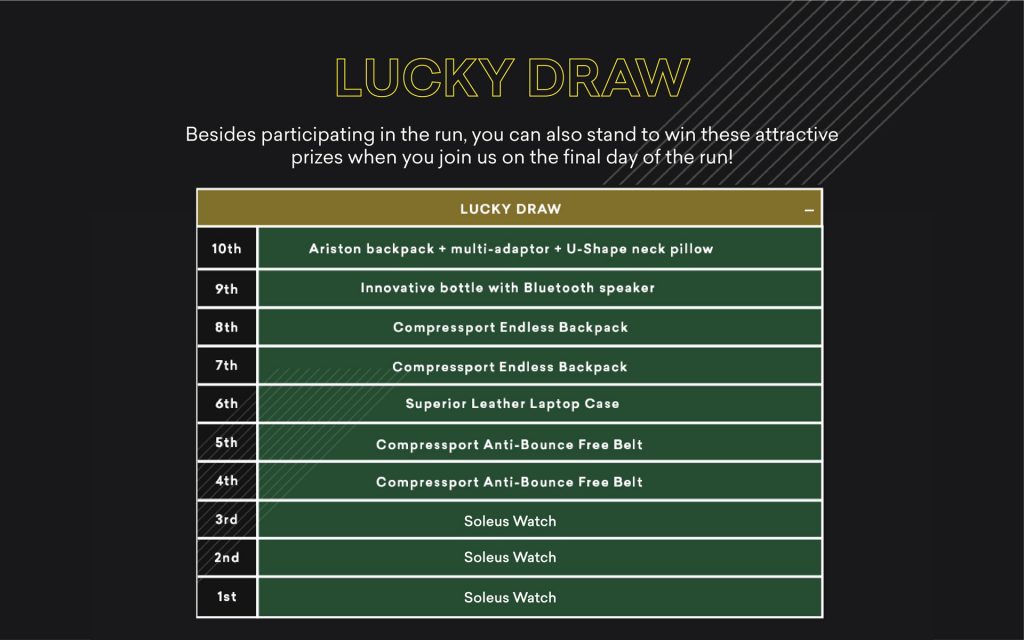 For more information, you can visit NUS Giving Run BIG website by clicking here!