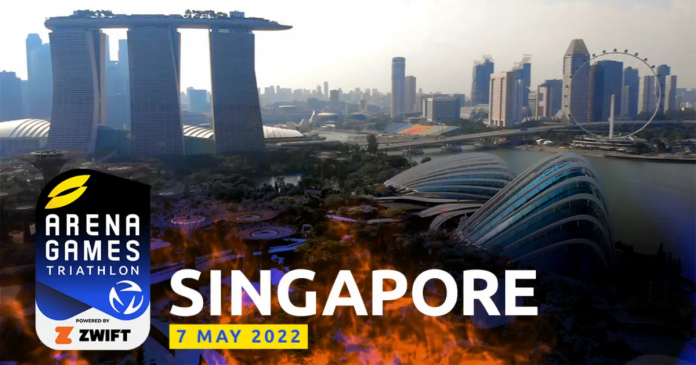 The best triathletes in the world are ready to battle for glory at this weekend's Grand Final of Arena Games Triathlon powered by Zwift. Taking place at the iconic Marina Bay area, the event also marks the first time that professional athletes including Olympic Champions Alex Yee, Jess Learmonth and Georgia Taylor-Brown will take to the waters of the Marina Reservoir. The event will also feature a corporate race, Tri Club race and Singapore National Championships. 
Arena Games Triathlon Powered by Zwift is an innovative esport concept that blends in real life and virtual racing to deliver a new level of the immersive viewing experience. The format took the triathlon world by storm with the debut of the Arena Games in Rotterdam 2020 before successful follow-up events in London and Rotterdam in 2021. Now it's back in a World Championship Series format for 2022, that will see the crowning of the first esports triathlon World Champions. With further innovations, more live data, and in your face cameras, these events will get closer to the athletes than ever before.
The Arena Games Triathlon Singapore is the last of three events this season, with the previous two taking place in Munich (9 April) and London (23 April). Arena Games Triathlon London men's winner Justus Nieschlag (GER) arrives in Singapore at the top of the table, while Munich champion Beth Potter (GBR) will look to overtake Cassandre Beaugrand (FRA) as leader in the women's standings.
Ahead of the Grand Final, the athletes got a chance to meet with members of the local sports community as they conducted running workshops and training sessions for youth from the ActiveSG Athletics Club and SportCares. They also tried their hand at making roti prata and "pulling" teh tarik, local delights known and loved by many in the region.
The Arena Games Triathlon powered by Zwift is a result of the ground-breaking partnership between Super League Triathlon (SLT) and World Triathlon (WT) to create a global esports World Championship series. The Arena Games Triathlon, a trailblazing concept by SLT, features real-life and virtual racing action with the action turned into a visual race via Zwift's online platform. Previous iterations have all taken place indoors but the Grand Final in Singapore will mark a first as all three disciplines will take place outdoors. The triathletes will start their 200m swim in the Marina Reservoir before completing their 4km bike and 1km run legs on smart trainers and self-powered curved treadmills placed on the promenade of Marina Bay.
SLT is committed to growing the sport and engaging new fans in a sustainable way. The Arena Games Triathlon Singapore will see a partnership with leading energy and urban solutions provider Sembcorp Industries (Sembcorp) as carbon offset partner.
Michael D'hulst, Super League Triathlon CEO and Co-Founder, said: "Sustainability is one of our core values and Super League Triathlon is constantly working hard to ensure that our events are sustainable while continuing to deliver the impeccable standards that we are known for. Sembcorp's commitment to making sustainability its business aligns with ours, and we are grateful for their support of the Arena Games Triathlon Singapore."
Super League has also partnered with Ochlos Holdings Pte Ltd, who are the Official Sustainability Partner for Arena Games Triathlon Singapore, and are providing sanitization efforts for all touchpoints and equipment with their FR-Shield solution. Once a surface is coated with FR-Shield, it has self-disinfection, antimicrobial and deodorizing effects that can last up to a year.
James Yang, Chief Executive Officer, Ochlos Holdings Pte Ltd, said: "To be able to effectively leverage our resources to provide sanitation efforts for Super League's Arena Games Triathlon Singapore really builds towards our vision of ensuring a sustainable future for our planet and preserving it for future generations to come."
Event schedule
Arena Games Triathlon Singapore Heats – 6 May, Friday
| | |
| --- | --- |
| Time | Activity |
| 1pm – 3.10pm | Women's heats |
| 3.30pm – 5.40pm | Men's heats |
| 7pm – 8pm | Corporate race (bike/run) |
Arena Games Triathlon Singapore Finals – 7 May, Saturday
| | |
| --- | --- |
| Time | Activity |
| 10am – 11.20am | Women's repechage |
| 11.40am – 1pm | Men's repechage |
| 2pm – 3.30pm | Singapore National Championships |
| 4.20pm – 5.10pm | Women's Final |
| 5.30pm – 6.15pm | Men's Final |
| 7.30pm | Tri Club Race |