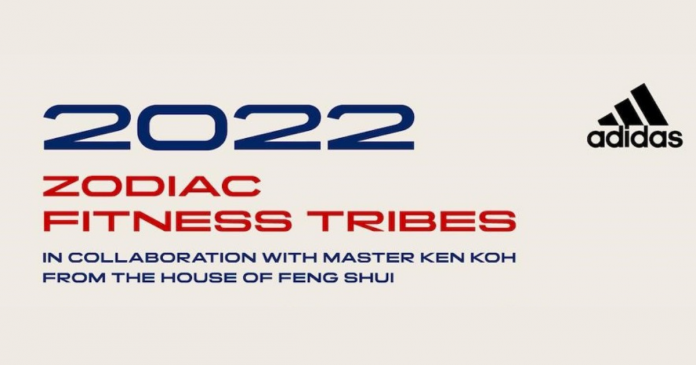 In a survey commissioned by adidas, the brand uncovers generational and gender-specific insights that can support people in Singapore who are on their personal fitness journeys.
When the nation went into lockdown, 1 in 2 people in Singapore became active and tried a new fitness activity/sport – women especially.
A nation of runners, cyclists and yogis, Gen Zs preferred activities of self-expression, compared to Millennials who partook in activities to achieve self-mastery.
What kept us motivated in our fitness/sporting journeys? The power of 'jio' – especially for Gen Zs.
The brand enlisted Feng Shui Master Ken Koh, who shares '2022 Zodiac Fitness Tribes' profiles. For instance, Tigers best vibe with Horses, Dogs and Pigs.
Singapore, 13th December 2021 – In preparation for the new year and to find out how the brand can better support people in Singapore on their fitness and sporting journeys, adidas Singapore went on a mission to examine the impact of the pandemic on mental health, fitness activities, sports participation, and fitness motivations. On that end, the brand commissioned Dynata, a global market research firm, to run a survey among an independent panel of 1,009 respondents who engage in both low and high intensity fitness activities. The sample size was an even split of Males and
Females, Gen Zs (born 1997 to 2012), and Millennials (born 1981 to 1996). The study, aptly dubbed "The Power of 'Jio' in Fitness Tribes" uncovered…
The pandemic's silver lining & virtual fitness fatigue
In looking at the impact of Covid-19 and exercise frequency, the study revealed 1 in 2 were able to maintain or increase their fitness activities.
In fact, 50% of respondents took the opportunity to try new fitness activities or sports when the nation went into lockdown. Women were significantly more likely to increase their exercise frequency with 26% pivoting comfortably into "indoor activities" like "Yoga" (43%), "Dance" (27%) and "Pilates" (21%). However, the pandemic also brought on a significant "virtual fitness" fatigue with 69% of respondents expressing if given the choice, they would prefer to break a sweat outside of their homes. Which are Singapore's favourite fitness activities or sports you ask?
We are a nation of runners, cyclists, and yogis – with some generational differences
"Running (65%), Outdoor cycling (39%), Yoga (27%), Basketball (22%) and Dance (21%)" were the top five fitness activities people in Singapore partook in at least once a week.
Interestingly, the brand found differences in the type of activities that Gen Zs and Millennials preferred. Gen Zs seemed to prefer activities that allowed for self-expression and empowerment like "Dance and Martial Arts" (6% on average more than Millennials). Whereas, Millennials displayed a higher interest in activities like "Yoga, Tennis and Pilates" to achieve self-mastery (6% on average more than Gen Zs). But why do we work out?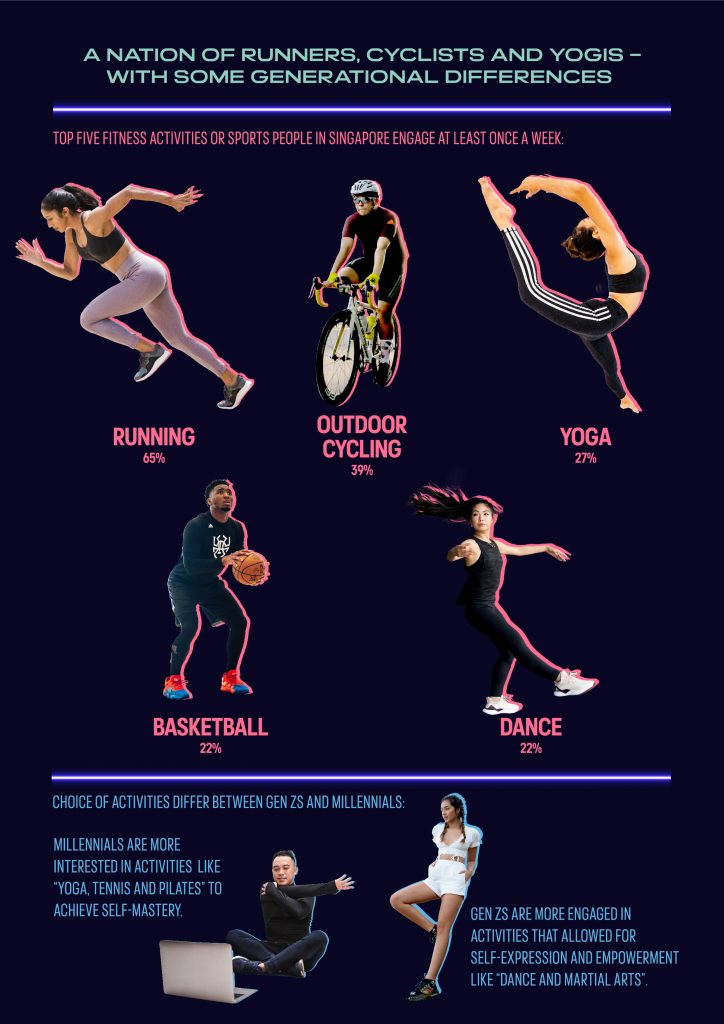 Simply, because it "makes (us) happy"
Along with improving their physical health, the top reasons cited were tied to mental health. 54% took part in fitness activities or sports to "reduce stress" and "improve mental health".
In fact, 68% expressed that being part of a fitness or sport community has had a "positive impact on their mental well-being". Top three reasons for membership to these communities or groups were simple. It "makes me happy (49%), gives me motivation (48%) and helps me socialise with likeminded individuals (46%)".
However, we know it is hard to stay motivated in our fitness goals. Here's what the brand found that has helped people in Singapore stay on track (pun intended)!
The power of "jio" & fitness tribes to keep you going – especially, for Gen Zs
51% of people in Singapore found "exercising with friends" to be a powerful motivator to stay active and on track with their fitness goals. Other motivators in the top five were "having friends to urge you to be more active (36%), exercising outdoors (34%), being part of a fitness community (33%) and using a fitness app (31%)".
The power of "jio" (colloquially used to mean "to ask someone out") was found to also be more significant among Gen Zs than Millennials with the top four largest differences seen in motivators such as "exercising with friends (18% higher than Millennials), having friends urge me on (12% higher than Millennials), getting a reminder from friends (10% more than Millennials), being part of a fitness community (7% more than Millennials)".
Want to form your own fitness tribe, try a new sport, or figure out your lucky fitness colours for 2022? We got you.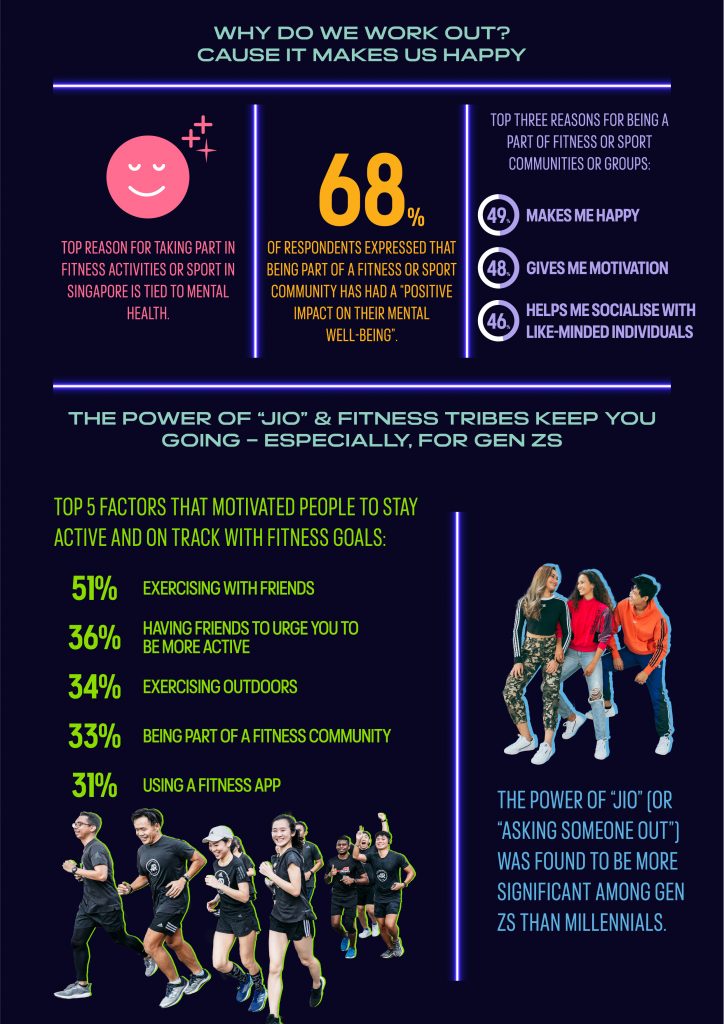 ZODIAC FITNESS TRIBES BY FENG SHUI MASTER, KEN KOH
Ahead of the year of the Water Tiger, adidas invited Master Ken Koh from the House of Feng Shui to share tips for people in Singapore to break out of their fitness rut and stay on track with their goals! Master Ken sheds light on your Zodiac's personality, fitness activities or sports to try in 2022, lucky fitness colours to don and zodiac profiles of people to form your fitness tribes.
Tigers, you can form your Zodiac Fitness Tribes with Horses, Dogs and Pigs as they could best vibe with you. Consider stocking your cupboards with more athleisure wear in Ruby Red and Lilac. While it's more natural for you to partake in martial arts, in 2022, you might want to try kendo, high jumping, shooting, skateboarding and platform diving to play to your strengths. For a full list of zodiac profiles and tips, please refer to the Appendix B below.