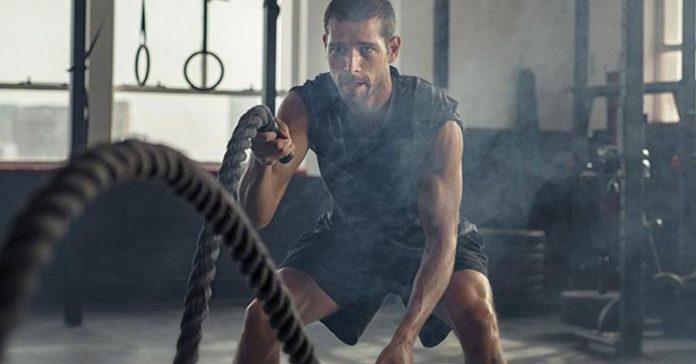 Are you a strength training enthusiast? Do you enjoy variations in your fitness regime?
Battle ropes are the perfect total-body strength workout that helps you blast off the calories while building full-body strength.
Even though the battle ropes were introduced by John Brookfield back in 2006, they are still new to the gyms, and many people are unaware of the tremendous benefits and uses of these coiled weighted wires.
Ahead in this article, we'll discuss all the benefits and uses of battle ropes so you can add up some waves of excitement in your everyday fitness regime.
What Are Battle Ropes?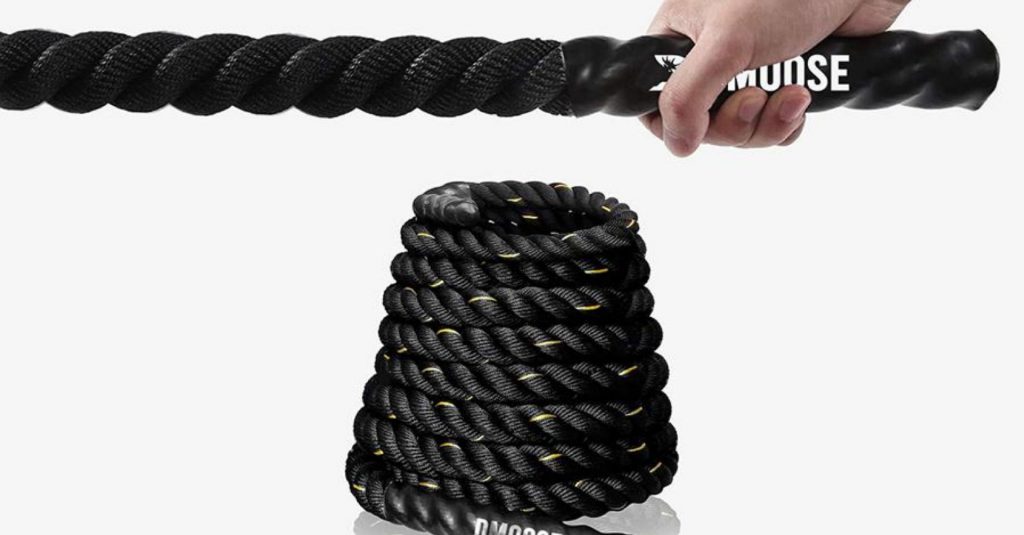 Battle ropes or battling ropes are two 15 inches thick and 30 feet wide pieces of Dacron ropes that provide individuals with the ideal HIIT (high-intensity interval training) workouts.
These ropes are secured to an anchor from one end, while the nylon grips on the other end provide a breathable and firm grip so that you can enjoy a wide variety of exercises.
Battle ropes are a versatile gym gear that aids in weight loss and help you build more lean muscle mass while helping you to target your arms, core, chest, back, shoulders, hips, etc.
Benefits of Battle Ropes
These ropes may seem to be very simple gym gear, but they offer a huge variety of workouts with tremendous amounts of benefits.
1. Time Efficient
If you're amongst the many people who want to blast off their fat fast without spending a lot of your time at the gym, then battle ropes are the perfect gear for you.
Exercising with battle ropes targets your biceps, triceps, shoulder, chest, core, etc., shooting up your endorphin (feel-good hormone) levels while burning calories and building lean muscle mass.
2. A Full Body Workout
The best workouts are the ones that target all your body muscles at once. Battle ropes are not just perfect gym equipment for training your upper body, but your lower body as well.
Adding in jumps and squats when making waves to exercise your biceps and triceps will help you target your legs, glutes, and hamstrings as well, allowing you to enjoy a full-body fat-blasting session.
3. Burn Away the Fat
If you don't feel like running around the block for long hours to burn off extra fat, then you need to add battle ropes to your everyday regime.
Using the exercise ropes for arms adds versatility as well as efficiency to your fitness regimes. It enables you to perform high-intensity interval training and burn approx. five hundred calories within 30 minutes.
Not just during the workout, but after exercising with battling ropes, you will enjoy fast metabolism for the next 36 hours, helping you burn away even more calories.
4. Increase Muscle Mass
Using a battle rope helps you exercise all your muscles from your shoulders and arms to your glutes and legs.
These compound workouts allow you to tear away the fat tissues and build up lean muscle mass for a more toned-up body.
5. A Perfect Cardio Alternate
Unlike performing other cardio workouts like jumping jacks and running, the battle rope workouts will elevate your heart rate within ten minutes and improve overall body strength.
So instead of working out for long durations to elevate your heart rate and burn off the calories, start exercising with the ropes, and you'll be huffing and puffing in no time.
6. Variety of Workouts
As we've been mentioning, again and again, the battle ropes offer a huge variety of workouts to individuals while targeting the full-body muscle and ensuring you don't lose the workout excitement.
Whether you want to target your arms simultaneously with isolated exercises or enjoy compound workouts by adding in jumps and squats, the battle ropes make for perfect gym gear for all fitness levels.
Battle Rope Exercises
Before we move ahead with the most effective and efficient battle rope workouts, it is very important to maintain proper form when exercising to reap maximum benefits.
Every gym gear is only effective when used properly, and the same is the case with battle ropes. They look easy but require correct postures and precise techniques to avoid sprains and strains on the joints.
• Firstly, make sure that the ropes are anchored properly. Once fastened tightly, pull them away and extend them completely. Now that the ropes are properly secured, take a few steps forward to make waves in a fluid motion.
• When using battle ropes, maintaining correct form is essential to avoid any strains on the joints and injuries. Stand tall with your feet opened shoulder-width apart, toes placed in a light outwards position while heels positioned slightly inwards, and knees slightly bent.
• Next, to further correct your body posture to engage all the body muscles, bend down in a quarter squat, placing your weight evenly on the feet and standing firmly on the ground. Keep your hips in a stuck position, and slightly bend your elbows so you can make smooth waves and work your biceps and triceps along with your core and legs, etc.
• Lastly, you have to perform quick, repetitive, and controlled movements with your hands.
Now that we've guided you on maintaining correct posture, here are a few exercises that will help you build stronger muscles in your biceps, triceps, core, etc.
1. Kneeling Alternating Waves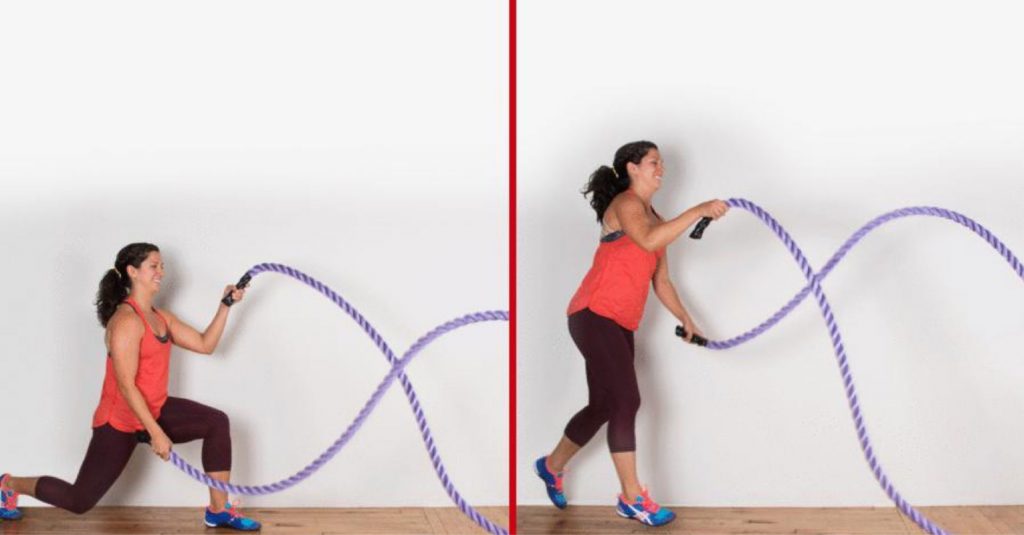 Kneel on your knees, keeping them shoulder-width apart
Keeping the spine straight, engage your core and hold the ropes firmly at your hip level
Raise your right hand to your eye level and snap it down on the floor, bringing your hands back to the hip level
As soon as the rope hits the floor, lift your left hand to eye level, and coordinate your hands to create waves alternately
Perform two sets for one minute each.
2. In-and-Out Waves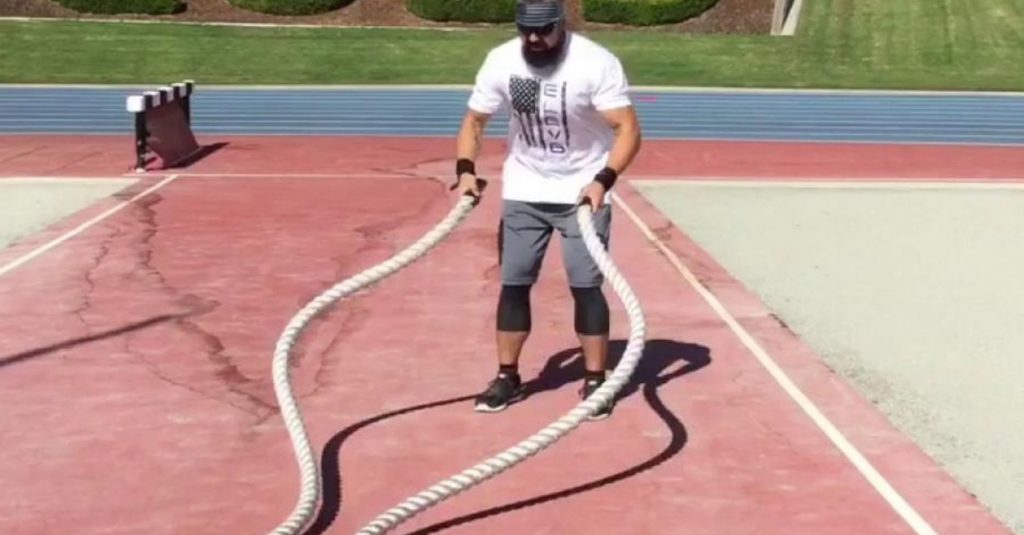 While standing tall and keep your legs open shoulder-width apart and your knees at a natural bent.
Hold the ropes hip-high and hit them together
Just when the ropes hit together, move them apart and repeat this exercise for a few sets.
3. Kneeling Overhead Extension Rope Drivers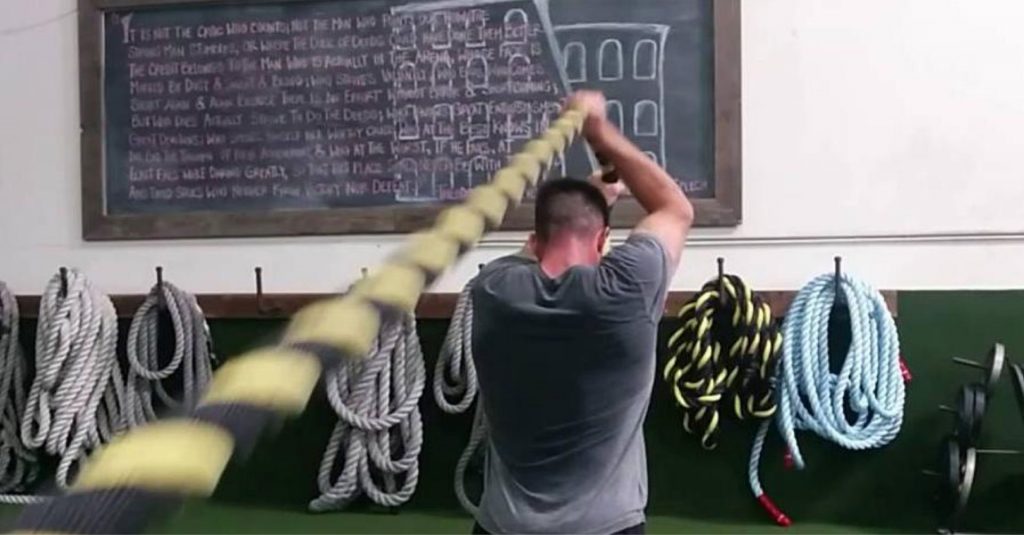 Kneel on your knees and open them shoulder-width apart
Hold one rope over your head and start pulling it with your hands, letting it stack in front of you.
You can either move near the anchor for this exercise or open up the battle rope, so you keep pulling it in front of you.
4. Seated rainbows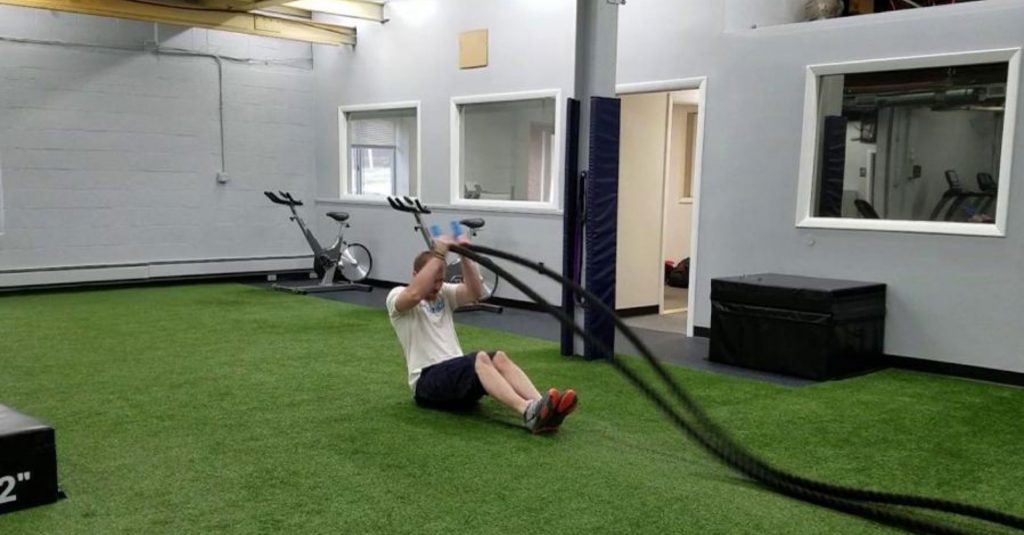 Sit down on the floor, keeping your feet fully extended in front of you
Fold up your knees halfway and lean slightly backward to engage your core.
Staying fixed in this position, hold the ropes in your hands and move them over your legs, hitting the opposite side of the floor.
Keep moving the rope over your knees and hitting it on both sides, creating rainbow imagery.
5. Standing Push-Pulls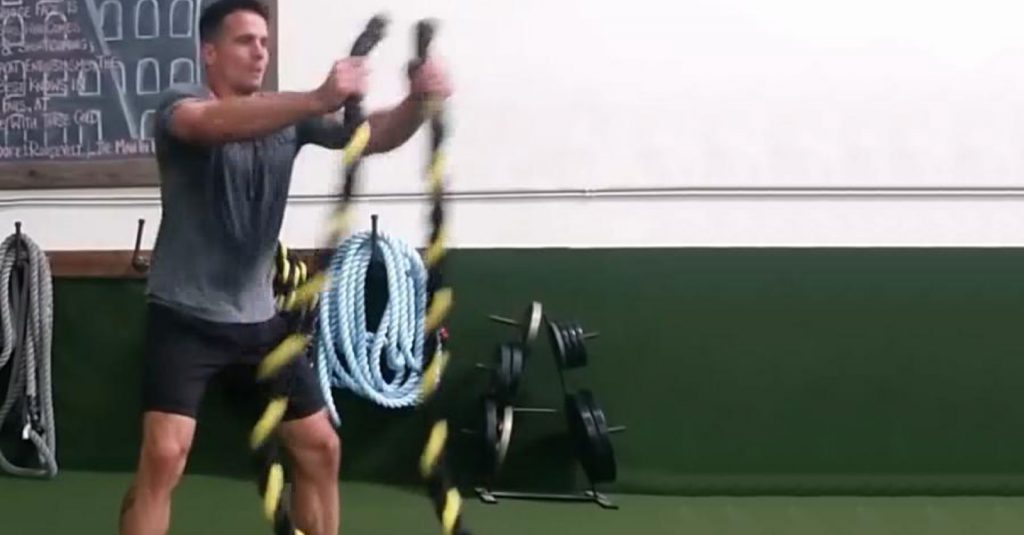 Stand up straight and close to the anchored point of the ropes
Hold the ropes in your hands, keeping the upper arms straight and elbows bent upwards, so that your hands are making a 90-degree angle
Once you're in the position, push your hands forward, extending them completely in front of you, and pull it back with full force
Exert maximum force and speed once you understand the movement and repeat the push and pull movements.
Takeaway
Battle ropes, albeit new, are a very effective, efficient, and fun way to train your full body muscles, specifically, the arms. These simple-looking ropes add a variety to your workout regime, keep the motivation levels high and challenge your strength levels so you can easily break through your weight loss and muscular plateaus.
References