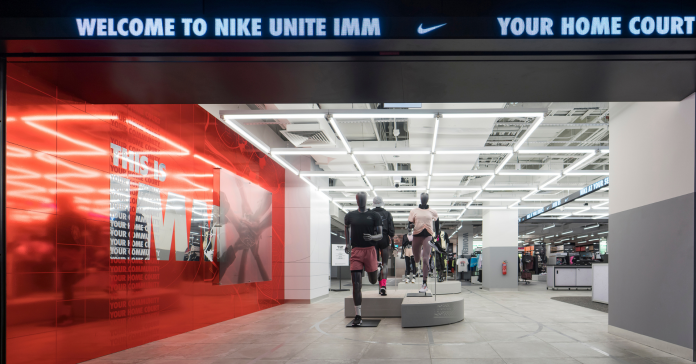 Newly refurbished 18,000 sq ft designed to inspire, connect and support local community
SINGAPORE, 22 November 2021 – Nike Unite concept store launches in Singapore's IMM, with an aim to inspire local communities to make sport a daily habit. The newly refurbished, first-of-its-kind Nike store in Southeast Asia, spans 18,000 sq ft, with a layout that plays to the concept's three guiding principles of bringing access to sport, adding value to the local community and creating a destination that brings members and consumers closer to sport, and closer to one another.
Consumers will have access to a range of locally curated products including everyday
essentials at great value, combined with select seasonal offerings from Nike.com across
men, women and kids. Close to 50 per cent of floor space is dedicated to women and
kids, and with half of the store staff being female, the new store now provides women
with access to specialist services such as bra fitting and personal styling. With a
dedicated changing area, women can now shop from a range of footwear and apparel
collection for dance, fitness, running and yoga, as well as find their favourite Nike
products for the family.
Nike Unite will bring the first-of-its-kind, tech-enabled NikeFit shoe fitting service to IMM.The scanning solution uses a proprietary combination of computer vision, machine
learning and recommendation algorithms that measure the full shape of both feet to
determine the perfect fit for each shoe style.
For local and international shoppers, the store offers an assortment of Tees carrying
country name prints from Southeast Asia that are sold in reusable pouches and can be
collected from the grab-and-go section located near the entrance. Nike members can also personalise a T-shirt using one of the iconic Nike heritage decals or by having their
name and favourite number heat pressed.
"Nike Unite is fundamentally about helping consumers connect closely with sport by
bringing the most valuable sport destination to the community and creating experiences
that are rooted in serving people," commented Sylvelin Ng, director Southeast Asia &
India at Nike Value Marketplace.
Added Ng: "At Nike, we believe that everybody is an athlete; regardless of age or ability if you have a body, you are an athlete. With informed and well-trained store athletes,
50 per cent of whom are women, combined with over 60 per cent bigger floorspace
comprising locally curated essentials, we aim to help consumers connect more closely
with sport and bring inspiration and innovation to every athlete."
As the country opens up, the new Nike Unite IMM serves as a reminder that whether
you are an individual who wants to lead an active lifestyle, a parent who wants to build
confidence in your children to help them to better understand themselves and be social
or serve your local community, sport has the power to create change.