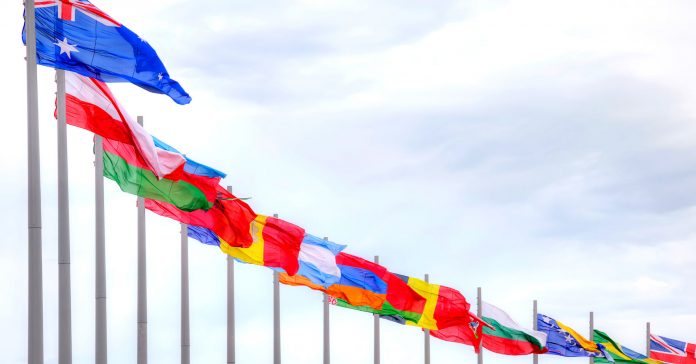 The Tokyo 2020 Olympics, officially known as the Games of the XXXII Olympiad, an international multi-sport event being held from 23 July to 8 August 2021 in Tokyo, Japan, with some preliminary events that began on 21 July. This edition will be concluded at the Olympic Stadium, Tokyo on 8 August 2021.
Originally scheduled to take place from 24 July to 9 August 2020, the event was postponed to 2021 in March 2020 as a result of the COVID-19 pandemic, the first such instance in the history of the Olympic Games (previous games had been cancelled but not rescheduled). It was being held largely behind closed doors with no public spectators permitted due to the declaration of a state of emergency.
The 2020 Games featured 339 events in 33 sports (50 disciplines), where new competitions were introduced and competitions that once were held but were subsequently removed were re-introduced. New ones include 3×3 basketball, freestyle BMX and mixed-gender team events in a number of existing sports, as well as the return of madison cycling for men and an introduction of the same event for women. Various disciplines were also added to this Games by the host, Japanese Olympic Committee, including baseball and softball, karate, sport climbing, surfing, and skateboarding, the last four of which make their Olympic debuts.
A total of 205 nations and the IOC Refugee Olympic Team took part in the Tokyo 2020 Games.
Below is a recap of the Marathon results over the past 3 editions.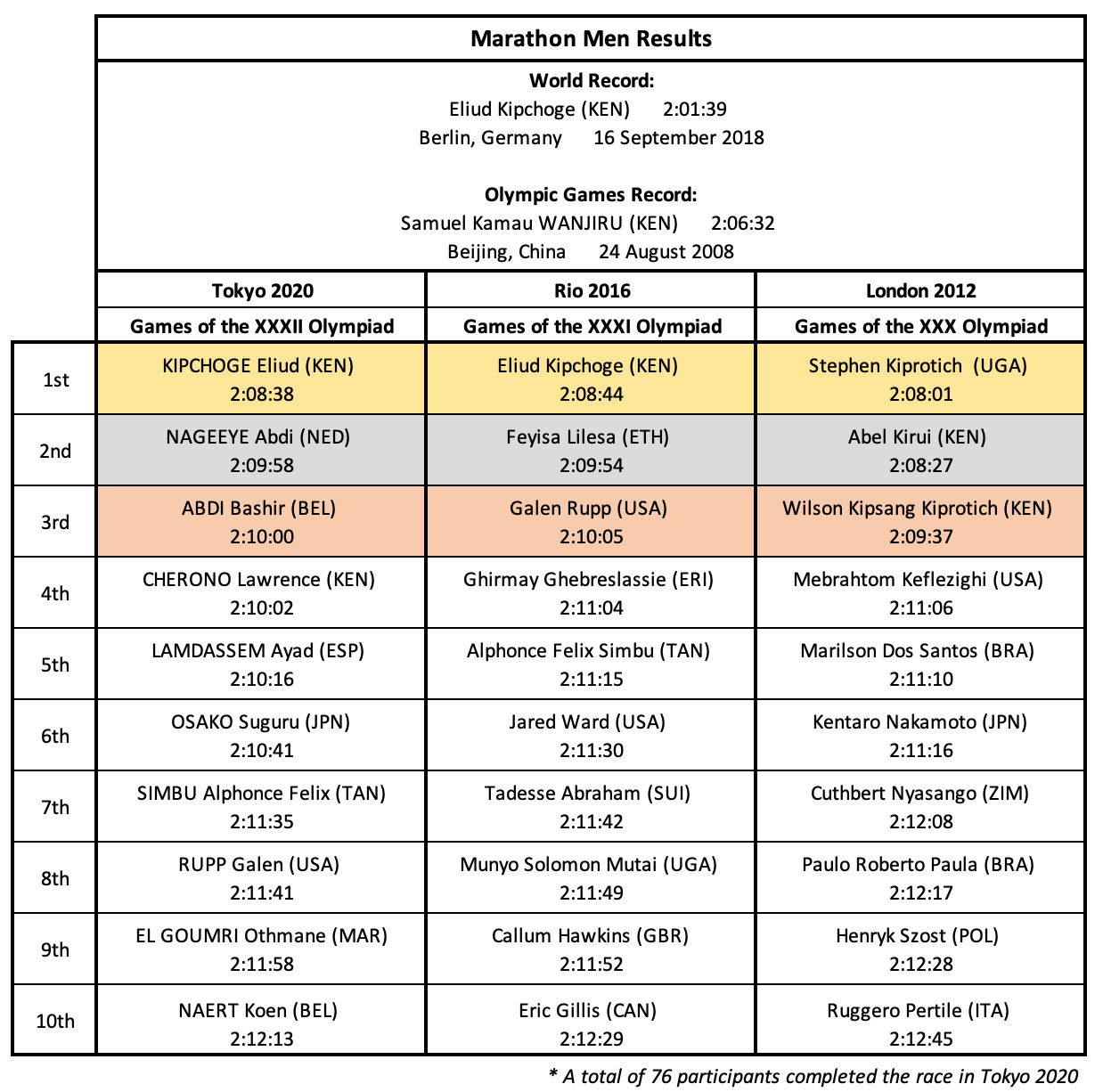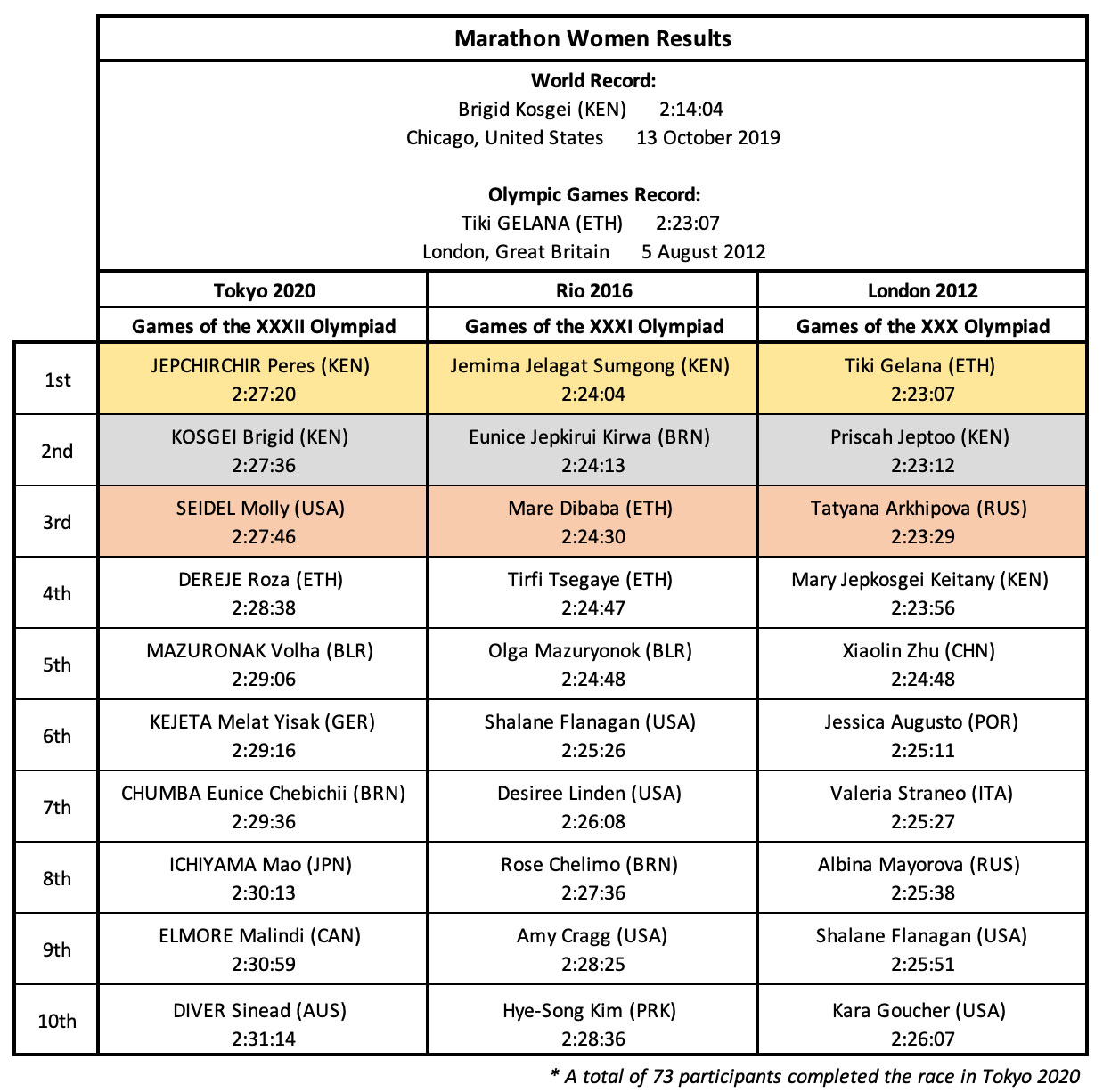 Men's and Women's champions from the marathon race: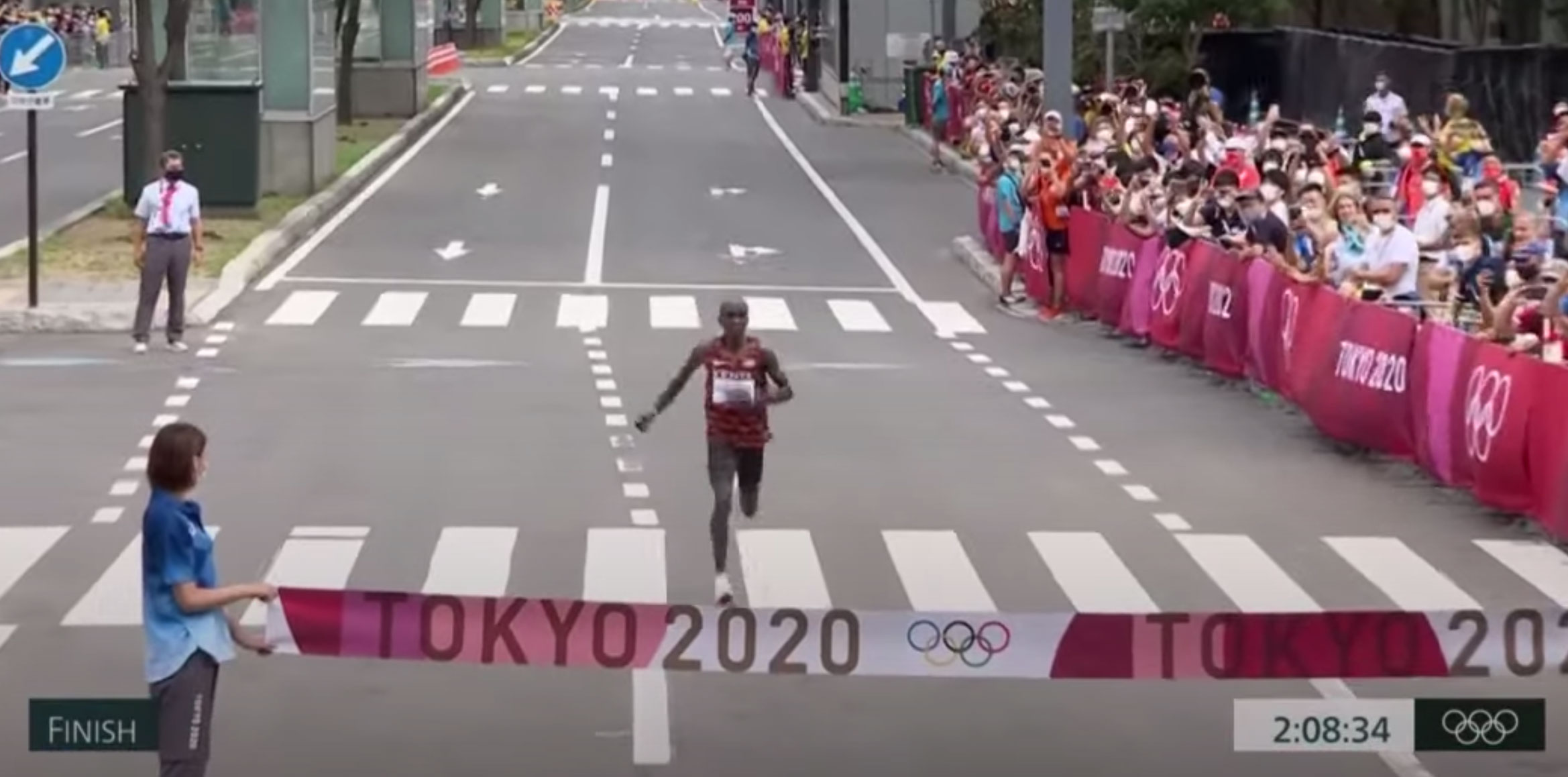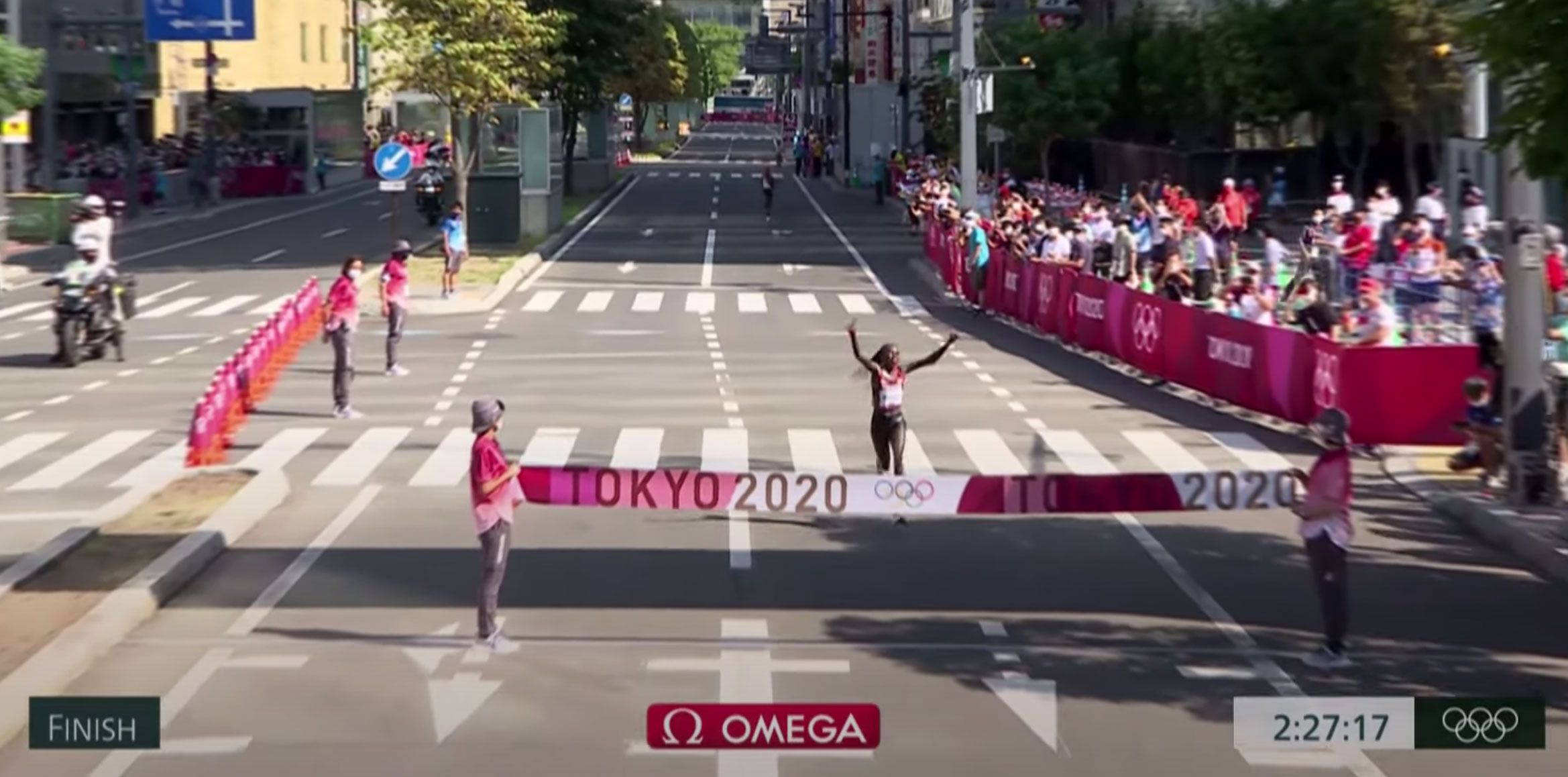 See below results in text:
Marathon Men Results
World Record:
Eliud Kipchoge (KEN)      2:01:39
Berlin, Germany      16 September 2018Olympic Games Record:
Samuel Kamau WANJIRU (KEN)      2:06:32
Beijing, China      24 August 2008
Tokyo 2020
Rio 2016
London 2012
Games of the XXXII Olympiad
Games of the XXXI Olympiad
Games of the XXX Olympiad
1st
KIPCHOGE Eliud (KEN)
2:08:38
Eliud Kipchoge (KEN)
2:08:44
Stephen Kiprotich  (UGA)
2:08:01
2nd
NAGEEYE Abdi (NED)
2:09:58
Feyisa Lilesa (ETH)
2:09:54
Abel Kirui (KEN)
2:08:27
3rd
ABDI Bashir (BEL)
2:10:00
Galen Rupp (USA)
2:10:05
Wilson Kipsang Kiprotich (KEN)
2:09:37
4th
CHERONO Lawrence (KEN)
2:10:02
Ghirmay Ghebreslassie (ERI)
2:11:04
Mebrahtom Keflezighi (USA)
2:11:06
5th
LAMDASSEM Ayad (ESP)
2:10:16
Alphonce Felix Simbu (TAN)
2:11:15
Marilson Dos Santos (BRA)
2:11:10
6th
 OSAKO Suguru (JPN)
2:10:41
Jared Ward (USA)
2:11:30
 Kentaro Nakamoto (JPN)
2:11:16
7th
 SIMBU Alphonce Felix (TAN)
2:11:35
Tadesse Abraham (SUI)
2:11:42
 Cuthbert Nyasango (ZIM)
2:12:08
8th
RUPP Galen (USA)
2:11:41
Munyo Solomon Mutai (UGA)
2:11:49
Paulo Roberto Paula (BRA)
2:12:17
9th
 EL GOUMRI Othmane (MAR)
2:11:58
 Callum Hawkins (GBR)
2:11:52
Henryk Szost (POL)
2:12:28
10th
NAERT Koen (BEL)
2:12:13
Eric Gillis (CAN)
2:12:29
Ruggero Pertile (ITA)
2:12:45
* A total of 76 participants completed the race in Tokyo 2020
Marathon Women Results
World Record:
Brigid Kosgei (KEN)      2:14:04
Chicago, United States      13 October 2019Olympic Games Record:
Tiki GELANA (ETH)      2:23:07
London, Great Britain      5 August 2012
Tokyo 2020
Rio 2016
London 2012
Games of the XXXII Olympiad
Games of the XXXI Olympiad
Games of the XXX Olympiad
1st
JEPCHIRCHIR Peres (KEN)
2:27:20
Jemima Jelagat Sumgong (KEN)
2:24:04
Tiki Gelana (ETH)
2:23:07
2nd
KOSGEI Brigid (KEN)
2:27:36
Eunice Jepkirui Kirwa (BRN)
2:24:13
Priscah Jeptoo (KEN)
2:23:12
3rd
SEIDEL Molly (USA)
2:27:46
Mare Dibaba (ETH)
2:24:30
Tatyana Arkhipova (RUS)
2:23:29
4th
DEREJE Roza (ETH)
2:28:38
Tirfi Tsegaye (ETH)
2:24:47
Mary Jepkosgei Keitany (KEN)
2:23:56
5th
MAZURONAK Volha (BLR)
2:29:06
Olga Mazuryonok (BLR)
2:24:48
Xiaolin Zhu (CHN)
2:24:48
6th
 KEJETA Melat Yisak (GER)
2:29:16
Shalane Flanagan (USA)
2:25:26
 Jessica Augusto (POR)
2:25:11
7th
 CHUMBA Eunice Chebichii (BRN)
2:29:36
Desiree Linden (USA)
2:26:08
 Valeria Straneo (ITA)
2:25:27
8th
ICHIYAMA Mao (JPN)
2:30:13
Rose Chelimo (BRN)
2:27:36
Albina Mayorova (RUS)
2:25:38
9th
ELMORE Malindi (CAN)
2:30:59
 Amy Cragg (USA)
2:28:25
 Shalane Flanagan (USA)
2:25:51
10th
DIVER Sinead (AUS)
2:31:14
Hye-Song Kim (PRK)
2:28:36
Kara Goucher (USA)
2:26:07
* A total of 73 participants completed the race in Tokyo 2020