In view of the current COVID-19 situation and measures implemented by the governments, we have asked some of the National Athletes to share some tips with our running and sports community on how to stay physically, mentally and/or nutritionally healthy during this period.
1. How do we stay active or physically healthy during this period, considering that we are encouraged to stay at home as much as possible?
I ride my bike almost every evening on the smart trainer going on Zwift, the virtual reality cycling app. I created a structured training for my group, so it has been more than 30 days riding on a specific plan.
I also incorporate strength training (weight & body weight) after each ride, so that I can still maintain my strength for swimming and not lose too much muscle mass. 
2. How do we stay calm during this stressful period?
I think it's important not to get too carried away with the current outbreak, of course, it's important to practice precautions but don't get too obsessed about things like trying to sanitize or cleaning everything there is to clean, hoarding food or buying grocery like it's doomsday coming. It creates unnecessary stress for yourself and people around you.
I think what helps is also to continue to exercise or for those who do not exercise on a regular basis, it's a good time to start. We all know by exercising, it boosts our "feel good" hormone and that keeps us calm & happy during a challenging time like this. You immediately feel good after each workout and it stays with you for the rest of the day. You will be less grumpy or moody indirectly, and you will see yourself lighten up, talk to your spouse and kids better.. and you sleep better!

3. Are there any simple nutrition plans, tips or recipes that we can follow?
I eat clean most of the time and it has helped with weight management during the less-active time during my off-season. It will also work during lock-down period like this when your overall activity level (not just training volume) is lower.
Eating clean to me means – I avoid processed food, oily meals like our all-time favourite "Char-kueh-tiaw", "curry mee", "nasi lemak" and sweet stuff such as ice-cream and alcohol.
My wife cooks mostly at home, so our diet is more towards vegetables (complex carbs) and 10% or less is meat.
4. Are there any recommendations on resources (youtube channel/video, social media pages, blogs, books, podcasts etc) to refer to?
For the past few weeks, I take the time to read & watch videos on sport science studies to understand human performance better.
---

ABOUT ALDRIAN YEO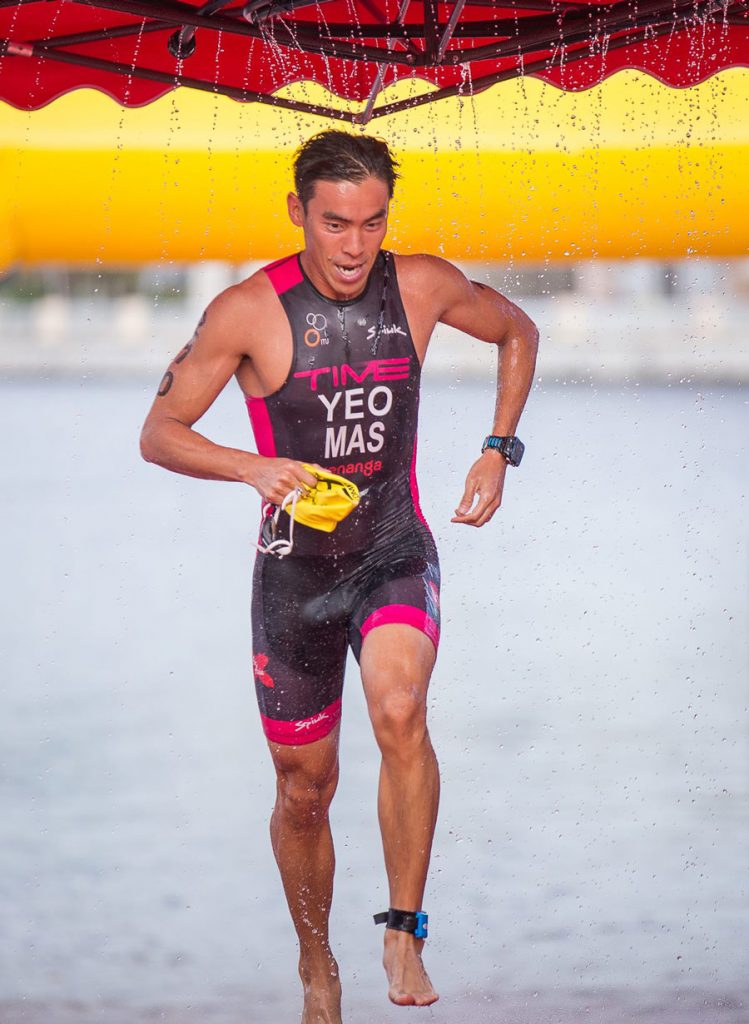 Aldrian Yeo is a Team Malaysia Triathlete who represented the country at the Southeast Asian Games 2019.
Aldrian started off as a swimmer representing Sarawak in his teens. He then moved to triathlon in 1999 but only took the sport seriously 8 years ago at the age of 28.
His other achievements include 3rd Overall Men (2nd Malaysian) at the Port Dickson International Triathlon 2016, 3rd Overall Malaysian at the IRONMAN 70.3 Putrajaya 2016 and 12th (Elite) at the Thailand Tri-League 2016 (Bangsaen, Thailand).
Other than being a competitive triathlete, Aldrian also coaches triathlon for a living. He founded "GoGetter Triathlon Squad" in 2016 and recently took over management & coaching for a youth team "Team TIME". He is the husband to Serena Yang (who is also a National Triathlete having represented Malaysia in the Commonwealth Games) and father to a cheeky one-year-old, Trevor.