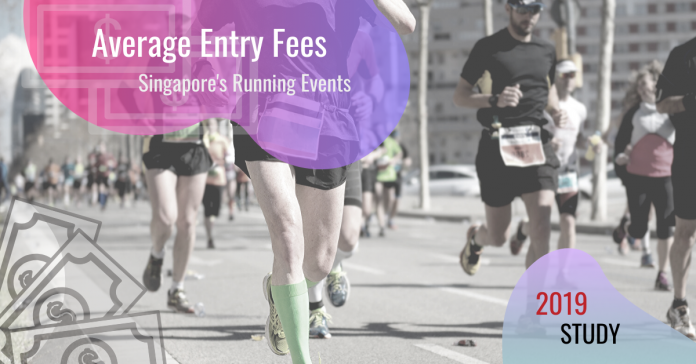 In 2019, about 110 pay-to-participate running events took place in Singapore including road races, trail runs, walks, multi-sport events and obstacle races (source: JustRunLah!'s Race Database).
As the year is coming to an end, let us have a look at the pricing trends and make a comparison with five years ago.
Average ticket prices in 2019
Pricing structures for running events can be rather complex, and usually come in different tiers (Early Bird / Normal / Late). Further, discounts and special perks might apply for club members, loyal customers or holders of certain credit cards. For the sake of comparison, we will consider the prices available to the general public (open categories) at the highest tier, for each event.
We grouped events into four clusters, based on the distance: (a) Full Marathons, (b) 20-40km events (including Half Marathons), (c) 10-19km events and (d) 5-9km events. Timed and non-timed events are included in the study. On the other hand, ultra-marathons, duration-based runs, multi-sports, and events shorter than 5km have been excluded. No further separation between trail, road or themed events was done.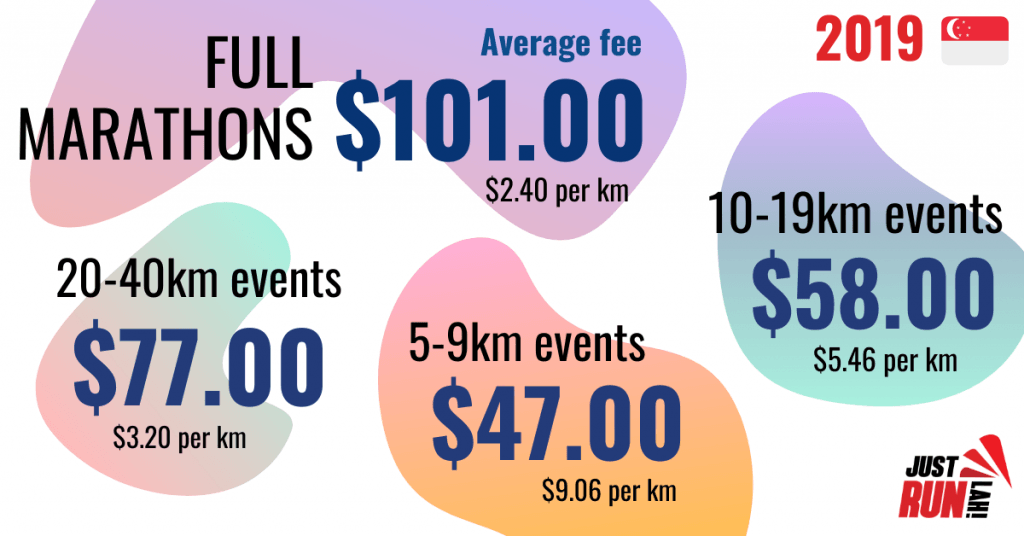 A comparison with 2014
Looking at 47 events from 2014 that fit the same criteria, we found that the biggest price hikes occurred in the longer-distance categories. The largest change was seen in the Full Marathon category, at about +27.76% (+$22). The 20-40km event group followed next, with a +17.00% hike, while prices for the shorter-distance events did not have very dramatic changes (+5.68% for the 10-19km events and +3.70% for the 5-9km event group).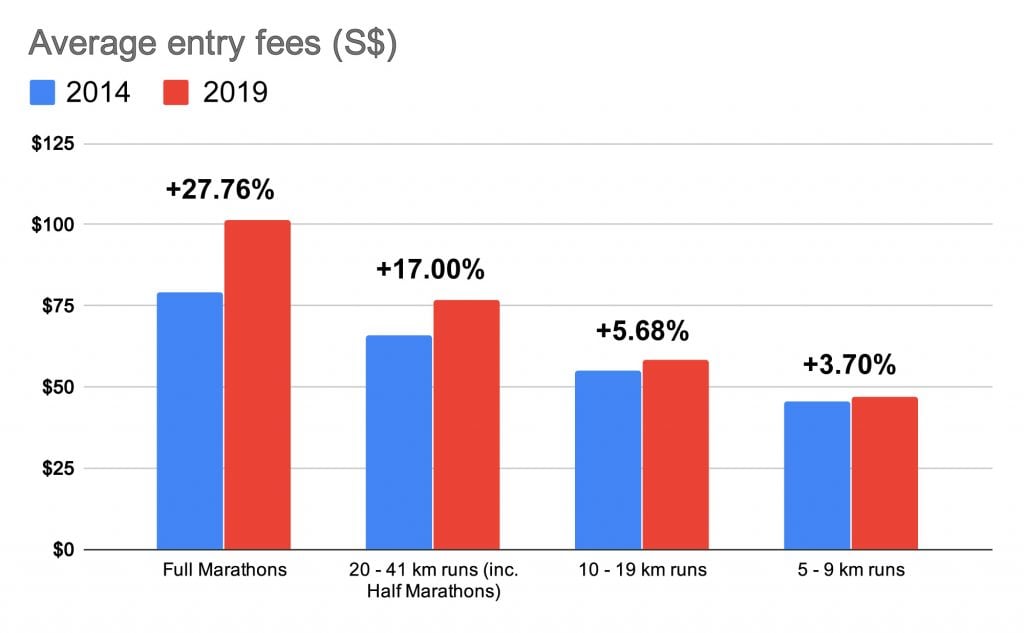 A shortcoming of grouping different events when looking at the ticket prices by distance alone is that different events might provide different entitlements or take place in very different venues. For example, events that require road closure would generally be expected by pricier than those done in parks, due to the organisational costs alone.
To correct for such discrepancies, we anonymised and compared nine recurring events of various distances at a one-to-one basis, as shown in the following chart. These events have been taking place since 2014 at comparable venues and with comparable entitlements. On average, the ticket price of recurring events has increased by 23.50% during the last five years, when compared individually.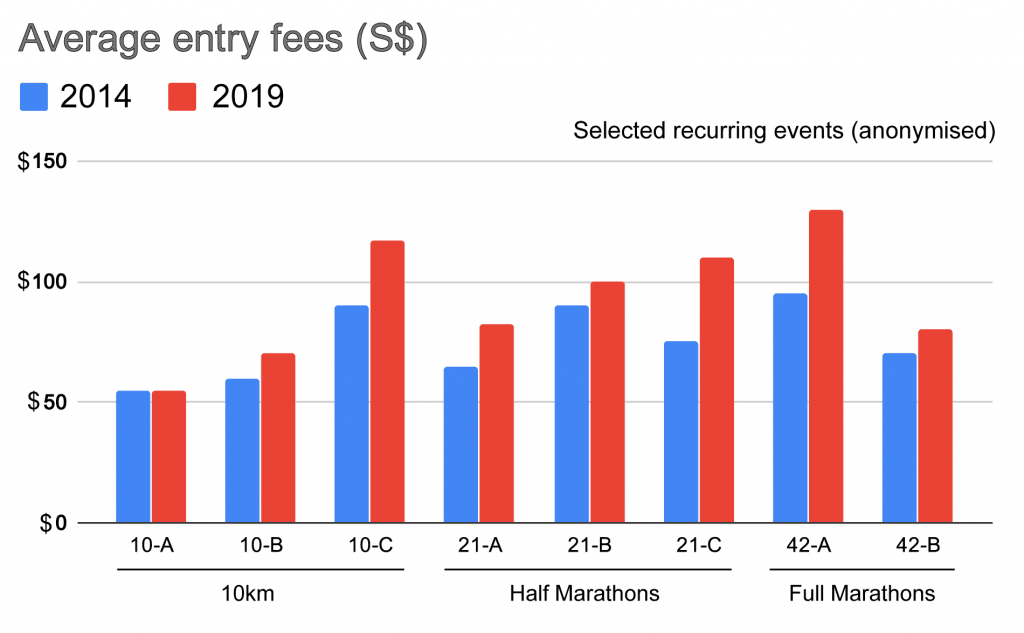 Runner's entitlements
Lastly, we had a look at the entitlements given out in events of different categories, and how they compare with 2014. Below are the most important points:
100% of Singapore events, despite the category, gave a participation t-shirt to their runners in 2019. Five years ago, only about 82% of events did so.
Across all categories, about 35% of events gave out a finisher t-shirt, a percentage that is consistent with 2014. Interestingly, in the 10-19km group, the number of events giving a finisher t-shirt increased to 30% from about 7%. A drop, on the other hand, was seen in the 5-9km event group.
In regards to issuing a finisher medal, the share of events rose to 87% in 2019 from 82% back in 2014, and the largest increase was in the shorter distance group.
How do you feel about the ticket prices and value for money? What would you like to see in 2020? Let us know your thoughts in the comments below!