Kipkorir and Cherono defend titles as SCSM records highest number of marathon finishers in event's 18-year history
Cherono breaks female course record
Singapore's best crowned as Soh Rui Yong nails a hat-trick while Sharon Tan takes home a maiden title
SINGAPORE / TAMPA Fla. – The 2019 Standard Chartered Singapore Marathon (SCSM) rewrote the history books and entered a new age as Singapore's inaugural evening race recorded the highest number of marathon finishers in the event's 18-year history.
For the second straight year, Kenyan Joshua Kipkorir was the quickest person to complete the Standard Chartered Singapore Marathon. Boasting a time of 2:19:13, the defending champion led the race from start to finish, striding into the sunset amidst Singapore's dazzling night sky. The win makes Kipkorir the second person to defend his title in the region's only IAAF Gold Label race.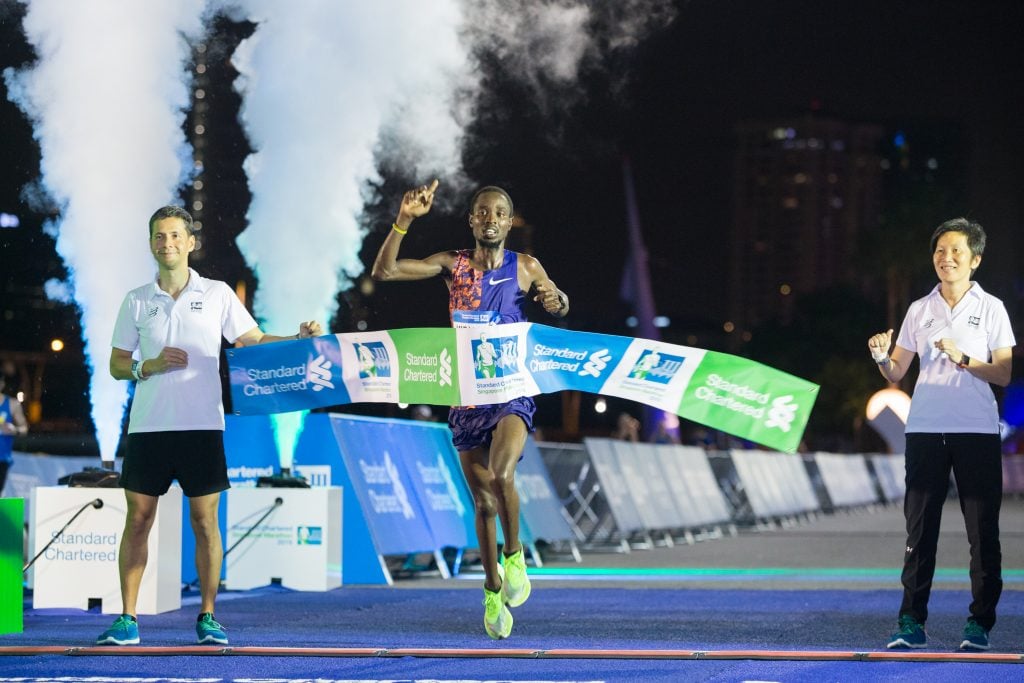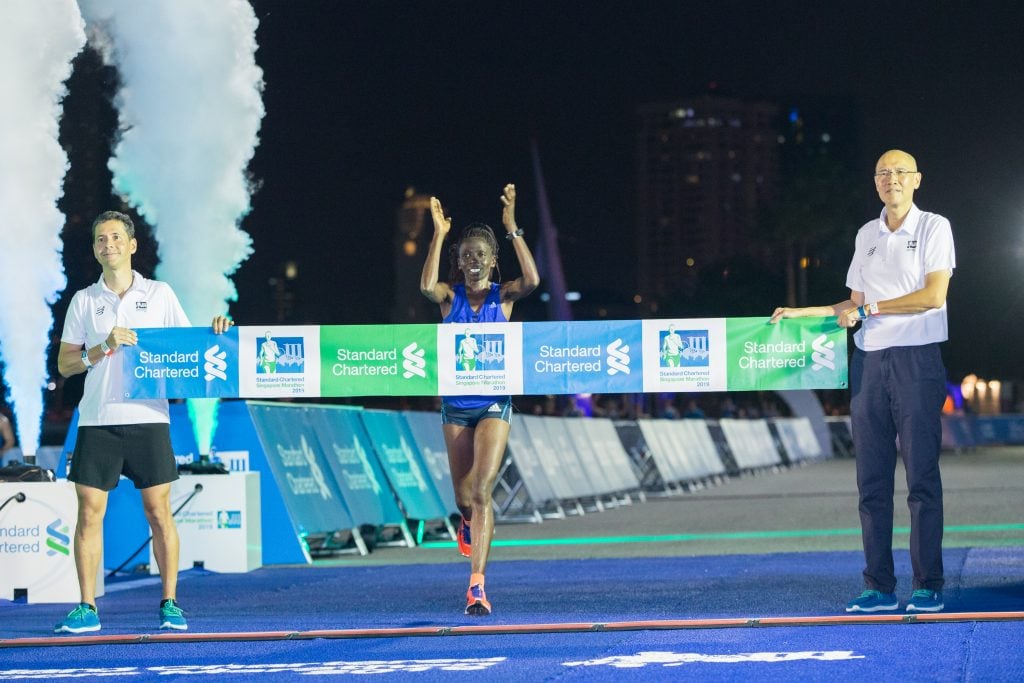 Priscah Cherono made it a double for Kenya as she shattered the course record for the elite women's category with a time of 2:28:53. Her win bettered Salina Kosgei's 13-year time by almost three minutes. Kota Hokonuie and Madison De Rozario won the elite wheelchair categories with times of 1:36:23 and 1:49:56 respectively. against a highly competitive field. The duo came out on top against Paralympians and former marathon major champions in the largest ever wheelchair contingent at SCSM.
For Madison, a second podium in Singapore was the perfect preparation for similar conditions at the 2020 Tokyo Paralympics. "Today's win is a steppingstone for Tokyo 2020, and I definitely feel confident about it now. Not just the crossing line, but equipment wise and the combination of things that I've put together after last year's race. Last year I was slipping a little bit due to the humidity but everything came together really well this year so I feel a lot better going into it."
Top Wheelchair Female Winners

Top Wheelchair Male Winners
In the local categories, defending champion Soh Rui Yong made it a hat trick as he was crowned men's local champion for a third time with a finishing time of 2:45:52. His counterpart, Sharon Tan won her maiden race with a time of 3:12:52. Tan breaks a two-year run of compatriot Rachel See underlining the highly competitive field of elite women marathoners in Singapore.
Sharing her thoughts on the new evening format and crowd support, Sharon Tan said, "I like it. You do not need to wake up early to prepare, you will have sufficient rest, the temperature is also quite cooling, more conducive for setting a personal best… The supporters were awesome. When they saw my name on my chest they actually called out my name. I also had friends along the way who cheered."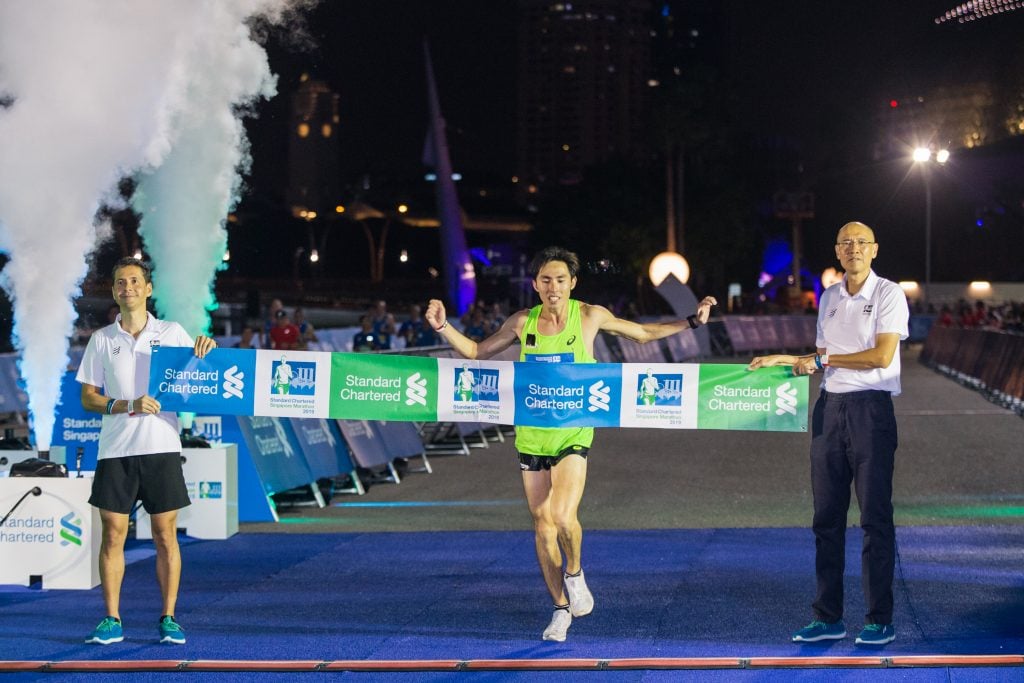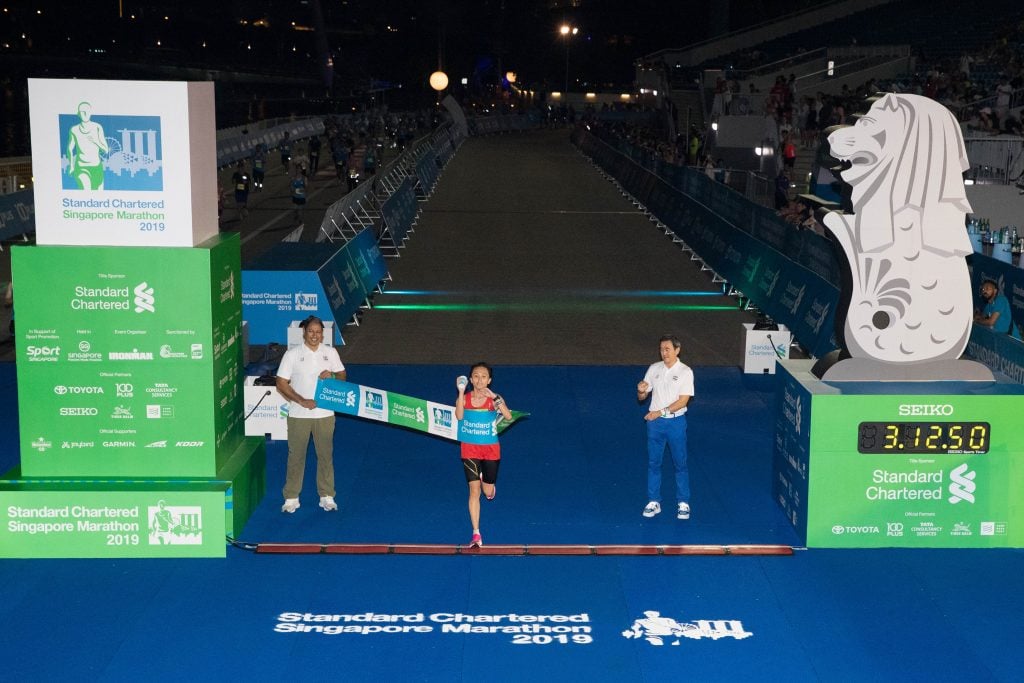 "It feels great to win my third consecutive Standard Chartered Singapore Marathon," said SCSM 2019 Singapore Elite Category Men's winner, Soh Rui Yong. "It's really nice to have Singaporean public out there just cheering everyone on. We've never had this much crowd support before, and it looked like a big party! I enjoyed the crowd support – saw people I know, and It was great to greet them. The views were awesome as well, especially at Gardens by the Bay and Marina Barrage. I was amazed by the crowd at Benjamin Sheares Bridge as I did not imagine people going up there, but it felt nice as that's the section that you really needed the boost and support. The final stretch of the race was beautiful"
Throughout the evening, runners were cheered across the line by a rapturous crowd who filled the stands at The Float @ Marina Bay. They were part of a larger group that turned up across the three spectator viewing zones and at vantage points along the route – the most ever at any Singapore marathon to date.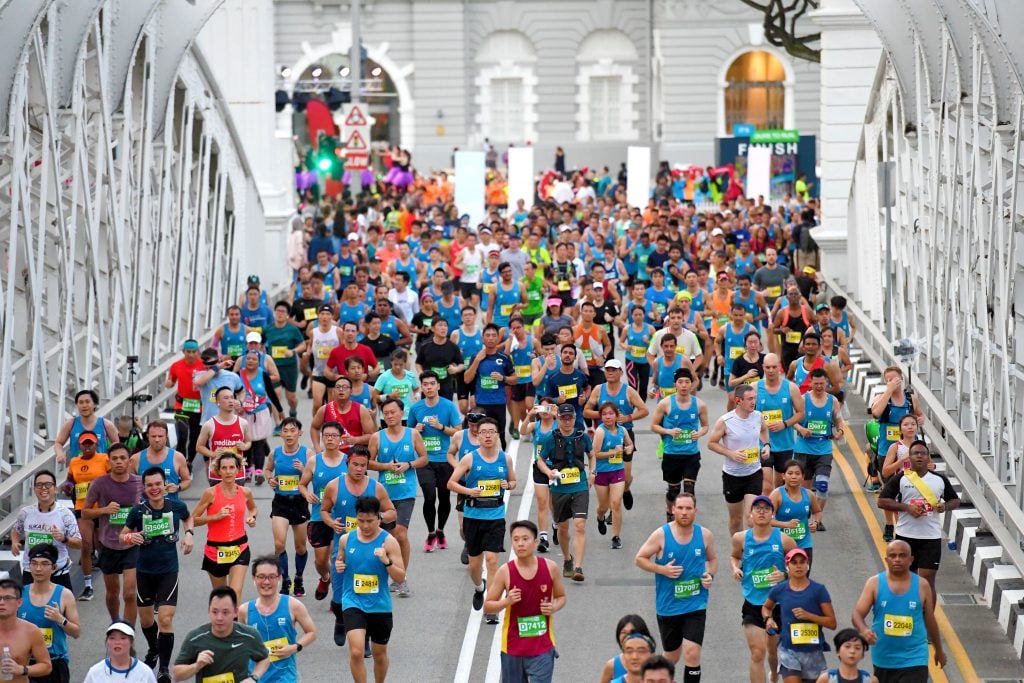 Sharing his thoughts on the second of three race days, Geoff Meyer, Managing Director for The IRONMAN Group in Asia said, "It was great to see the crowds out in full force today. The new evening time seems to have gone well with both the runners and spectators, as is evident with the record turnouts and course times. I'm confident that we've taken another step in the right direction, and really look forward to closing the weekend strong with the 10K and 5K races tomorrow."