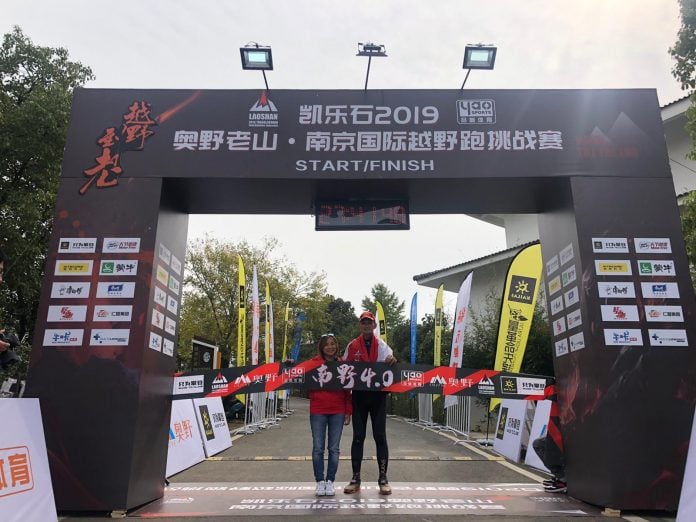 Nanjing, an ancient city that once served as the capital of several dynasties, notably during the time of Eastern Wu of Romance of Three Kingdoms fame and the Ming Dynasty. And this October, I find myself at Nanjing, taking part in the 4th edition of Translaoshan Trailrunning Challenge in the 110km category.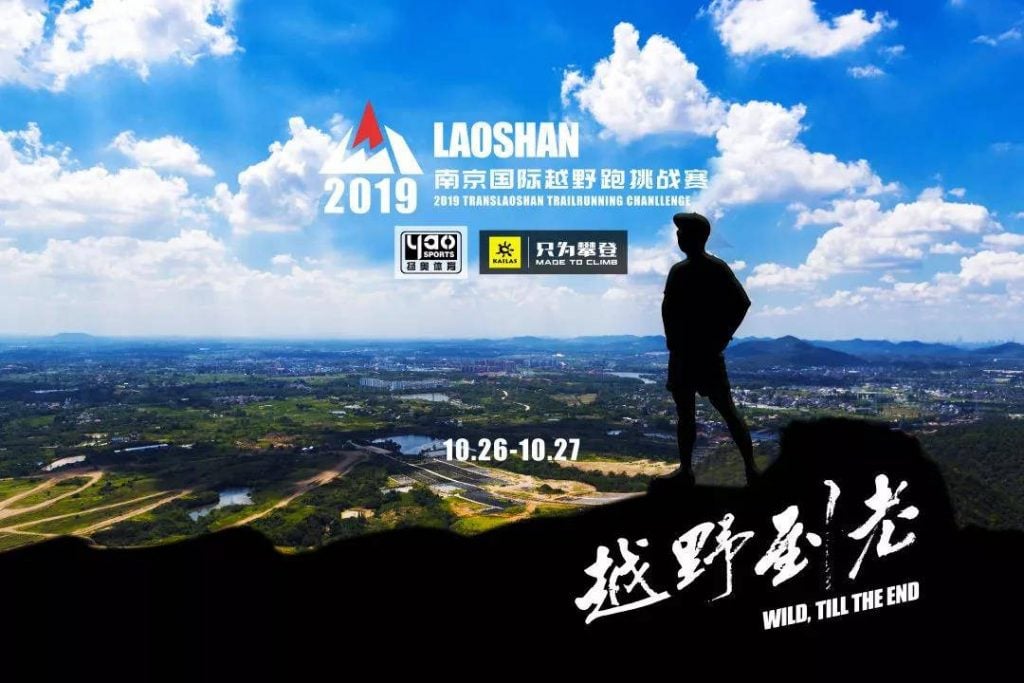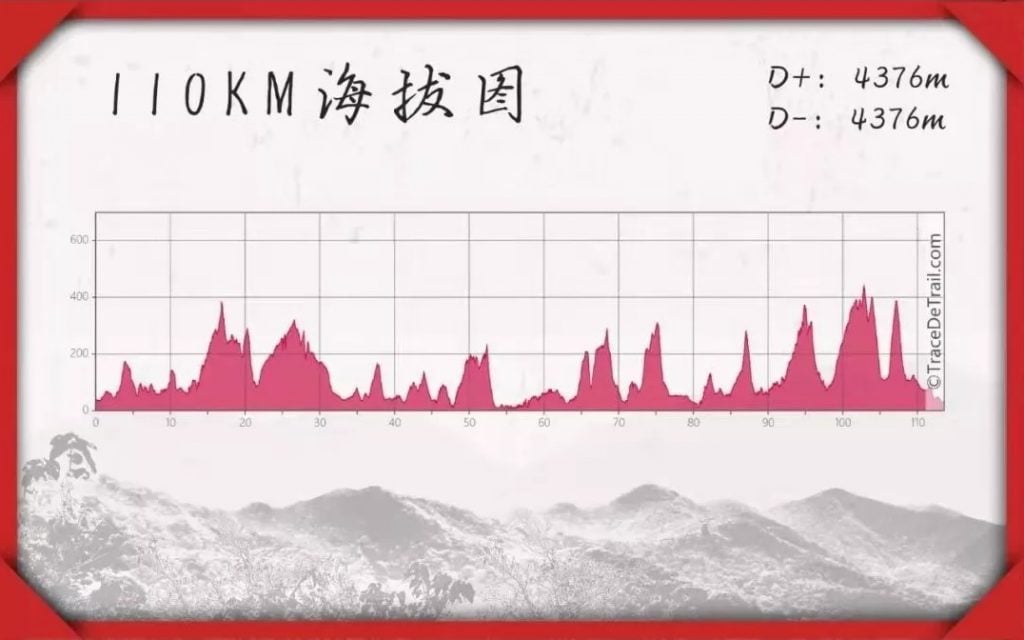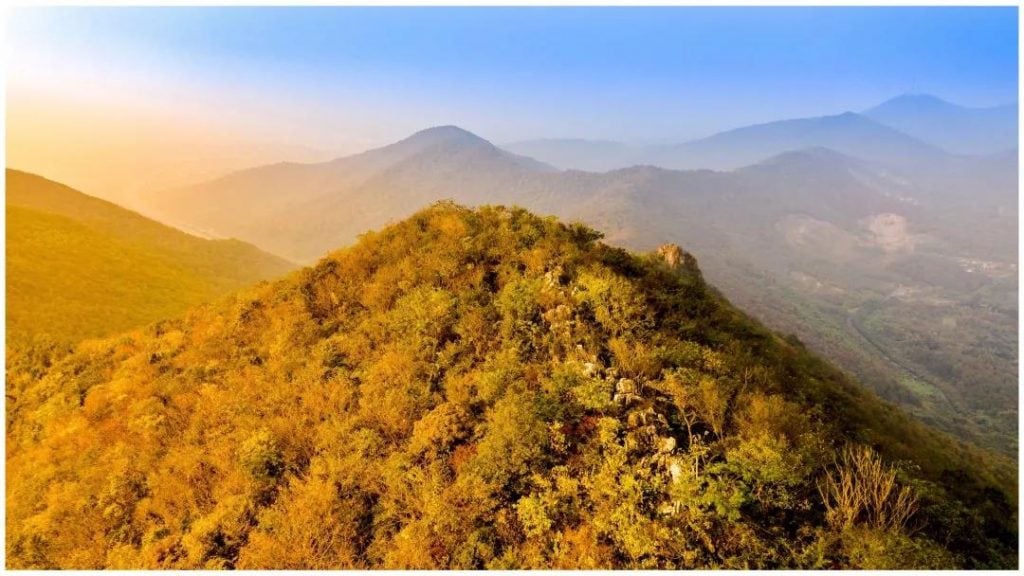 Something worth mentioning here. Upon registration, I was added to a WeChat group chat where the organisers and runners frequently shared information about the race. I find this very helpful as it gave live updates to ongoing changes as and when they happened. It was also here that I got to know there will be quite a fair bit of thorny plants along the way that made me decided to bring along my old tights instead of a new one. The 2 days the team went out to place the markers they even took photos and videos along the way to highlight potential confusing junctions and sharing them with us. Must say I was pretty impressed by this.
Travelling to Nanjing was easy. It is just 5hrs away with a direct flight from Singapore which was part of the reason I decided on this – travel convenience. From the airport it was then a less than an hour airport bus ride to the city where our hotel was. The hotel was also where the race pack collection and race briefing was done.
As we arrived late, we missed the race briefing but it was broadcasted live for those runners who could not make it in time. Race pack collection was available till 2200hrs a day before the race and I got mine collected after going through the mandatory gear check and medical report submissions. We knew it was going to be cold at night but I did not expect it to be that cold and I was actually in just a tee and shorts. Thus I found myself being the only one from airport to hotel to be in shorts. The organising team expressed concern when they saw me in shorts and kept advising me not to be in shorts during the race as the temperature might drop below 10 deg C for the race night. Onwards to dinner before turning in for the night for the early day the following day.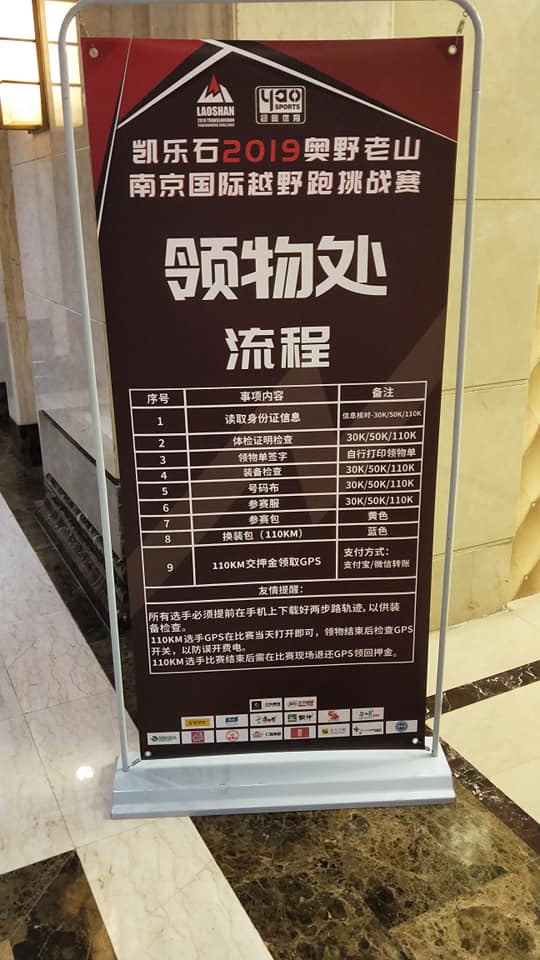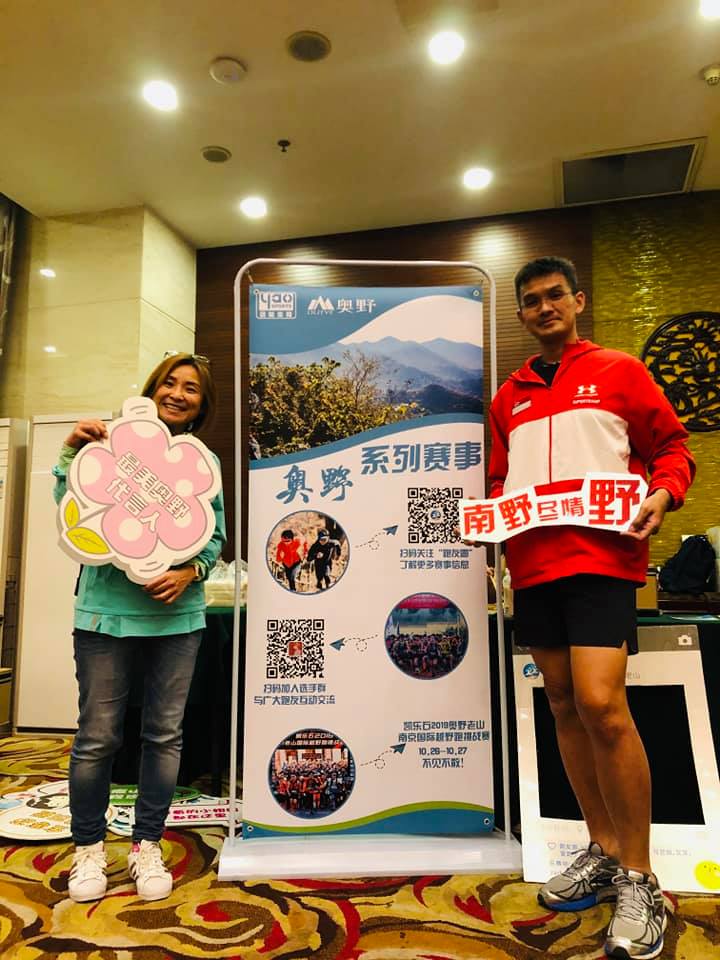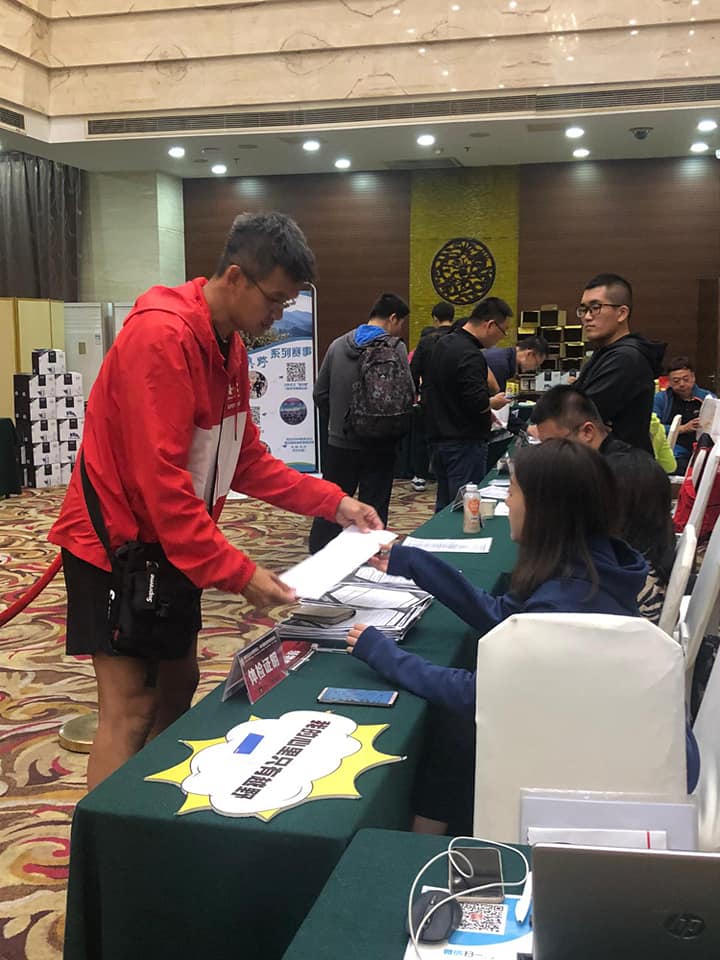 Shuttle bus to race site leaves at 0540hrs thus we were up by 0400hrs. Got myself all decked out and headed out into a chilly morning with my gloves and arm sleeves on. The shuttle bus journey took about an hour and we reached the race site at about 0630hrs with flag off for 110km at 0700hrs. We just walked around taking photos while waiting for the pen to open. As with before, I did not do drop bags as I seriously do not see the need for anything I might need midway that I do not already carry with me.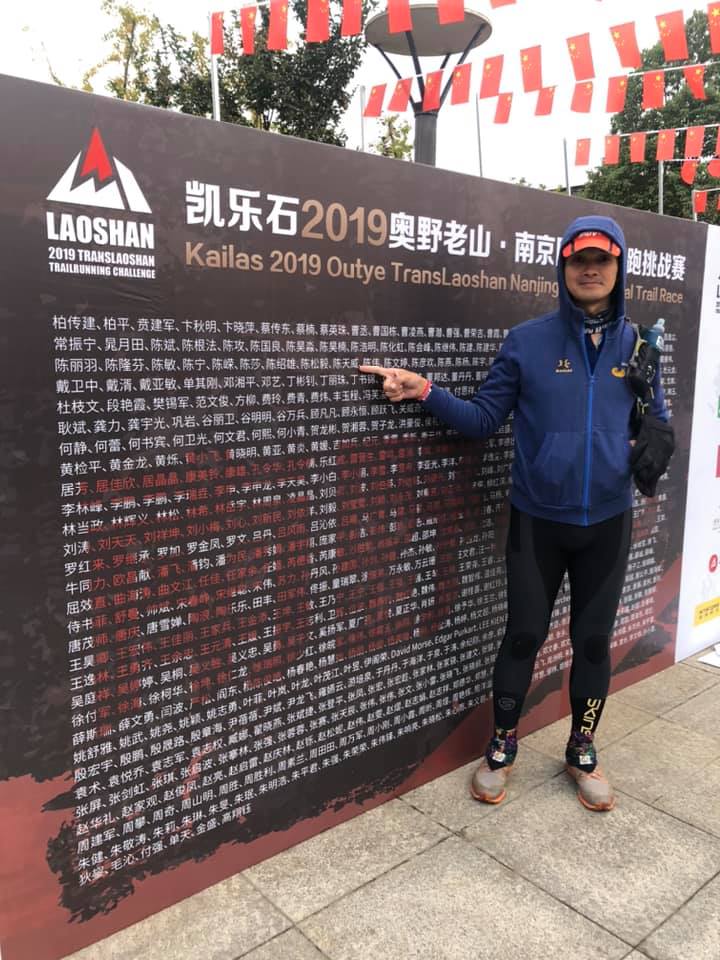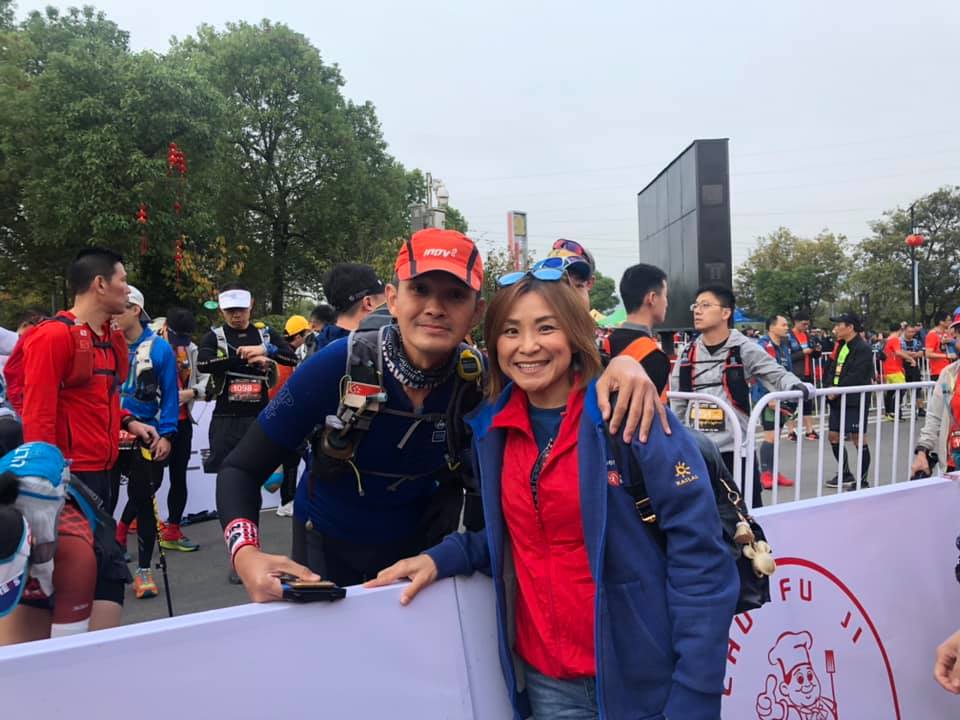 About 5mins before the flag we had our little warm up routine conducted by a rather lively fitness instructor. But I do not do warm ups, so I just stood around while the rest were bouncing up and down. At 0700hrs, we were off.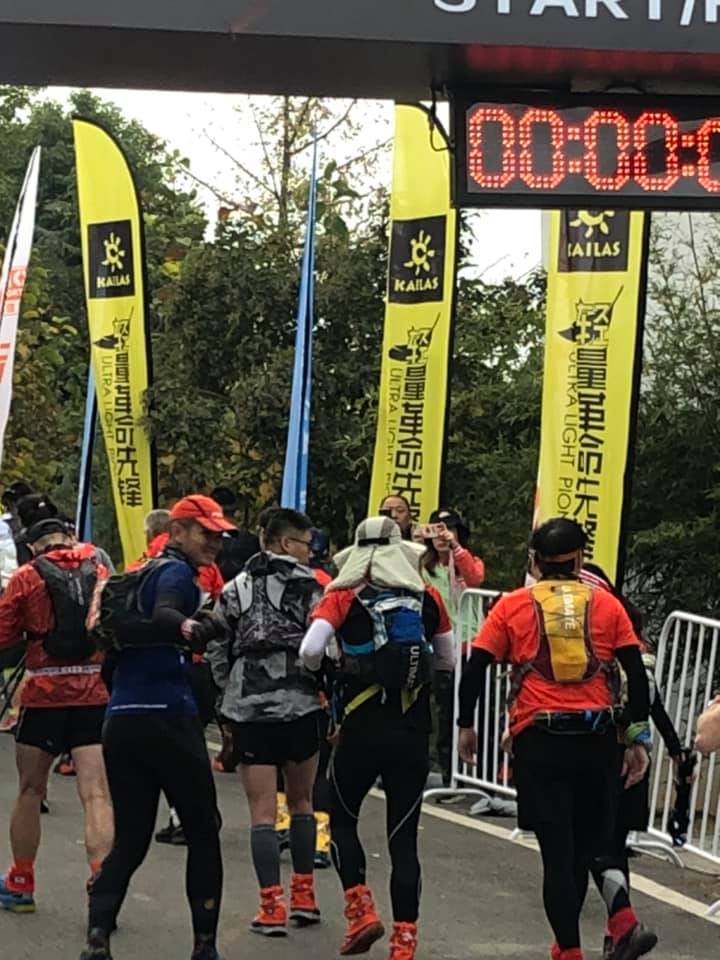 Took it easy all the way adopting my usual running on flats and descents and walking on ascents, taking photos of anything that interests me. I was a tourist afterall. Shortly after the start I removed my arm sleeves as it started to get warm and I removed my gloves whenever I was out in open areas. Laoshan is not very tall, only about 400m at its height. So we were essentially going across Laoshan running up and down along the way. With no big climbs meant we had a lot of small climbs which can be more tiring than a few single big climbs. There were also some giant rocks we had to climb over and it was a tad challenging at times.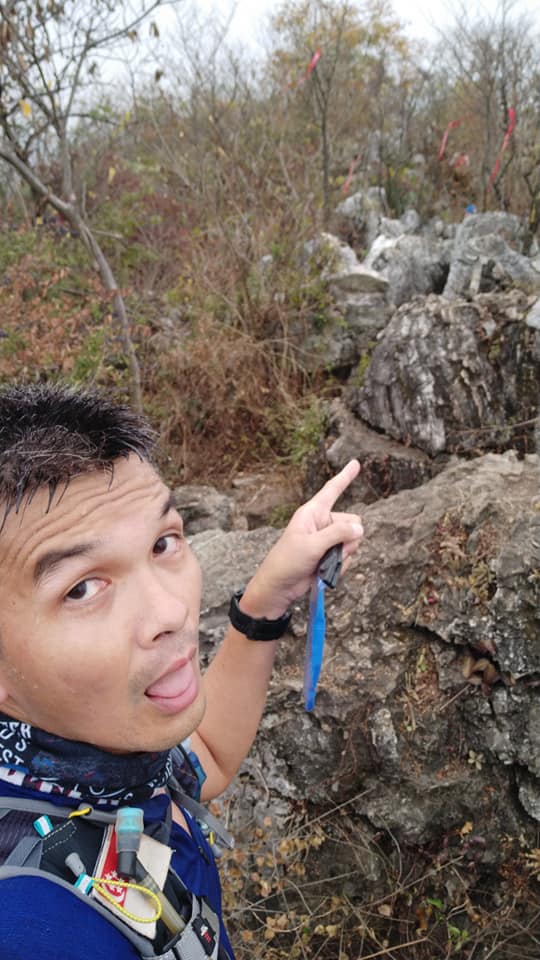 A runner carrying poles walked passed me once and asked why was I not using poles since I was doing 110km. I just smiled and said I do not know how to use poles. That is the thing really, poles and I are not really good friends. Most runners I encountered were carrying poles but I think not many are actually proficient in them. There was this female runner I encountered not long after the start who was fiddling with her poles and I was nearly skewered by her. So as I was passing her I told her to be careful with her poles. Then to my utter amazement, she asked me how to extend her poles. I did not know what poles she was using but since she asked I just took them over and tried the only thing I know – pull. And the poles locked. I handed them back to her and told her how it works. I ventured a question and asked if this was the first time she was using poles and she said yes. I must say I was shocked and impressed at the same time that she actually dared to try pole using for the first time during a 110km.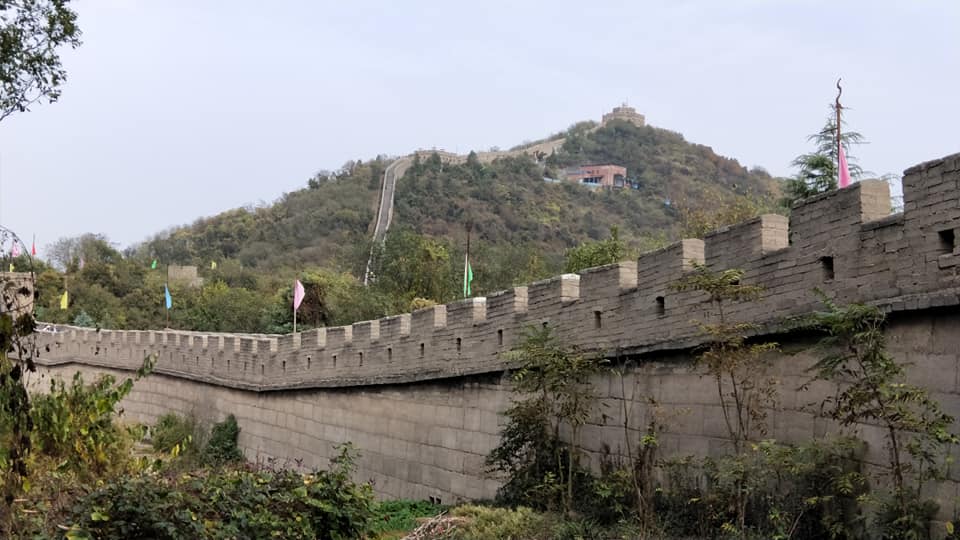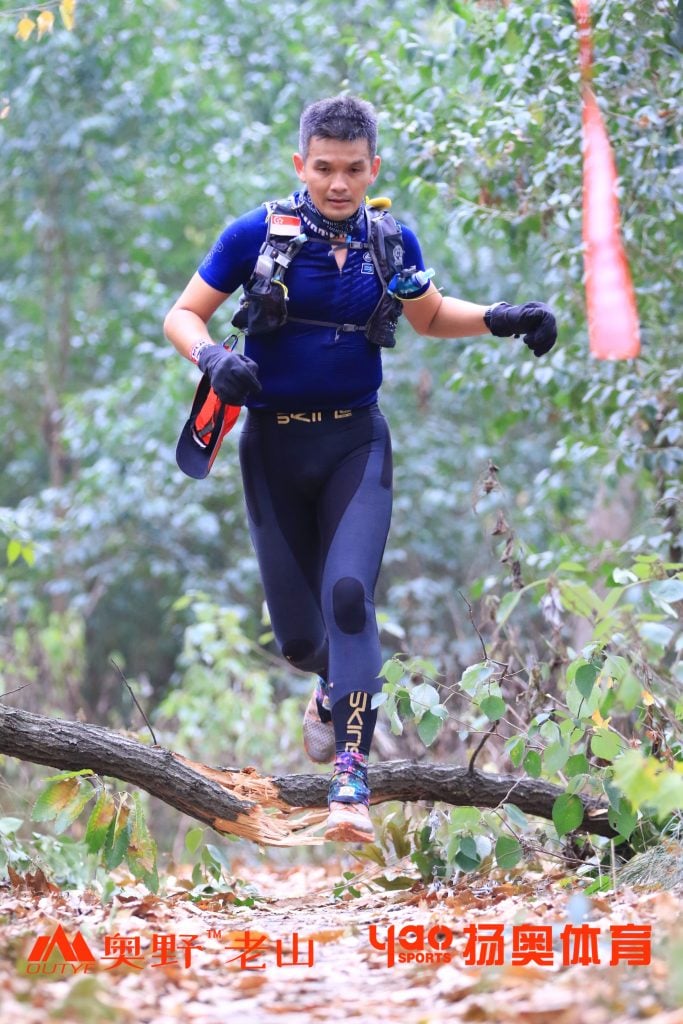 Was pleasantly surprise that they were also serving Gatorade just like Dali but was a tad disappointment there were no Coke this time round. This would be my first ultra trail without Coke and it did feel a little weird without it. So I just made do with whatever they have and got on with it. There were some interesting local snacks at some of the CPs but I did not eat any of them as my tummy might not agree with them. So I only had those I am familiar with like oranges and bread.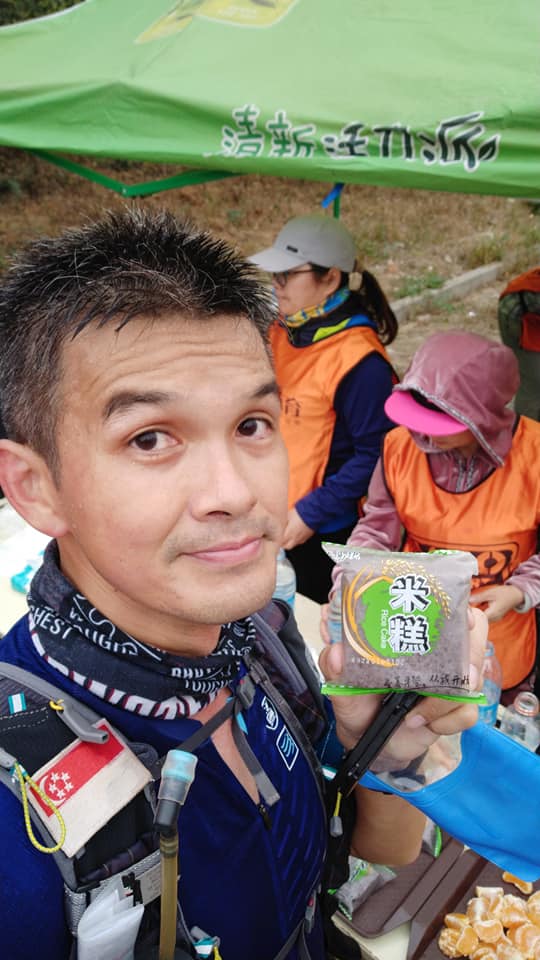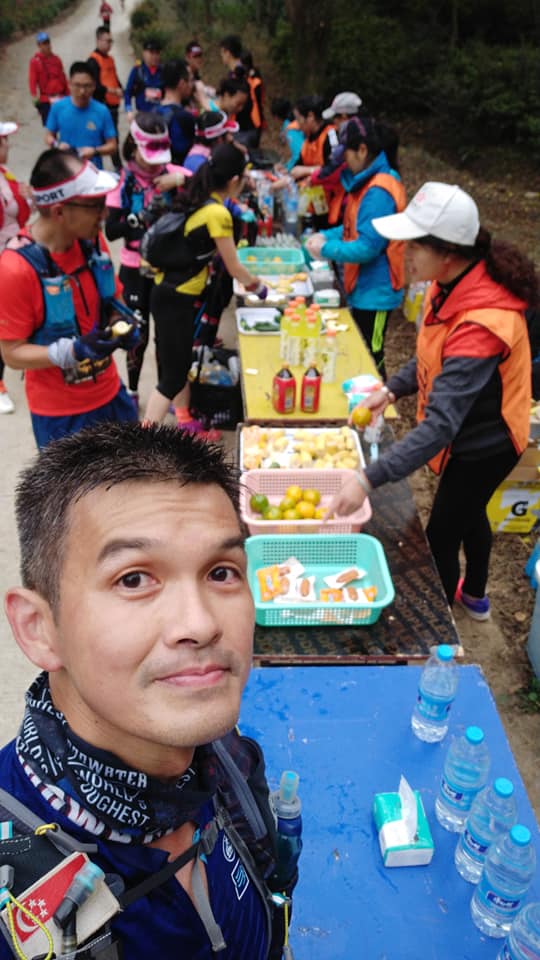 Was going along well past CP3 slowly gaining a 2hrs buffer. Had wanted to get the buffers in as I may need them for the night section. So I was pretty satisfied with my progress then.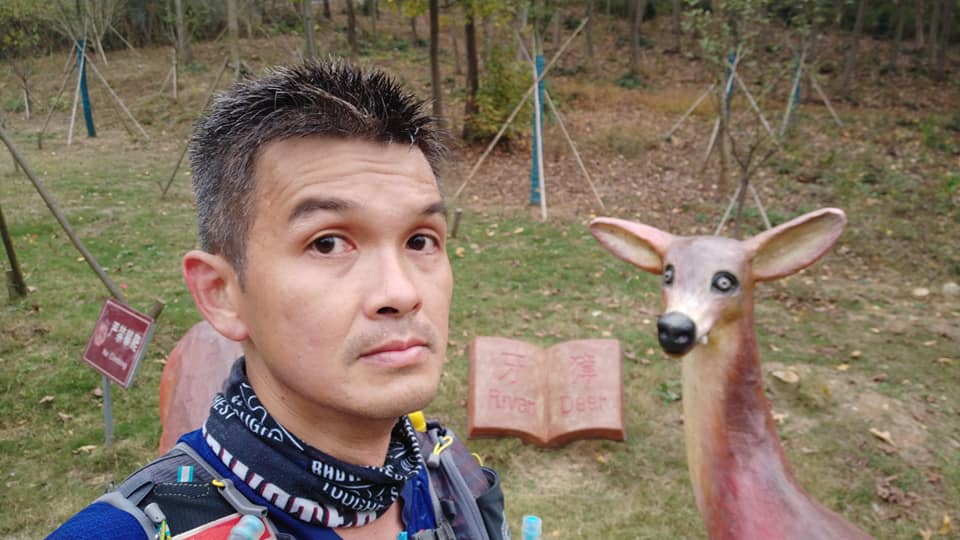 Then something unexpected happened. I tripped and fell. While running on a relatively flat gravel path filled with small rocks and such, I tripped on something and I crashed forward. Tried to recover my balance after the trip but failed and I landed onto the path. Hard. Fearing the worst I flipped myself over and sat up. A runner ran by and checked if I was okay to which I replied I just needed to sit for a while. It was only 38km. Is my game over after just 38km? I got up after a while and checked myself. Saw my tights around my right knee were torn wide open and I seem to have some scratches on my right arm. But other than that I seemed to be fine. Tried running again and I felt okay so it was game on. About 100m out I felt something wet on my left palm and I lifted my hand up and saw blood. There was a small cut on my left palm (gloves were off) and it was trickling blood. As I had no clean water with me (both flasks with Gatorade) I could not wash the blood off. Soon after I reached a junction and there were some marshals there having lunch while waiting for us. I asked for water and one of them kindly assisted me to wash my hand and told me to seek medical attention at the upcoming CP. Before reaching the next CP which was CP4, I noticed my right knee was bleeding as well though I felt nothing. I then happened to touch my forehead and realised I had soil on my forehead. Damn, did I hit my head too? Ran past 2 marshals and had them checked out my head and fortunately I was told my head was still intact. So I guess the soil came from my hands when I wiped my forehead with them.
At CP4 the medics came to me immediately as apparently someone had radioed in beforehand that a runner fell and was coming in. They asked if I was okay to which I said yes. They offered to apply iodine to my wounds and I agreed. I was a little worried that I may be asked to DNF if they deemed my injuries serious and luckily it was not (or so I thought). So I was allowed to carry on. Surprisingly I did not lose time due to the fall as I left CP4 now armed with a 2.5hrs buffer.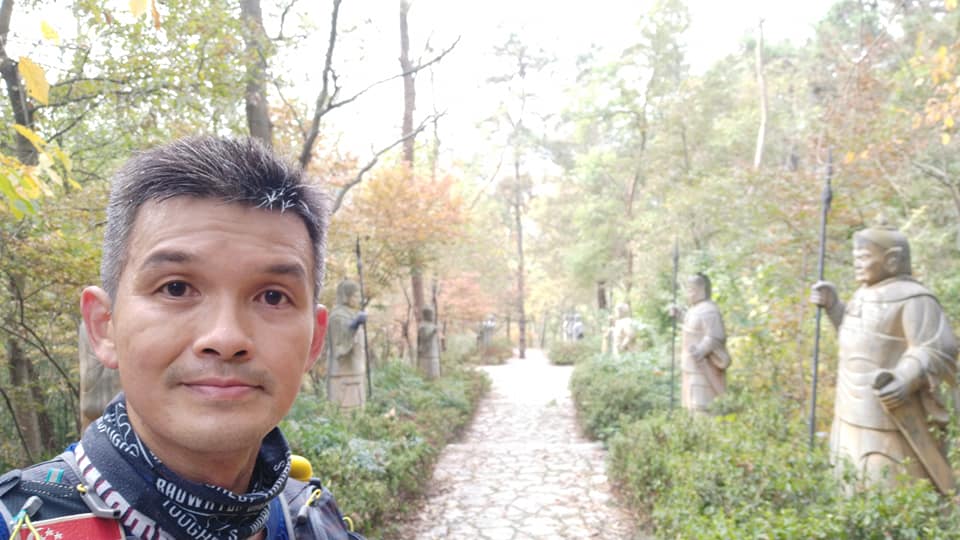 After studying the course profile before the race, I decided that I want to reach CP5 by 1700hrs which was before nightfall (sunset the previous day around 1730hrs) as I wanted to have time to get my headlamp out at a CP and not midway. Seeing the elevation gain of 1922m by CP5 (52km), I deduced I should be able to make it by 1700hrs. I got there much earlier instead at 1600hrs so it was a 3hrs buffer now. Got my headlamps out and I moved off ready for the night.
I guessed I moved faster than I expected and the sun set slightly later that day as when I entered CP6 it was only around 1740hrs. 3.5hrs buffer now. CP6 was the drop bag station and many runners were changing their gear there. But since I had no drop bag I did not linger long and moved off shortly with my headlamp turned on now.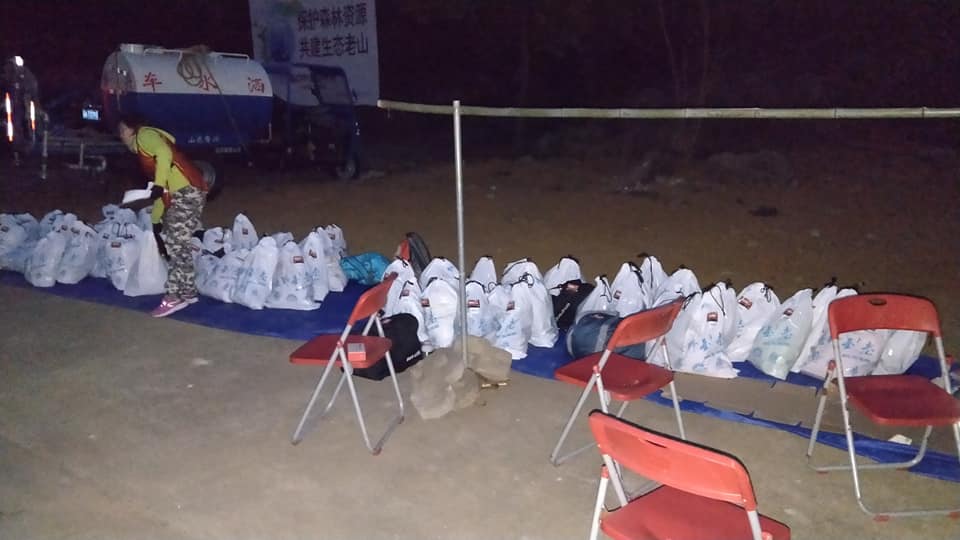 At the next junction before entering the forested area again, a volunteer cautioned me about small animals we may encounter. Since I was not trained in unarmed combat, I decided I needed a weapon for self defence in case I was fortunate enough to meet a bear. So I found a fallen branch and broke it into a length I was comfortable with and carried it along letting it act as a pole as well.
The trails were pretty well marked with reflectors lined up all the way. I practically just aimed for reflectors after reflectors and kept moving up and down. Soon enough I entered CP7 and almost right away a volunteer stuffed a bowl of noodles into my hands telling me to quickly eat the chicken soup noodle. I did not actually intended to eat anything but seeing their enthusiasm I just went along and ate the noodle. Though I was told this was a chicken soup noodle I could clearly see the bowl labelled as seafood noodle so I was confused. It was only later that I got to know CP7 had hot chicken soup and the volunteers took it upon themselves to use the soup instead of plain hot water to make the cup noodles for us. Pretty thoughtful I must say. However something expected happened – I started to shiver. Even as I was eating the hot noodles I started shivering. I did not know why but the more hot soup I drank the colder I got. Not a good sign. So I quickly unpacked my windbreaker and wrapped myself in it. Not wanting to linger longer I decided to move off right away. It suddenly got so cold that despite being in my windbreaker and my gloves on, I was trembling so much that I was not able to hold on to a biscuit I was biting on and I dropped it. Oh my. After about 10mins of constant moving I finally warmed up enough to resume running/walking proper. 4hrs buffer at CP7.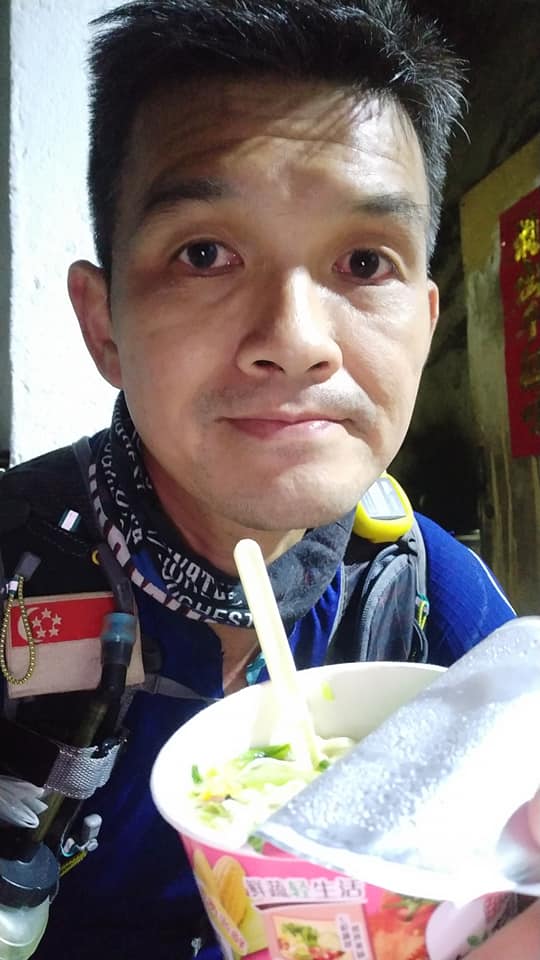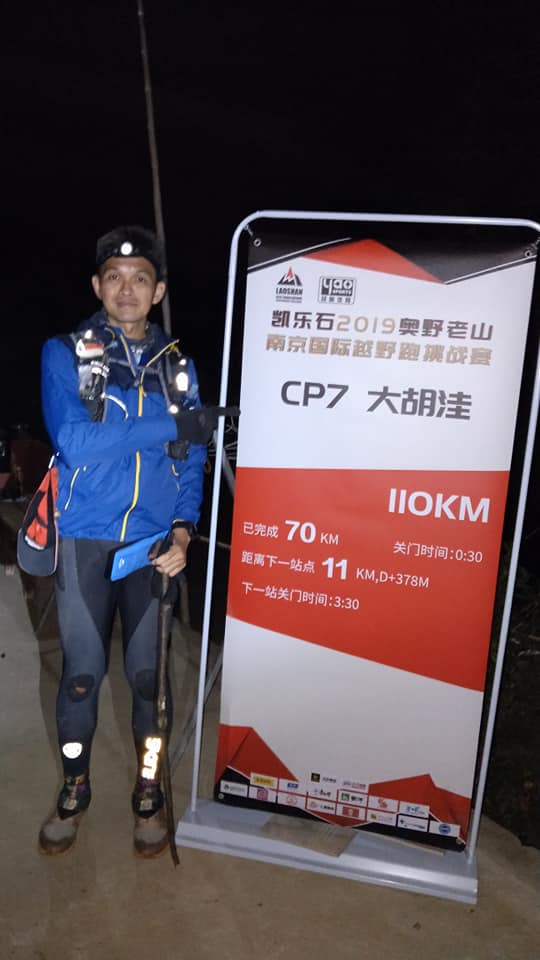 On the way to CP8 somewhere in the trails the Z monster came. After failing to fight it off, I decided it was best I take a quick nap there and then. So I sat down by the side of the trail for a nap. I initially turned off my headlamp to conserve battery and it got pitch dark right away. I closed my eyes for a short while before deciding to leave the headlamp on. I was not afraid of the dark but I was more wary of runners not seeing me and bumping into me or worse still, I might scare the hell out of them suddenly seeing a figure sitting by the side. So I dozed off for maybe about 5mins before a runner came up behind me and that woke me up. So I got up and moved along feeling slightly better.
It was always a struggle for me at night especially when I always move alone. My speed dropped as I found myself frequently shutting my eyes. When I entered CP8 I decided to take a longer nap there as I did not want to continue risk sleep walking in the trails. So I asked the volunteers there to help wake me up in 20mins time and I sat on a chair, pulled up my hood and went to sleep. Before I know it, I was woken up by them saying 20mins was up. I was pretty numbed by the cold by then, which was what I expected. The volunteers there offered me a hot cup of ginger tea which I gratefully accepted. But then it happened again; the more I drank the colder I got. After they helped me refilled my bottles I got ready to move off. I still remember one of the volunteers even came over to me and told me "it is time for me to move off".
The night got colder as I went along. It was so cold that I did not unzip my windbreaker like I did in HK100 even when I was running. But even with the sleep bug hovering around me, my spirits were pretty high. I was alone most of the time as I think I was amongst the last pack of runners already. Soon enough I found myself sleepwalking again. But as it was now too cold to nap along the way, I pushed on and struggled to CP9.
Upon entering CP9, my first question to the volunteers was if is there a place for me to lay down and sleep. I was quickly told no and then I was surprised when they told me I cannot sleep there. I was amused that I was denied sleep so I asked why and I was then told the weather was too cold to be sleeping there as we may get hypothermia and I can see they themselves were also shivering even with their thermal wear on. But I was having none of that as I reasoned me falling asleep out in the mountains was far more dangerous than sleeping at a CP with volunteers around. So I insisted on sleeping and asked them to help wake me in 30mins time. I got myself a chair by a table and proceeded to sleep by laying my head on the table. A volunteer immediately came over and wrapped me in an emergency blanket. Though I knew that was not how the blanket should be used but I did not reject it as I knew they merely wanted to help. Plus, I was too tired to bother. In my dreamland I overheard the volunteers expressing surprise that I really meant to sleep before another runner told them I had also slept at CP8. I reasoned maybe they do not usually come across runners who sleep in the middle of a race.
Feeling fully charged after the 30mins power nap, I got up, refilled my flasks and moved off after thanking the volunteers for their care. My time buffer had been withered down to 2.5hrs now but I was not worried even though the next section to CP10 was the toughest with the steepest elevation gain of over 800m. Along the way I caught up with a runner I saw at CP9 right before I went to sleep and he remarked "You really are fast". I just told them I really needed sleep and with sleep I can move faster. But he said he cannot trust himself enough to sleep AND wake up so he never dared to sleep. We each have our own ways to manage our runs and there are no right or wrongs. Whichever works for us, works for us. This section was pretty mental as just as I thought I was done with the ascents and had started on descending, up I went to the peak of the mountain again. Not amused by the sudden ascent, I keep checking my gpx to make sure I was on the right track. Finally at around 0800hrs, I descended to CP10!
As day had already broke and I will be on my home run, I took a longer break here and kept my windbreaker. I was offered hot mutton soup but I do not eat meh meh so I politely declined. But the volunteer persisted in feeding me and she came back to me with a piece of salted duck meat. I thanked her and slowly bite into the meat while preparing myself to move off. To my surprise she came back with another piece of duck meat and told me to eat more. I find it fairly amusing as I have never been force fed during races before but I really do appreciate the concern the team there showed towards the runners. Only 1.5hrs of time buffer but I knew I will make it back in time.
After clearing the last ascent albeit very very slowly, I started running more. Only about 5km to the finishing now. A couple of runners expressed their surprise I was still able to run at this stage when I ran passed them. Some of them told me their legs were gone by now and they can only hope to limp back to the finishing. Seeing the amount of time we had I confidently told them I will see them at the finishing line later as I was very sure everyone I saw then would be able to complete the race. At 1043hrs, I crossed the finish line and was done with my 5th 100km trail and 27th ultra marathon.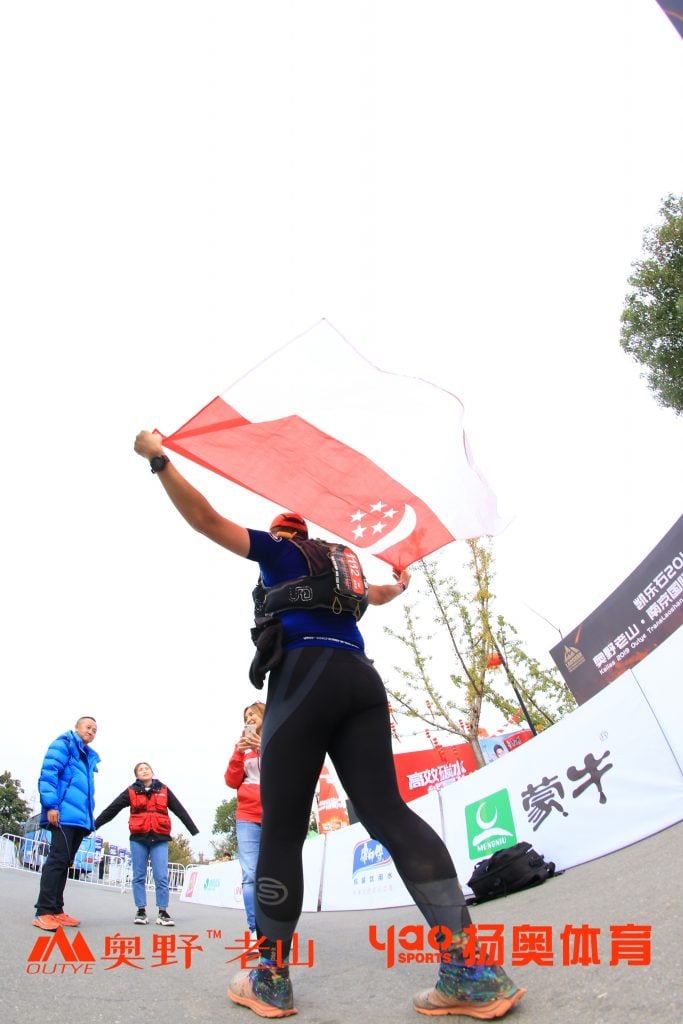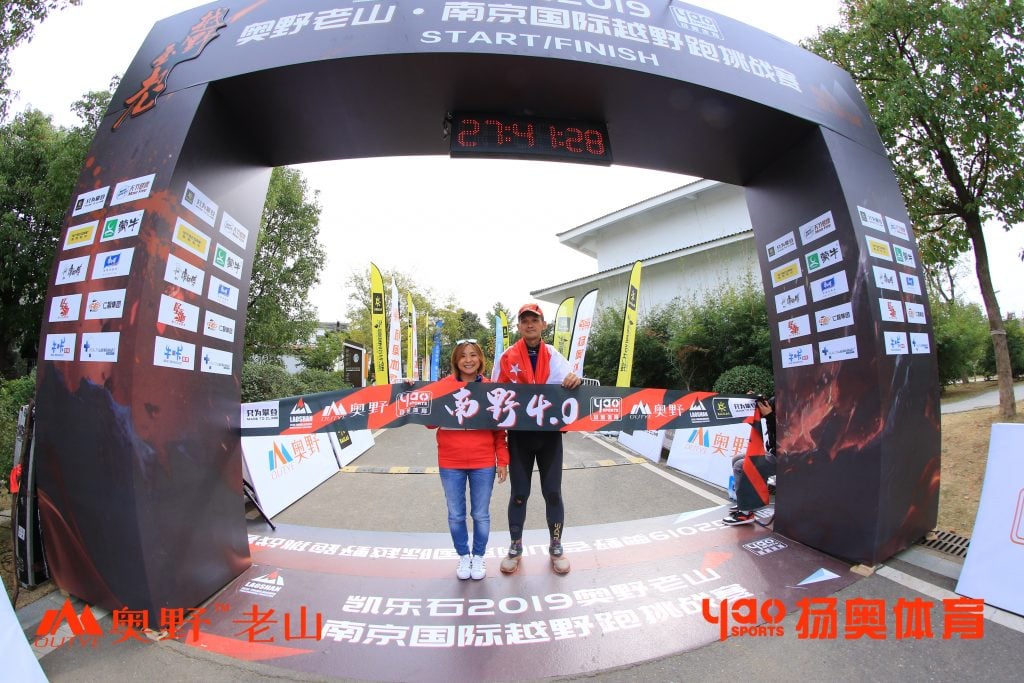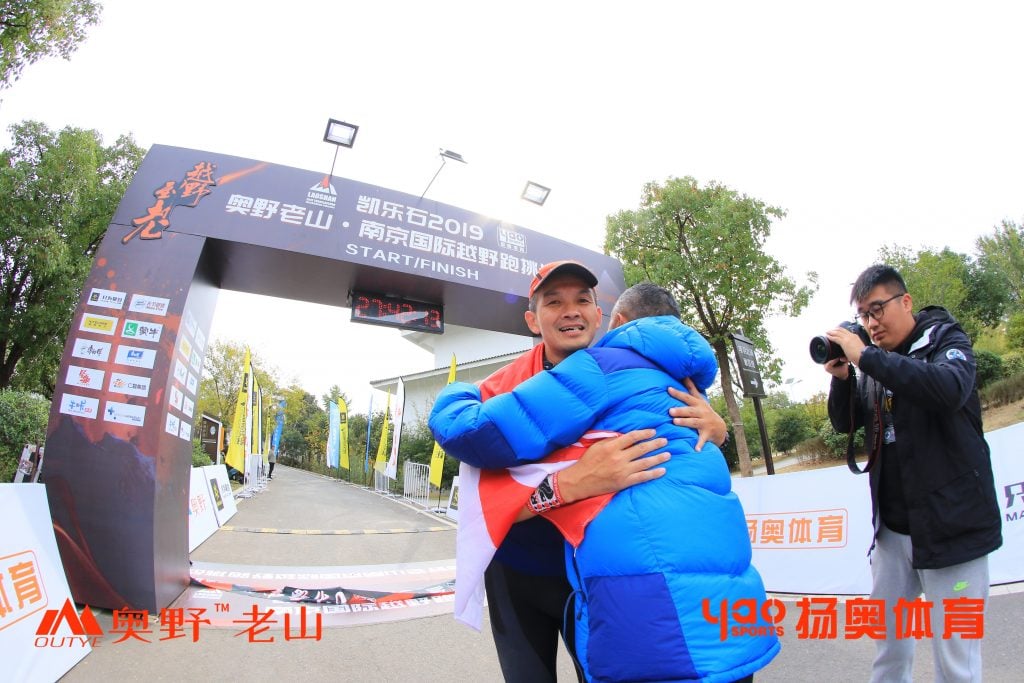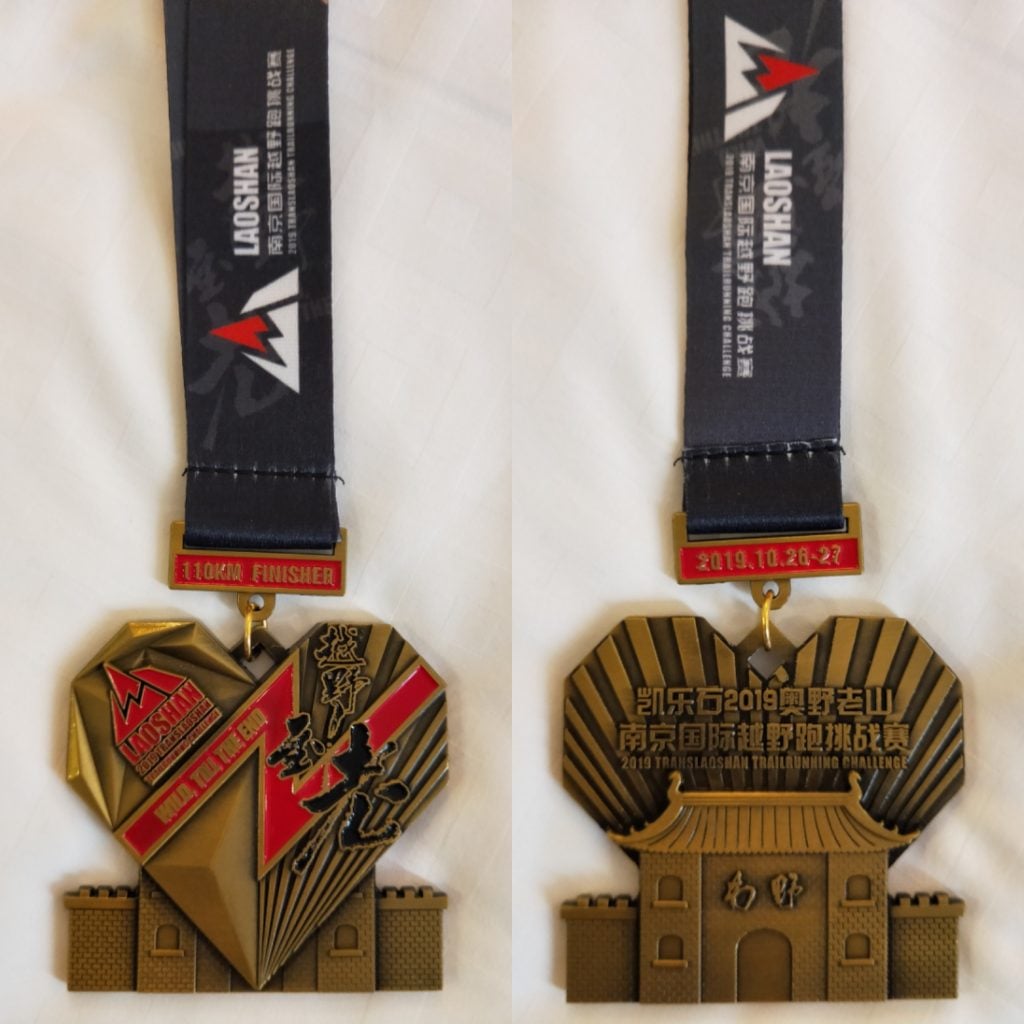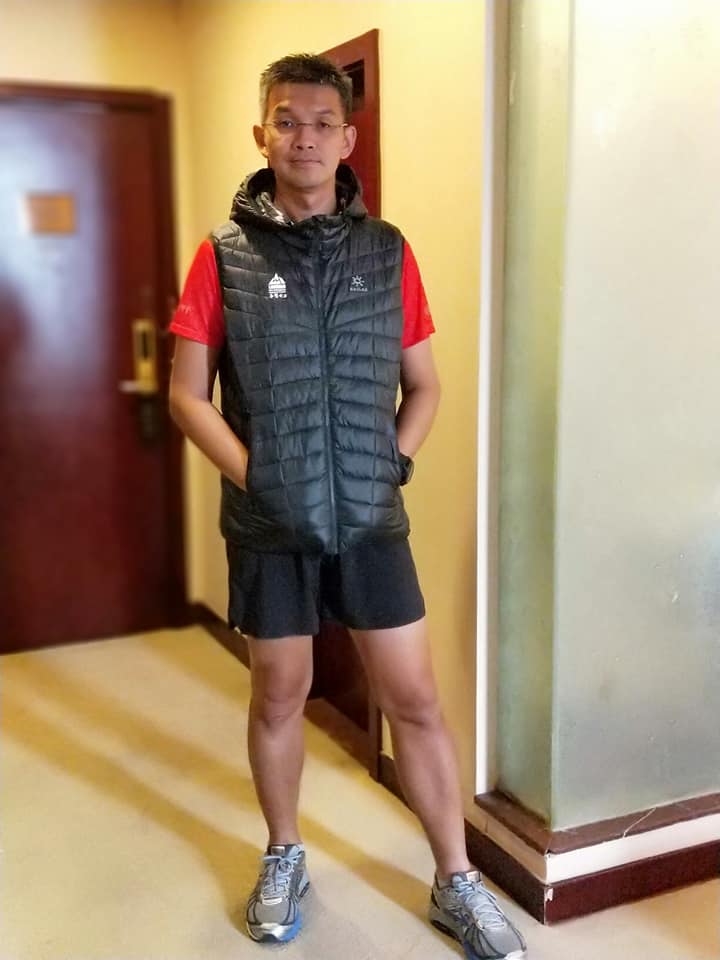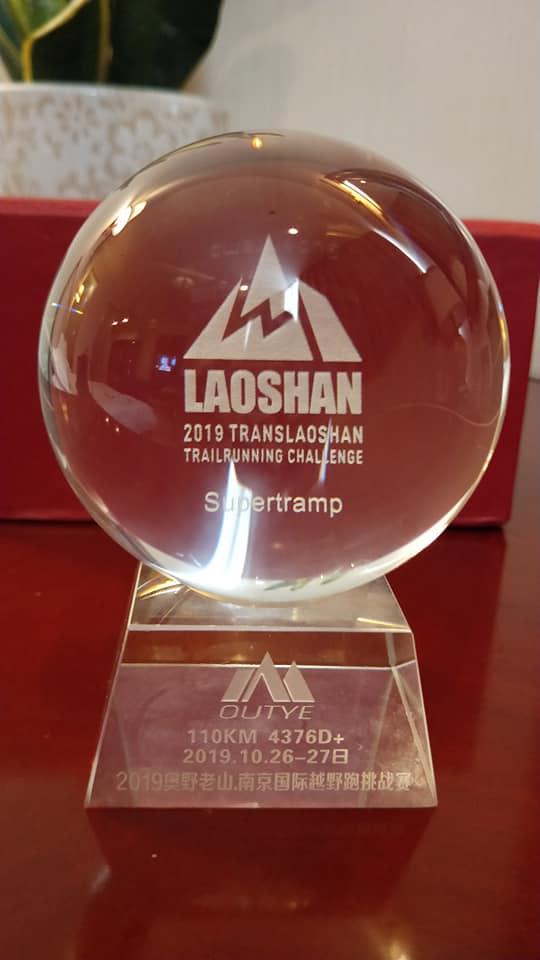 Post note: Upon returning to Singapore I went for a medical check up as I thought I might have bruised my ribs during the fall as I could not take deep breathes during the run after the fall. It felt worse post race as I experienced pain getting up and laying down. It turned out after getting an X-ray that I had actually fractured my 5th anterior rib. My first slightly more serious injury from a race but I am almost fully recovered now. Accidents can happen anywhere so just have to be more careful in future. Back to running now. 😉