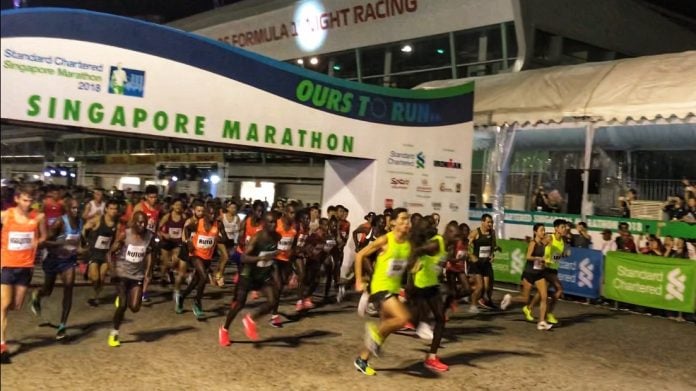 Multiple vantage points to watch Singapore's first evening race
Three days of festivities await the city
Traffic announcements ahead of Singapore's first evening Marathon
SINGAPORE, 12 November 2019 – The 18th Standard Chartered Singapore Marathon (SCSM) will take place from 29 November – 1 December.
This year will see the most exciting line-up of entertainment and activities from live bands to performances, arts as well as delightful local delicacies to elevate the spectator experience and showcase Singapore to the global running community.
Organisers IRONMAN Asia and SportSG have worked with supporting government agencies to minimize inconvenience to the general public and businesses based on the chosen routes. There will be shuttle bus services and traffic wardens deployed. Affected roads will also be progressively opened from as early as 9.00 pm on 30 November.
Geoff Meyer, Managing Director of IRONMAN Asia said, "Each year, we identify areas for improvement which will take us a step closer to our Abbott World Marathon Majors ambition. This year, our focus has been on delivering a stunning spectator experience for friends, families and the general public. By working together with Singapore Tourism Board and Sport Singapore on our enhanced programming, we look to create a holistic event which will appeal to non-runners too."
SPECTATOR ZONES
Kickstarting SCSM 2019 with a bang – literally – by a LED lion dance troupe, family, friends, and race supporters can look forward to a lineup of entertainment and activities at the three spectator zones demarcated by Empress Lawn, The Promontory and The Float @ Marina Bay while cheering on the runners.
These spectator zones are strategically placed amidst multiple vantage points for spectators to catch a glimpse of the action and cheer on the runners.
At each zone, spectators can join in Piloxing and Zumba sessions, organised by ActiveSG, or re-live childhood memories and challenge family and friends to classic lawn games from Three-Legged Race, to Capteh and Giant Jenga – a plethora of options for the young and the young at heart.
Moreover, the public can groove along to various tunes including old-school soul by local band Ruckus, alternative tunes by Subsonic Eye and R&B and Funk by Astronauts. Top local DJs Daryl Knows, Stephen Day, and Toppings will ignite the dance floor with a power blend of top 40s, house and electronic hits.
Whetting up appetites for both runners and spectators alike, the public can enjoy local delights all in one place: from Dumpling Darlings, serving up unorthodox versions of this Eastern delight to Butter Chicken rice from Kinara, everyone is sure to be spoilt for choice! For those looking for something lighter or are hanging out post-dinner, desserts from The Acai Collective and Coolman Froyo will be your go-to stalls.
Dr Chiang Hock Woon, Deputy CEO of Sport Singapore, said, "SCSM has always been an event that runners look forward to. More than a marathon, it has also become a platform for giving where participants extend their passion for running to help others. This year's marathon is especially special on many fronts. In addition to being the first evening race in its 18 years of history, we are introducing more exciting entertainment and spectator areas for Singaporeans and residents to come together to enjoy and witness first-hand the unwavering spirit of our runners and to cheer them on. We would like to thank all our partners and stakeholders who helped make this event possible and I am confident that it is going to be a great experience for all."
For the full programme line up and list of vantage points, kindly visit: https://singaporemarathon.com/
ROAD CLOSURE ANNOUNCEMENTS
Friday, 29 November 2019 (Kids Dash)
Beginning the three-day running festival is the Kids Dash which will flag off from the Formula 1 Pit Building at 7 pm. There will be no road closures or diversions during the Kids Dash.
Saturday, 30 November 2019 (Marathon & Half Marathon)
Road closures and diversions will progressively begin from 1 pm on Saturday, 30 November 2019.

To enable the earliest access possible and minimise inconvenience to road users, organisers will progressively re-open affected roads from as early as 9 pm the same evening.
Sunday, 1 December 2019 (10km and 5km)
On Sunday, road closures for the 5km and 10km categories will be from 4 am – 12.15 pm.
Facilitating Traffic Flow
IRONMAN Asia and SportSG have planned the new race route this year in close consultation with supporting agencies. The route minimizes disruption for road users and those who live and work in the area, while providing a great experience for runners. Routes to emergency and essential services such as hospitals will remain accessible throughout the duration of the event. All buildings/stakeholders affected by the race will be able to continue their operations. Roads will be progressively re-opened as runners pass through each zone.
Road closure information will be clearly communicated and traffic wardens will be deployed at all affected roads to help re-direct traffic and to assist the public to find alternative routes to their destinations. Re-directional signs will be put up along the roads from Monday, 18 November 2019.
The public is advised to take note and make alternative travel plans. Please refer to the image for the road closure maps and times.
Alternative Transport Arrangements
The race area is well-served by the MRT and commuters are encouraged to take the MRT as their primary mode of transport to and from the area. While some bus services will be diverted due to the road closures, affected bus stops will be relocated to the nearest possible location. Commuters are advised to cater more travel time to account for bus service diversions. Specific bus diversion plans will be publicized before the event to facilitate route planning.
The organisers have partnered with ShareTransport to provide shuttle bus services for the event. The shuttle buses will run between the Start/Finish Venue and 37 locations island-wide over 10 routes. These shuttle services cost $7 per ride and are primarily for race participants and spectators. The shuttle service may also be useful for commuters who wish to travel outside of regular public transport hours.
Shuttle Bus Times
Visit this link to purchase your ShareTransport ticket: https://singaporemarathon.com/getting-to-the-start-line
SCSM 2019 participants or members of the public with enquiries about the road closures may call the SCSM 2019 Road Closure hotline at 6701 1230. The hotline will be available from 9.00 am to 6.00 pm from 1 to 29 November, and will be available 24 hours on 30 November and 1 December. Information on road closures for SCSM 2019 can be found on all SCSM social media pages and www.singaporemarathon.com. Members of the public may also wish to download Google Maps or Waze for real-time traffic and road closure updates. They can also visit OneMotoring.com for further advice on commuting during the marathon weekend.