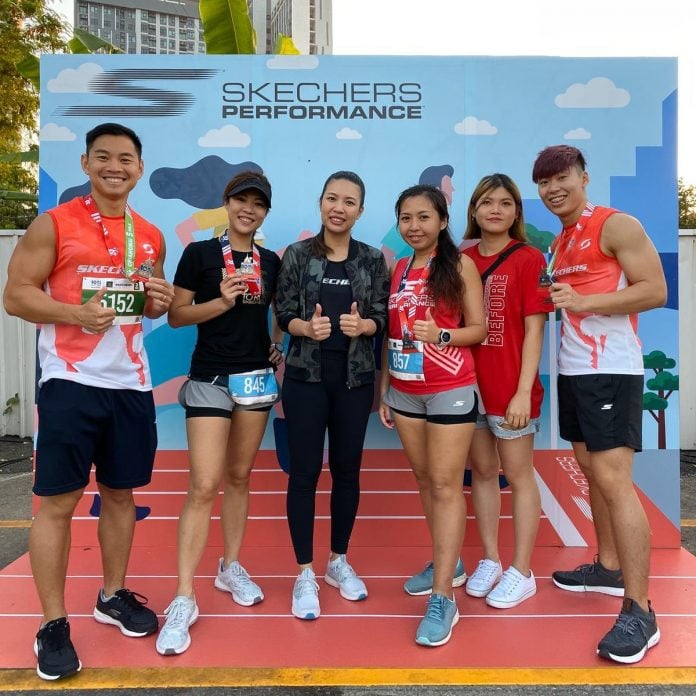 And this time it's Chiang Mai! 😍 It's my first time in Chiang Mai and this time it's to participate in the Supersports 10 Mile International Run Series presented by Skechers 😍 Part of the entry fees will be donated to charities 👍
It's a series of 5 races throughout the year and spread out over Thailand and Chiang Mai was the last race of the series 😍 The other 4 races was held in Hatyai, Phuket, Bangkok and Korat. I went to the one that was held in Bangkok and in comparison, I prefer the race in Chiang Mai more because the weather was much cooling ❤ It was 24 degrees in the morning of the race day in Chiang Mai.
I'm honoured to be sponsored for this trip by Skechers together with Cherlynn, Kenneth and Ben from Singapore and a few of the influencers and athletes from Malaysia.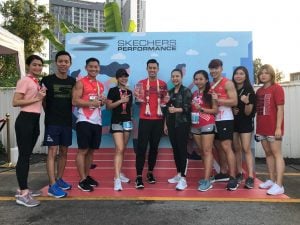 Chiang Mai is just less than 3 hours of flight time away from Singapore. Thanks to Cherylnn for being my tour guide and doing all the "homework" of where to go and what to eat, we did plenty of touristy stuffs exploring Chiang Mai in our short weekend there ❤ Upon arriving in Chiang Mai, we went to the Central Festival shopping mall to collect our race pack. It's a fast and swift collection without queue and with helpful volunteers helping to obtain our bib number before we proceed to the counters to collect our race pack. There's a bib check counter to make sure that the chips on our bib to capture the timing are working fine. It's a practice in Malaysia and Thailand races mostly I don't recall much of Singapore's races practice this bib check thingy. It's actually a good practice, what if a podium runner gotten a dispute? Or what if you run till a PB but timing not captured and don't have e-certificate 😭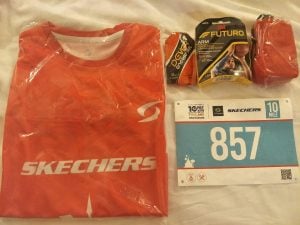 There's 3 categories, 3 miles, 5 miles and 10 miles this time in Chiang Mai whereas the race in Bangkok I participated in a few months ago only have 5 miles and 10 miles categories. Cherlynn and I both participated in the 10 miles category. As I have a pacer duty the coming weekend, I decided to run at the 7 minutes pace I'm supposed to pace for OXFITT Run.
On race day, we arrived just in time for a Zumba warm up leading by instructors on the main stage. Thai music was played, atmosphere was great and just feel very Thai. I like 😆 Then something caught my eyes, there's 9.22 min pacer balloon floating in front of me 😮 Wonder did the pacers run at such a pace thoughout or is it a mixture of run and walk 🤔 It's not easy to pace at a slow pace actually but it's really good to have these type of pace of pacers group available for races as some runners needs them along the way as motivation and encouragement ❤
Flag off was on time and Cherlynn and I ran together throughout the 10 miles ❤ Ran along the streets of Chiang Mai in the early morning, it was a quiet cooling at 24 degrees and it was an enjoyable run as it's not humid. At some parts of the street, street hawkers was setting up their stalls already and the aroma of food in the air is so delicious 😋
About every 2 to 3km there's hydration points providing cold Gatorade and cold water. Some of the hydration points also provides sponges for runners to cool down 👍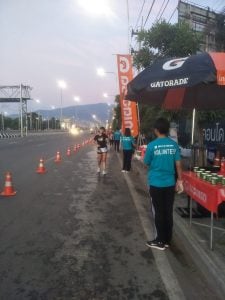 It was a very well organised route with 10 miles on road and 10 miles of cones placed along a single lane of the road cordoned off for runners. Traffic was very well controlled with volunteers/traffic control officers available at every road junction/traffic light. There wasn't much traffic on the road yet as it was still early Sunday morning ❤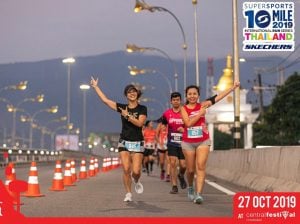 When the sky was brightening we were all mesmerised by the beautiful morning sky😍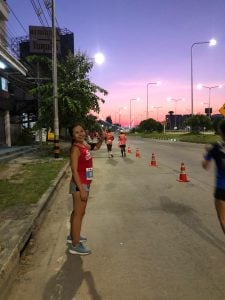 I will recommend Skechers shoes for running, not because they sponsored me the trip 😆 but honestly from an unbiased point of view and as a user, the shoes is awesome. Our legs were not tired or heavy throughout the 16km run and even after the long run, our legs isn't sore at all and we can even go for a long day of sight seeing 👍 It's also not just for running, when I go out jalan jalan at times I also wore Skechers shoes, they look trendy and its ultra light weight and comfortable as well, I was out the entire day walking in it and my legs were not tired at all ❤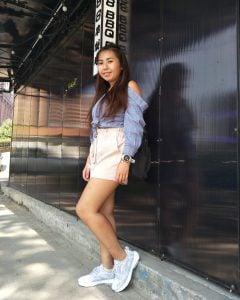 Upon finishing our race, we were given our finisher medal, it was as chio as the one I gotten in Bangkok just slight different in design and colour. Then was issued food coupon 😍 Happily proceed to use the food coupon and got a yummy noodle soup 😊 Just like the previous race in Bangkok, there's varieties of food and fruits as well as doughnuts and pretzels from Auntie Anne available in the race village 😍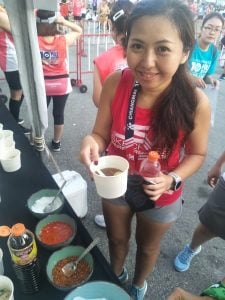 Will definitely want to join the series of run again but hopefully they will organise the run in Vietnam, Cambodia or Indonesia as I haven't much explore these area in Asia yet ❤