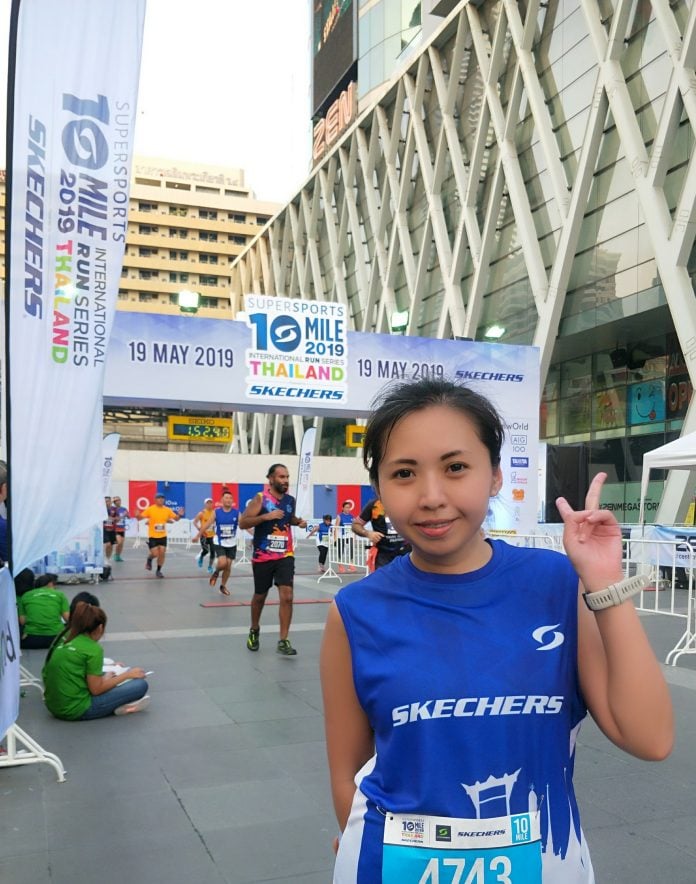 Wooohoooo! Runcation! 😍 And it's Bangkok again this time to participate in Supersports 10 Mile International Run Series Thailand! 😍 Though I went to Bangkok just a few months ago in February to shop, eat, sight-see as well as to participate in Amazing Thailand Marathon but I'll never complain of having too many runcations! 😂
To me, a trip to anywhere overseas would be most awesome when a race is included. Now I would always search for races available in that country that I wanted to go and go during race period 😆 Thailand is one of the countries that also have many running races throughout the entire year and is just conveniently a 2 to 3 hours flight from Singapore. Got bus to travel there also lah just that whether the buttocks, legs and back can tahan the journey or not 😆
It's held on 19 May, a super good date to travel as it's a long weekend in Singapore! 😍 Supersports 10 Mile International Run Thailand is organised by Supersports (Thailand Number 1 sports retail store) and Skechers and part of the entry fees will be donated to charities. There is trophy and prize money for the top 3 runners of each category of gender and age group and even SEA games athletes also participated in this race!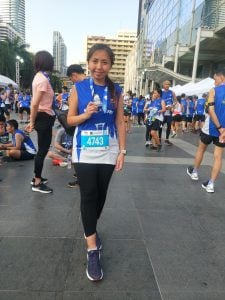 It's a series of 5 races throughout the year and spread out over Thailand. Bangkok was the 3rd race of the series 😍 I didn't go to the first 2 races which were held in Hatyai and Phuket as I didn't know about this series of races before. There're still another 2 races of the series in Korat and Chiang Mai coming up 😍 Chiangmai would be awesome as it will also be held on 27 October during our long weekend period and also the weather in end October would be quite cooling for a shiok run! Don't say bo jio 😏 Click here to sign up 😆 Race entry also sibeh cheap cheap 500Baht (Only about SGD20 lah! 😍 I think the Skechers race singlet itself is worth more than S$20 already) for the 10-mile category and even cheaper for the 5-mile run. I didn't know of Korat before, Earth is huge, I should go about exploring more places through runcations! 😍
Flag off was conveniently outside Central World at 4.40am just 5 minutes walk from the hotel that I was staying in. Other than the run, I seriously enjoyed shopping at Central World and at Big C supermarket as well 😆 And of course, I'd visited Erawan Shrine that's so close by to pray for an easy run 😊It's so nice to see Rey from Singapore at the run! 😍 Out of about 10 thousand strong runners, Rey managed to spot me at the start pen!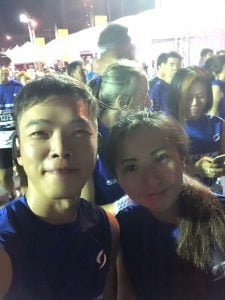 The 5-mile runners were flagged off just minutes before the 10-mile runners. There are just a mere slight 5 minutes of delay as many of the 5-mile runners were still heading to the pen to start their run. Though the 10-mile runners were all segregated into different pen queues, we all ended up all into the same pen for flag off.

There are quite a number of hydration points along the route with both cold water and cold Gatorade and the volunteers were so nice to hand out the drinks to the runners ❤ It was a warm and humid morning but still alright to run in as even by the time I completed the run, it's only the break of dawn and the Sun wasn't really out yet.
At first, I was worried that I would run the wrong route as it's 2 different loops and some part of the route was repeated but I couldn't really differentiate the streets because they look similar. The directional signs were all well displayed and prominent and I finished the 10 miles as 16.07km on my sports watch. It's my first run that calculates the distance by miles and I'm really not used to it as I was doing the maths converting miles to km whenever I see the distance boards.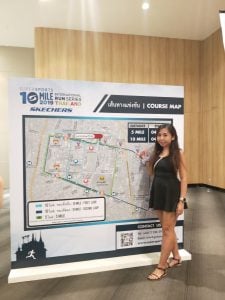 Though the road was not entirely blocked off for the runners because it's like the prime city area, but it was still awesome and traffic was very well controlled by the many many traffic police officers and the road marshals throughout the entire course 👍 Though I was caught thrice in the traffic lights but it wasn't really a big issue for me as these were all just very short stop in less than 30 seconds and before I could use the time to catch my breath it's time to start running again 😆
Upon finishing the run, I was handed a super chio and colourful medal 😍 Then the volunteer passed me a food coupon and I headed to explore the race village.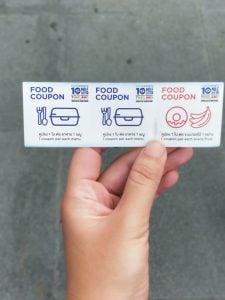 I wondered did I actually participated in a running race or I had also just walked into a food festival 😆There are fruits such as watermelon and bananas and there are so many food and drink stations in the race village! 😍 There are so many drinks stall around that I am sure no runners would go back thirsty. It's just so fantastic to have choices of what to drink, there's ice water, Gatorade, Heineken which contains no alcohol and Meiji's High Protein Milk which I kept going back for more 😋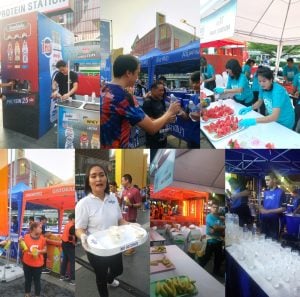 For the food there's also a wide selection of choices such as the Hainanese Chicken rice, pork congee, pork fried rice, fish maw soup and I settled with fish rice porridge as it looked delicious and it didn't disappoint me 😋 Though I have 3 coupons, I only used 1 coupon as I didn't want to waste the food as I was already quite full and I needed to save some stomach area for coconut ice cream and Thai milk tea at Chatuchak Weekend Market during my shopping spree afterwards 😙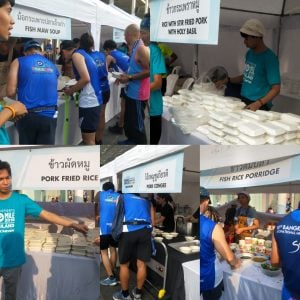 Yes yes, after the 16km run, my legs were not tired yet and could still go for jalan jalan 😆 I think it might be the magic of my new pair of Skechers performance shoes, it's super lightweight and good cushioning that my feet didn't feel so heavy and sore like it usually do after a long run!
I find many female runners in Taiwan and Thailand very pretty 😍 Even the female pacers for this run were all so pretty that they can easily pass off as models or artistes. You see you see: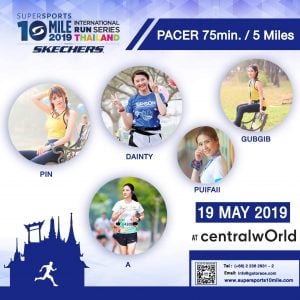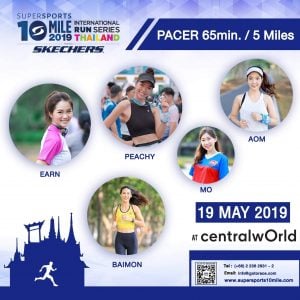 (Credits: Supersports 10 Mile International Run)
I love the Thais eyebrows especially, it's drawn so nicely and they still look so pretty even after the long run. I tried drawing my eyebrows but at the end of my run they looked melted like ice cream 😆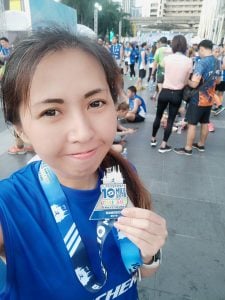 While I was leaving to make my way back to the hotel to shower, I spotted this line of vans parked by the roadside of the race village and they are toilets! 😍 Didn't think of going in to have a look but I've heard that it's super clean and comfy and there's even music to enjoy while doing whatever business inside! Singapore races should consider using these types of van instead of the portable loo, could save plenty of time that was used to handle and transport the portable loo as well.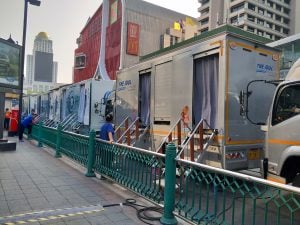 Race results, e-certificate as well as race photos were out super efficiently on the race day itself ❤
So far for Bangkok's International Run I've participated in Amazing Thailand Marathon and this Supersports 10 mile run and they're both nothing to be fussy about as these were the most awesome races I've participated so far in South East Asia 👍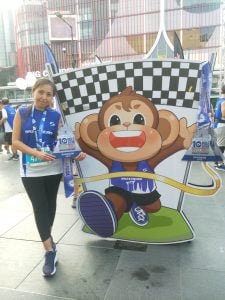 Last year, I participated in Skechers Friendship Walk in Singapore and it was honestly one of the most fun events that I've participated in as there are many activities offered at the race village in exchange of getting a free gift and to stand chances to win a whole year supplies of shoes. Hopefully, there's another Skechers event coming up soon back home in Singapore and looking forward to participating in more Skechers events! 😍