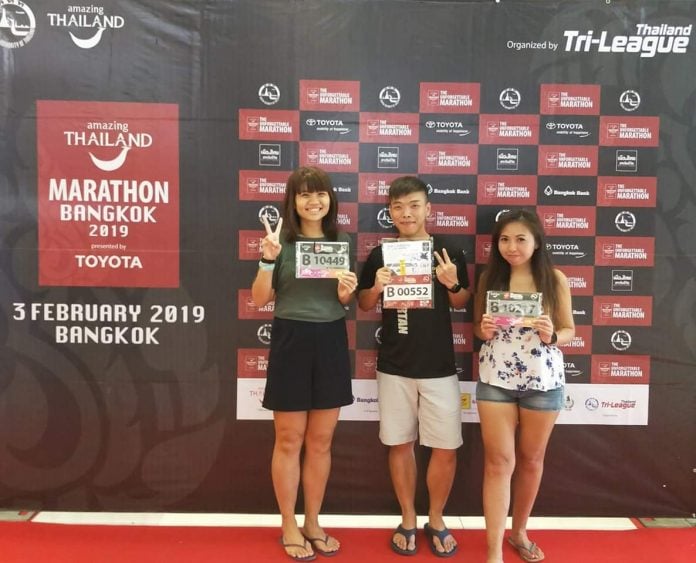 Yes lah! Runcation again! 😍 It's like I'm always looking at overseas races online and looking at somewhere else to go. Thailand races is awesome, I ran half marathon category at Laguna Phuket Marathon and 5km Music Run Bangkok last year and hence I wanted to try other Thailand races 😍
I jio-ed Eleanor and Rey to go with me and they very steady and on, once registration opens we registered and got the limited early bird rate 😊 Once the early bird rate were sold out, normal registration slots were sold in batches, once the race slots sold out, have to wait for another batch of slots to open up at a little bit more expensive.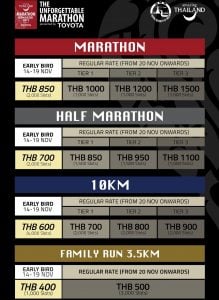 There's different categories such as 3.5km family run, 10km, half marathon, and the full marathon category. Rey registered for the full marathon category while Eleanor and I registered for the half marathon. I love the design of the event singlet, it looks so nice sort of like a basketball jersey! 😍

We booked SQ flights as even budget airlines with baggage cost about $250 per pax when we were looking for air tickets, and SQ return flight tickets to Bangkok was $289 but we can get more comfortable and enjoy food and in-flight entertainments so why not?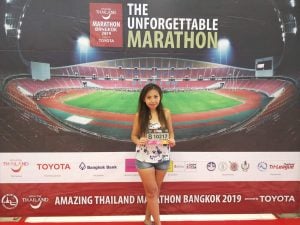 We went to collect our race pack on the day before race and we were there in and out very fast as we wanted to go to Chatuckak Weekend Market though its glance its quite a large expo with many sports stuffs and merchandise for sale. Traveling around Bangkok is very easy as there's the MRT, Tuk Tuk, Taxis and Grab. Grab is pretty cheap and we almost went everywhere by Grab.
News had recently reported that air pollution had gotten quite bad in Bangkok, we were at first really worried that due to the bad air quality, the run would be cancelled. However, the moment we touched down in Bangkok, I felt that it's not that bad actually and I was very sure the run will not cancel. I just hope I will not get sick. The organiser had done a great job by sending emails and providing updates on their Facebook page on issues relating to the run such as if haze was bad till a certain degree, the run will be cancelled.
On race day, we took Grab to race site and arrived about 30 minutes before race start. It was also just coincidentally we were all in Pen B. We wondered how do they assigned the pen as during registration we did not submit our past results, we thought the assigning of pen might be based on first come first serve basis. The earlier the registration, the nearer pen you'll be to the start line.
It's one of the most major running event in Thailand. Flag off was at Thailand's biggest sports stadium Rajamangala National Stadium at 3am flagging off the marathoners and half marathon runners together. To me, it was by far the most spectacular and magnificent stadium I've ever seen 😍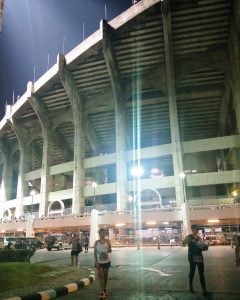 There were water points at the entrance of the stadium and some volunteers were giving out masks for the air pollution. But still, the air quality seems perfect fine to me. Segregation of the different start pens were clear and shortly we were all standing on the tracks and fields inside of the stadium ready to start running. All the pacers were in the front at Pen A, I decided to chase the 2hr15mins pacers.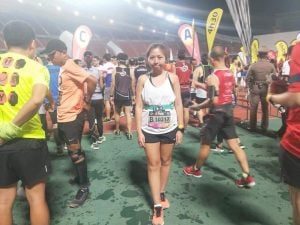 Flag off was delayed for about 8 minutes and we were gun off by beautiful fireworks 😍 I was like looking at the floor for timing mat so I could start my Garmin but couldn't find any after a while and started my Garmin anyway. I thought maybe they are technologically advanced and uses something like infrared to scan our timing chip but it's just that I think too much, the timing mat was outside of the stadium 😂 But it's too far away already, almost 100m since we started running maybe? My Garmin showed that I was about 2 mins slower than my official gun time.
Then I noticed that at every hydration point, there was update of PM2.5 measurement, the measurement of air quality. Water was not given in a cup but bottled which seems like 100ml or so which I find it very environmentally unfriendly, also dangerous to runners as I found many bottle caps along the road like a hazads, hopefully nobody sprain their foot.
I manage to catch up with the 2hrs 15mins pacers at about 2km into the run after some chasing. The route was awesome running by some of the Bangkok's iconic landmark such as the Victory Monument and Golden Mountain Temple etc. The hydration points is available every 2km, but the distance board along the route isn't really prominent. It's not an easy route, there were at least 6 or or more up slopes for the half marathon runners as its running up the expressway and there was one unforgettable long up slopes which seems really endlessly long 😂 The volunteers were all very nice and supportive and I can hear them cheer and could really hear "kaaaaaaaa" echoing. At one of the hydration point/runners aid station somewhere around 15km, there's even Dunkin Donuts, ice cream multiple and types of fruits 😍
I followed the 2hrs15mins pacers till about 15km till I started getting slower
as I felt some pain as I must have drank too much water and lost them. Before that, 2 of their 2hrs15mins pacers already dropped out, they passed the pacers flag to other runners who are also pacers that was running together. At about the last 3km into the run the hydration point offered sponges soaked in iced cold water. It's super awesome as I felt refreshed.
At the last 2km, I felt my left leg becoming jelly, it wasn't my leg anymore. It's like cramped or something. I walked a little and had thought of stopping but I was determined to finish the run and just kept running. At almost 1km to finishing, it's only then the run was separated for the 42km and 21km runners. A prominent board was displayed in the middle of the road to indicate that 21km runners have to do a uturn and volunteers were there to guide the runners but they were speaking Thai. At the end of the run, Eleanor told me she ran the wrong route, luckily she noticed after a while and make a u-turn 😂The medal was super cool, I love the colour and it's really nice.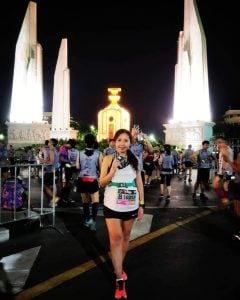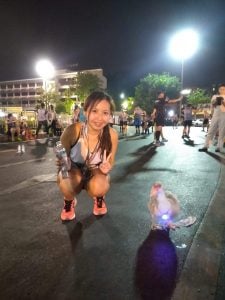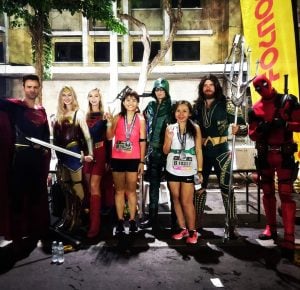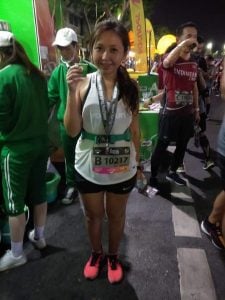 This was really a Unforgettable Marathon. 😍 It was comparable to Osaka Marathon in regards of runners welfare. We were given coupons to change for bento set of different meat, drinks of different flavours, different types of desserts such as chendol and grass jelly etc, different flavours of ice creams and a variety of fruits. Though there wasn't much supporters as the run was held in the early morning at 3am. When I complete the run it wasn't even 5.30am yet and the sun haven't rise 👍 I will definitely want to run this run again!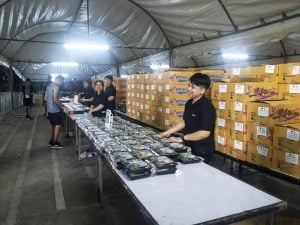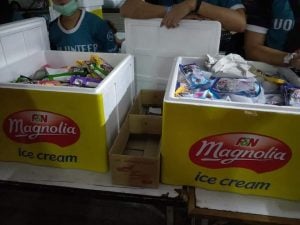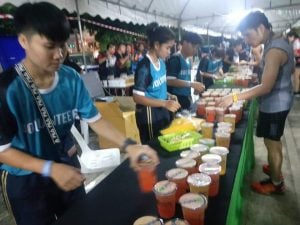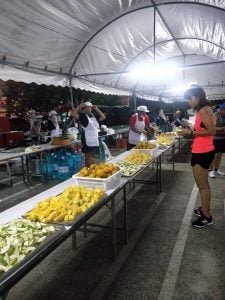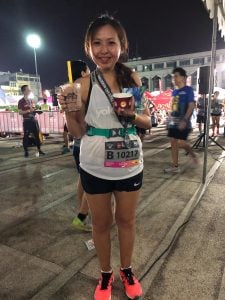 It was a great trip and simply enjoyed my holiday/runcation!