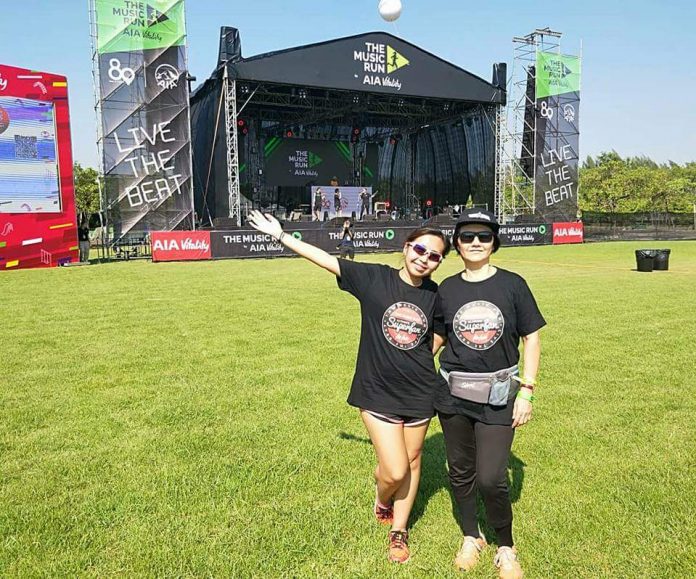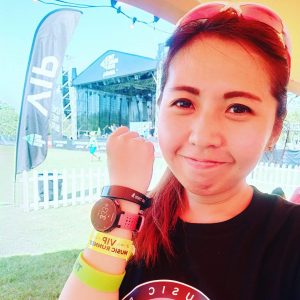 It's really an awesome experience at the Bangkok Music Run! I won the Ultimate Air Asia Superfan contest at Singapore's Music Run contest last year in 2017 so this was a free 3 days 2 nights trip for two person, with free flight tickets, accommodation and airport transfer, VIP access and of course, free race slot 😁
I've been to Bangkok a couple of times before but this was my first time participating in a running event in Thailand! 😍 As Willis had to work, so I jio my mum to go with me. My mum do goes for brisk walk in the park frequently but sort of want to let her experience about the fun and atmosphere of the running events 😁
We took Air Asia flight from Terminal 4 just the night before event day, it's our first time at the new terminal, I think that it's the grandest airport in Singapore so far. Singapore's airport super awesome, we self check-in our baggage, self immigration clearance, though flight was delayed for an hour, but my mum and I take it as an opportunity to explore the beautiful airport.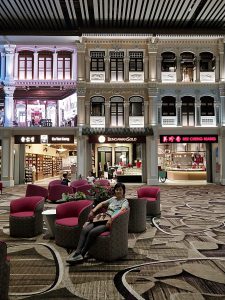 When we reachedt Bangkok's airport I can almost faint, took us an hour queuing to clear the immigration and when we were returning Singapore, we also queued about an hour just to to check in our luggage 😖
On event day, we arrived at the event site in King Rama Park at around 2pm with 4 others Superfans from Kuala Lumpur and Beijing. Bangkok was super hot! The temperature showed 34 degrees on my phone 😥 It was so sunny and there isn't any clouds in the sky at all. We toured around the event site and was introduced to the DJ and emcee then we settled down in the VIP tentage, then bought some merchandise at their store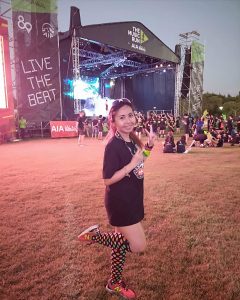 (which I love the colourful socks very very much 😍) We then enjoyed some sandwiches in the VIP tent age and mingled around while waiting for the run to flag off at 5.30pm for the 5km fun run category.
It was my mum's first running event and she's super sporting and awesome and didn't stop during the run but only when I asked her to pose for photos! 😆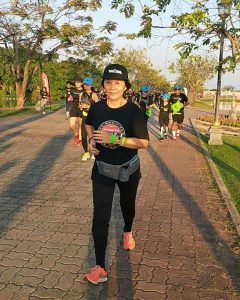 There's the 5km and 10km category and we participated in the 5km category. The 10km route was the same route of 2 laps and the flag off for 10km was 4pm if I didn't remember wrongly and it was still super hot because of the sun luckily 5km was flag off when sun was about to set. I had intended to complete the entire distance together with my mother and we did! 😍
We were right in front of the start of the second wave and it was awkward for me. I feel super shy and just groove along with the music 😅 There should be 6 of us while the 2 other superfan from Beijing were too exhausted from their flight as they made a transfer in KL then to Bkk and somehow missed joining us at the start line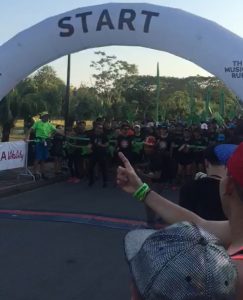 I've been to two of the Music Runs in Singapore previously and comparing the Music Runs, Singapore's Music Run was a lot better in terms of route, crowd, support and the entertainment along the route. I'm definitely looking towards to the upcoming Music Run in Singapore's Sentosa in April! This year there is a new category of 10km! 😍
My Garmin showed 4.4km only though. My bad for not checking out the route, in the middle of the route there's a split of path and to make sure I'm not going to a wrong route I tried checking out with the volunteer but the conversation was like a duck and chicken trying to communicate so I just chose what seems like the nearer path 😂 But it turns out that the longer route would have been a better option as in the shorter route there's some obstacles, though its pretty easy to climb a steep slope and to run on a few tyres on sand like a mini Spartan race.
The run finished too fast although were going slow. Happy time passed too fast!
After the run we went around playing some of the interactive and virtual games in Airasia's tentage which was super fun to play then we were trying to look for dinner but the queue for food at the food stalls was scarily long so we queued for the free Ben and Jerry's ice cream and head back to the VIP tentage 😂
I would definitely want to go Bangkok again and again the same time go for a half marathon or any fun runs, and of course go for their Mango Sticky Rice and Thai Milk Tea and do some cafes hopping 😝 And of course, have to visit their night markets and go to their safari zoo to feed their giraffes which I visited before about 5 years before and there was at least hundreds of them 😍